Past CEH Events
In past years, we have hosted our marquee event in San Francisco to showcase and celebrate our latest research, programmatic successes, and policy and legal victories.
Previous event speakers include actors Mark Ruffalo and Jennifer Beals, attorney Robert Billott, and philanthropist-activist Tom Steyer.
2019 Marquee Event: Audacious Action, The Heroes Among Us
October 7, 2019 at Bimbo's 365 Club, San Francisco, CA
Read more about it here.
Featuring: Mark Ruffalo and Rob Billott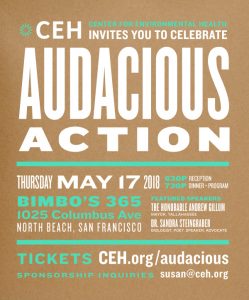 2018 Marquee Event: Audacious Action
May 17, 2018 at Bimbo's 365 Club, San Francisco, CA
Featuring: Former Tallahassee Mayor, Andrew Gillum and Dr. Sandra Steingraber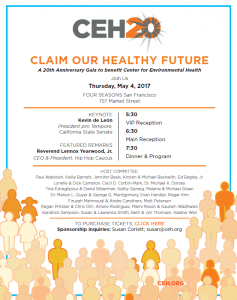 2017 20th Anniversary Celebration: Claim Our Healthy Future
May 4, 2017 at the Four Seasons, San Francisco, CA
Featuring: CA Senator Nancy Skinner, former CA Senate president pro tempore Kevin de León, Reverend Lennox Yearwood (CEO & President, Hip Hop Caucus), Christine Cordero (Executive Director, Center for Story-Based Strategy)
December 8, 2016 at the SmogShoppe, Los Angeles, CA
Featuring: Paul Adelstein, Jennifer Beals, Evan Handler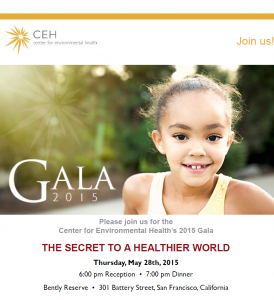 2015 Gala: The Secret to a Healthier World
May 28, 2015 at the Bently Reserve, San Francisco, CA
Featuring: Tom Steyer and Evan Handler