Non-Toxic and Sustainable 2021 Gift Guide for the Home
Home is where the heart and these gifts are
We've been spending so much time in our homes these last two years, which is why the products we chose for our gift guide for the home are the best of the best. From super cute home decor like a Peace Vase to more practical gifts (a Cordless Vacuum), our top picks will elevate your home.
This year, we have highlighted many products by many Black, Indigenous, People of Color (BIPOC) owned/founded brands. Buying from these brands is a great way to support economic opportunities in BIPOC communities and celebrates diversity in the sustainability space. Additionally, since climate change is an urgent issue with so many health impacts, we are also highlighting brands that are Climate Neutral certified. That means that the brand has committed to measure, offset, and reduce the carbon they emit. We believe that consumers and companies must work together to embrace and make true commitments to diversity and sustainability. Look no further for the ultimate gift guide!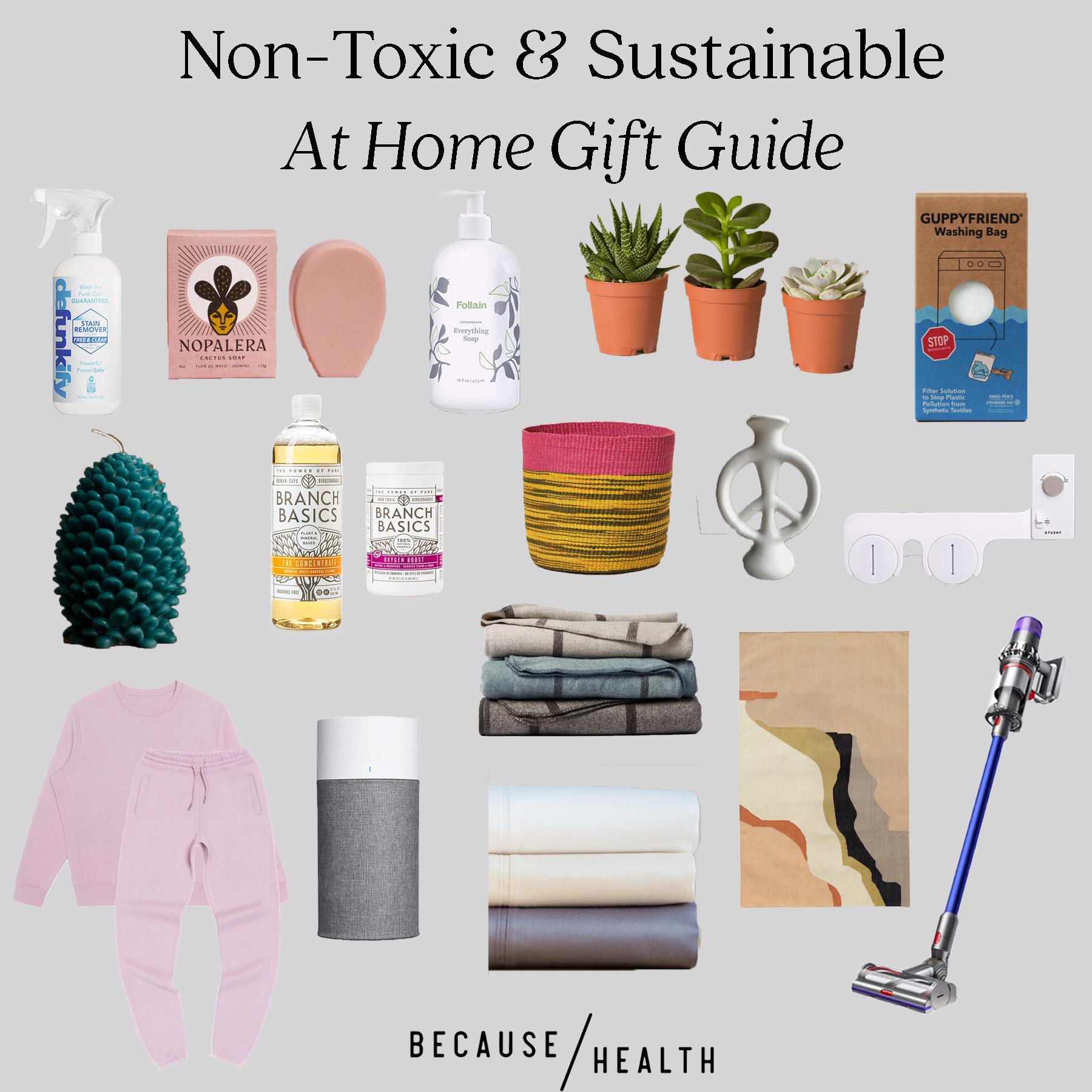 $: Under $50
Defunkify Stain Remover Spray, Free & Clear (Climate Neutral)
Never worry about stinky fabric again with this Defunkify odor removing spray! This EPA Safer choice certified spray is perfect for getting stains and odors out of laundry, carpets, and couches without harmful chemicals.
Nopalera Flor de Mayo Cactus Soap (BIPOC Brand)
Nopalera's Flor de Mayo cactus soap contains skin-loving plant butters and oils, and you'll love the subtle jasmine scent! No synthetic fragrances, palm oil free, and vegan.
Lemongrass hand soap from Follian looks great on any countertop and also smells amazing! This non-toxic formulation is perfectly safe to use for everyone and you can get refillable containers to cut down on plastic.
The Sill Succulent Assortment (BIPOC Brand)
This succulent assortment from The Sill is the perfect way to brighten up a windowsill. Needing watering only every 2-3 weeks, these succulents are easy enough for just about anyone on your list.
Protect the environment against microplastic fibers from synthetic fabrics with this Guppy wash bag! This is perfect for your eco-friendly friend who is looking for every possible thing they can do to save the planet.
Greentree Home Josee Pine Cone Candles
These jumbo pine cone candles are so festive. They come in a beautiful gift box and will fit in on any mantel or shelf. These candles are hand poured 100% beeswax and burn for 50 hours. Beeswax candles burn cleaner than paraffin wax (which is a petroleum product) so you can feel good about this gift in more ways than one!
$ $: Between $50-100
Up your cleaning game with a Branch Basics cleaning set! Their non-toxic formula is tough on dirt but not your health. We swear by this cleaning concentrate from counter to floors and even laundry!
Peace Vase by Justina Blakeney™ (BIPOC Brand)
Give peace a chance with this fun ceramic vase from Jungalow! It looks great by itself or filled with dried flowers.
Tushy Bidet (BIPOC Brand)
Why are we including a bidet in our gift guide? Because it'll change your life and save trees! If everyone in America used a bidet, we could save 15 million trees a year… and that doesn't even get into the loads of bleach and water used during toilet paper manufacturing.
AAKS Floor Basket (BIPOC Brand)
This straw storage basket comes in many vibrant colors and looks great in any room! Using traditional weaving techniques and locally-harvest raffia, these baskets are handmade in northern Ghana.
$ $ $: Over $100
Original Favorites Sweatpants and Sweatshirt
Loungewear is having a moment, so why not upgrade to these cozy sweats that are made in a wind mill powered, Fair Trade Certified facility? The cotton is certified GOTS organic and comes in 15 fun colors.
Air purifiers are basically a must-have at this point. Whether it's for wildfire smoke, dust, or allergies, we love this Blueair air purifier because of it's sleek look and it's power to effectively clean the air!
Coyuchi Tahoe Climate Beneficial Wool Throw
We love that Coyuchi uses 100% Climate Beneficial wool sourced from a ranch in northern California for this cozy wool blanket. Anyone on your list would love this throw blanket.
Tantuvi Rug (BIPOC Brand)
This 100% flatweave cotton rug is hand-dyed and hand-loomed in India and comes in many different sizes. The founder works directly with artisans to produce these beautiful modern designs. We love their emphasis on sustainability, community, and equity.
Suvin Organic Sheets (Climate Neutral)
You'll feel like royalty sleeping on these Suvin organic sheets from Avocado! Made from GOTS certified organic cotton, they come in an impressive 600 or 1,000 thread count. This is a sheet set worth gifting. Bonus that they are Made Safe and Climate Neutral certified.
This Dyson V11 vacuum is definitely a splurge, but it's powerful suction and cordless feature make it a great gift. More frequent vacuuming is always recommended and we love products that make it easier to do.