Non-Toxic and Sustainable 2021 Gift Guide for the Home Chef
You'll never want to order out again
Looking for non-toxic, sustainable, and fun gifts for your home chef? We created a gift guide this year for those people on your list who love cooking and hosting. Whether it's elaborate dinner parties or weeknight meals, these gifts are sure to bring some joys in the new year. We looked for gifts that avoided waste (like a stovetop popcorn maker), or that avoided harmful chemicals (like a cast iron skillet), or that could bring a little fun into the kitchen (like these fabulous cloth napkins).
This year, we have highlighted many products by many Black, Indigenous, People of Color (BIPOC) owned/founded brands. Buying from these brands is a great way to support economic opportunities in BIPOC communities and celebrates diversity in the sustainability space. Additionally, since climate change is an urgent issue with so many health impacts, we are also highlighting brands that are Climate Neutral certified. That means that the brand has committed to measure, offset, and reduce the carbon they emit. We believe that consumers and companies must work together to embrace and make true commitments to diversity and sustainability. Look no further for the ultimate gift guide!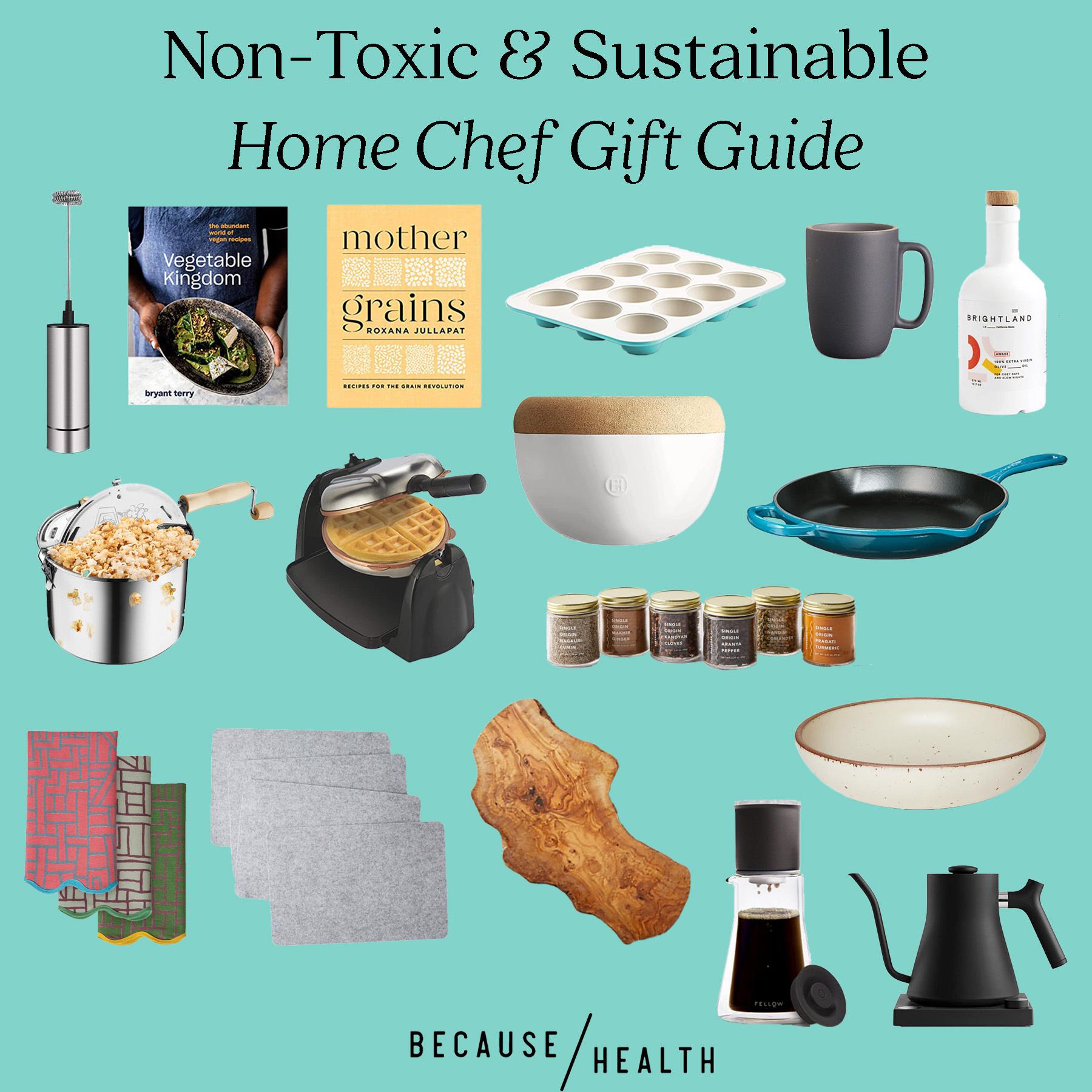 $: Under $50

This stainless steel milk frother is the perfect way to warm up your milk (or milk alternative) without having to sacrifice counter space! Whether you're drinking coffee or matcha, this it the perfect tool to take things up a notch.
Vegetable Kingdom: The Abundant World of Vegan Recipes (BIPOC brand)
Want to eat less meat, but don't know how to make vegetable dishes stand out? Step up your cooking game with delicious recipes from this unique cookbook from Bryant Terry. Bryant is renowned for his activism and efforts to create a healthy, equitable, and sustainable food system, so this cookbook is right up our alley.
Mother Grains: Recipes for the Grain Revolution (BIPOC brand)
Looking to up your whole grain intake? Expand your baking skills with Mother Grains: Recipes for the Grain Revolution. You'll be amazed how a simple cookie can change texture and flavor based on the flours you use. Learn about the world of ancient grains like buckwheat, sorghum, rye, barley, and heirloom wheat and bake some delicious treats.
GreenLife Bakeware Healthy Ceramic Nonstick, Muffin Pan
This ceramic baking pan by GreenLife is non-stick without harmful chemicals and comes in a bunch of cute colors. Weekend muffins are calling you!
Great Northern Popcorn Original Stainless Steel Stove Top Popcorn Popper
Microwave popcorn is expensive and the bags are coated in Teflon like chemicals, but it's so convenient. Enter this amazing popcorn maker. You'll never look at microwaved popcorn the same way after you use this Great Northern stovetop popcorn popper! It's stainless steel body perfectly cooks kernels to tasty perfection.
Heath Ceramics large coffee mug
Elevate your morning coffee with this beautifully crafted mug from Heath Ceramics. It comes in many lead-free glazes and is as sturdy as it is beautiful.
$ $: Between $50-100

Hamilton Beach Belgian Waffle Maker
Sunday brunch just got so much better with this waffle maker by Hamilton Beach. Most waffle makers use a Teflon-like coating in their waffle makers, but this waffle maker uses a ceramic non-stick. It's really easy to use and the ceramic grids pop out for easy cleaning.
Diaspora Co. Single-Origin Spices (BIPOC brand)
Spices can make or break a dish, which is why we love upgrading our spice drawer with this set of single origin spices from Diaspora. We love that they pay a living wage to partner farmers and their partner model allows them to provide quality control that results in fresher, more delicious spices. That also means that they can also better control potential contamination and test for lead contamination. They are also working on organic certification for their partner farms.
Emile Henry Deep Food Storage Bowl
Who says food storage has to be boring? Beauty meets function with this deep food storage bowl by Emile Henry. The cork top serves as a fruit bowl, while the lower level with vents and darkness acts as a mini pantry to store root vegetables and onions.
The scalloped edge and fun pattern of these napkins make them a great hostess gift! These are screen printed by hand in Kenya and are a great way to add some color to your table.
$ $ $: Over $100

These sturdy place mats will protect your table from the messiest of eaters! The merino wool material is naturally water and odor resistant, and also offers amazing thermal protection.
These hand-carved cheese boards are made from a single piece of olivewood, which means no glues or adhesives are added to the wood. They are the perfect backdrop to your next charcuterie board.
East Fork Serving Bowl (Climate Neutral certified)
This handmade pottery serving bowl from East Fork is perfect for all your serving need- whether it's for movie night popcorn or a salad at a dinner party for 10!
Brightland Olive Oil Duo (BIPOC brand)
There's a reason you've seen Brightland all over social, it's high quality olive oil and beautiful bottle make it a star! The Duo set is the perfect way to try two of their most popular flavors! The olives come from a family-run California farm that does not use pesticides and is committed to organic practices.
Le Creuset is known for it's quality and beautiful color choices and this enameled cast iron skillet is no exception! This pan will last you a lifetime and is naturally non-stick enough for scrambles and fried eggs. No Teflon chemicals needed.
Fellow coffee Pour Over Coffee and Electric Kettle
This Fellow electric kettle and pour over set are perfect companions for your coffee! These products don't contain any plastic and will make you feel like a certified barista.