Non-Toxic and Sustainable 2021 Gift Guide for Teens
Cool enough for a Tiktok haul while still being great for the environment
Teenagers can be notoriously hard to shop for, especially now that social media is so prevalent. It seems like there's a new "it" item every other week! But gen z are also incredibly environmentally conscious and prioritize sustainability. That's why all of our gift recommendations are eco-friendly, non-toxic, and unique.
This year, we have highlighted many products by many Black, Indigenous, People of Color (BIPOC) owned/founded brands. Buying from these brands is a great way to support economic opportunities in BIPOC communities and celebrates diversity in the sustainability space. Additionally, since climate change is an urgent issue with so many health impacts, we are also highlighting brands that are Climate Neutral certified. That means that the brand has committed to measure, offset, and reduce the carbon they emit. We believe that consumers and companies must work together to embrace and make true commitments to diversity and sustainability. Look no further for the ultimate gift guide!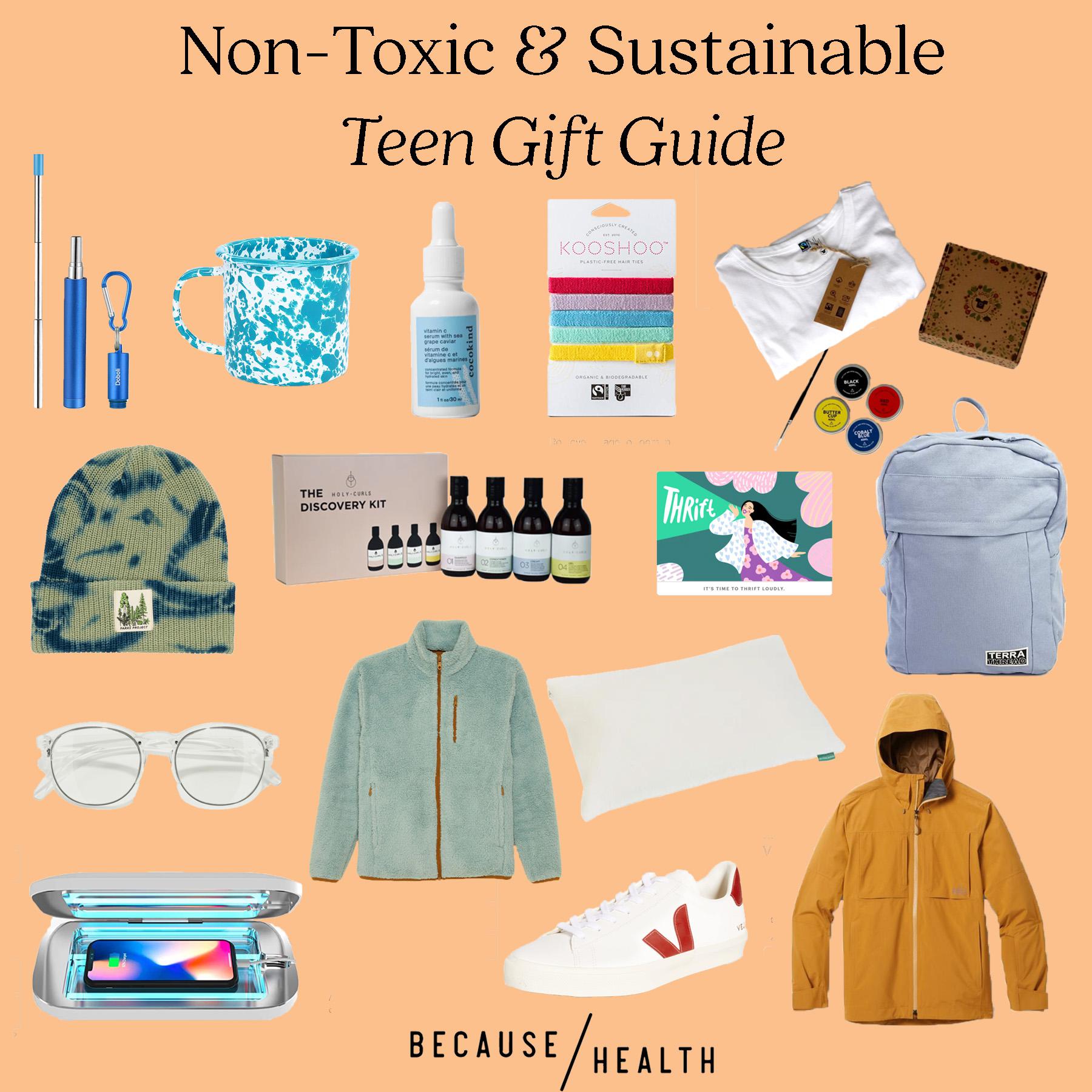 $: Under $50
This easy to clean, collapsable stainless steel straw is a perfect way to reduce single use plastic. Every eco-friendly teen will love this small gift.
Crow Canyon Spatter Enamelware Mug
This enamel mug by Crow Canyon comes in many different lead-free colors and is practically impossible to break! Perfect for camping or a night by the fire pit.
Cocokind Vitamin C Serum with Sea Grape Caviar (BIPOC Brand)
Clean beauty skincare products don't have to break the bank! This vitamin C serum by Coockind helps brighten skin and boost hydration. Just in time for the dry winter air.
Kooshoo Biodegradable Hair Ties
We've always hated having to toss hair ties in the trash when they break, which is why we love these biodegradable hair ties by Kooshoo! Made from 70% GOTS certified organic cotton and 30% natural rubber, their durable construction also means they last longer than other disposable hair ties.
This tie dyed 100% cotton beanie from the Parks Project is a great year round hat. By buying this beanie, you will support the National Park Foundation's Open OutDoors for Kids program. Getting kids into nature is so important, so we are all for purchases that support this great mission.
Fabric Painting Kit and Tshirt (BIPOC Brand)
Tie dye is so last year right? Unleash your creativity with this fun t-shirt painting kit by the Good Tee. This kit features GOTS certified organic cotton and eco-friendly dyes. The water based fabric paints can be mixed to create any shade so that your teen can design anything they want on these sustainable tees!
Holy Curls Discovery Kit (BIPOC Brand)
Enhance curly hair with this discovery set from Holy Curls, a clean beauty brand just for curly hair! Mini bottles of shampoo, conditioner, cream, and gel means you can discover which products work the best for your hair before splurging on full-sized products.
$ $: Between $50-100
Terra Thread Organic Backpack (BIPOC Brand)
Come back from winter break with a cool new Terra Thread backpack. It's made from organic cotton and there are so many great color choices!
Sunski Blue Light Glasses (Climate Neutral certified)
Now your teen can watch as many TikToks as they want without any eye strain with these blue light glasses from Sunski. Sunski frames are made from scrap plastic that they save from going into a landfill. So cool right?
Avocado Green Pillow (Climate Neutral certified)
There's a reason this Green Pillow by Avocado was on Apartment Therapy's 2020 Best List. Organic materials and an adjustable fill make this pillow our go-to for some quality ZZZs. It's Greenguard Gold certified, Made Safe Certified, and Climate Neutral, so there are just so many reasons why this pillow is a great gift.
Buying vintage is a great way to make more sustainable fashion choices, so why not invest in a Thredup gift certificate?! This online thrift store is a super popular choice among teens for rare finds and great deals.
$ $ $: Over $100
Your teen's phone is probably a lot dirtier than you think and since they spend so much time on it, why not give them an easy way to keep it clean without the need for bleach wipes. This UV sanitizer and universal charger is going to be a hit for any phone obsessed teen on your list.
Girlfriend recycled full zip fleece (BIPOC Brand)
This adorable fleece jacket from Girlfriend is made from 59 plastic water bottles! And it's recyclable when your teen is done with it. Reducing plastic waste never looked so good
These Veja campo sneakers are popular for a reason- they're super comfortable and made from materials using fair trade sourcing including recycled polyester, organic cotton, and natural rubber. All the leather comes from tanneries that are audited and certified to reduce the environmental impact of the leather.
Rei Co-op First Chair Snow Jacket
Your teen will love hitting the slopes with a PFC-free snow jacket from REI. It's weatherproof without the forever chemicals! There is a women and men's versions of this awesome, well-reviewed jacket.