Non-Toxic and Sustainable 2021 Gift Guide for Men
Guys can be hard to gift shop for. That's where we come in
Why are men always so tricky to shop for? The men in our life always seem to buy themselves the cool products, which leaves us scratching our heads by the time the holidays roll around. That's why our men's gift guide this year focuses on every day items that are made to last. Yes, he has t-shirts, but he probably doesn't have a crisp, classically cut shirt made from organic cotton, or a bloody mary mix that's made from super simple ingredients and tastes so good his friends will swear it's homemade. Check out the best sustainable, non-toxic, gift picks below!
This year, we have highlighted many products by many Black, Indigenous, People of Color (BIPOC) owned/founded brands. Buying from these brands is a great way to support economic opportunities in BIPOC communities and celebrates diversity in the sustainability space. Additionally, since climate change is an urgent issue with so many health impacts, we are also highlighting brands that are Climate Neutral certified. That means that the brand has committed to measure, offset, and reduce the carbon they emit. We believe that consumers and companies must work together to embrace and make true commitments to diversity and sustainability. Look no further for the ultimate gift guide!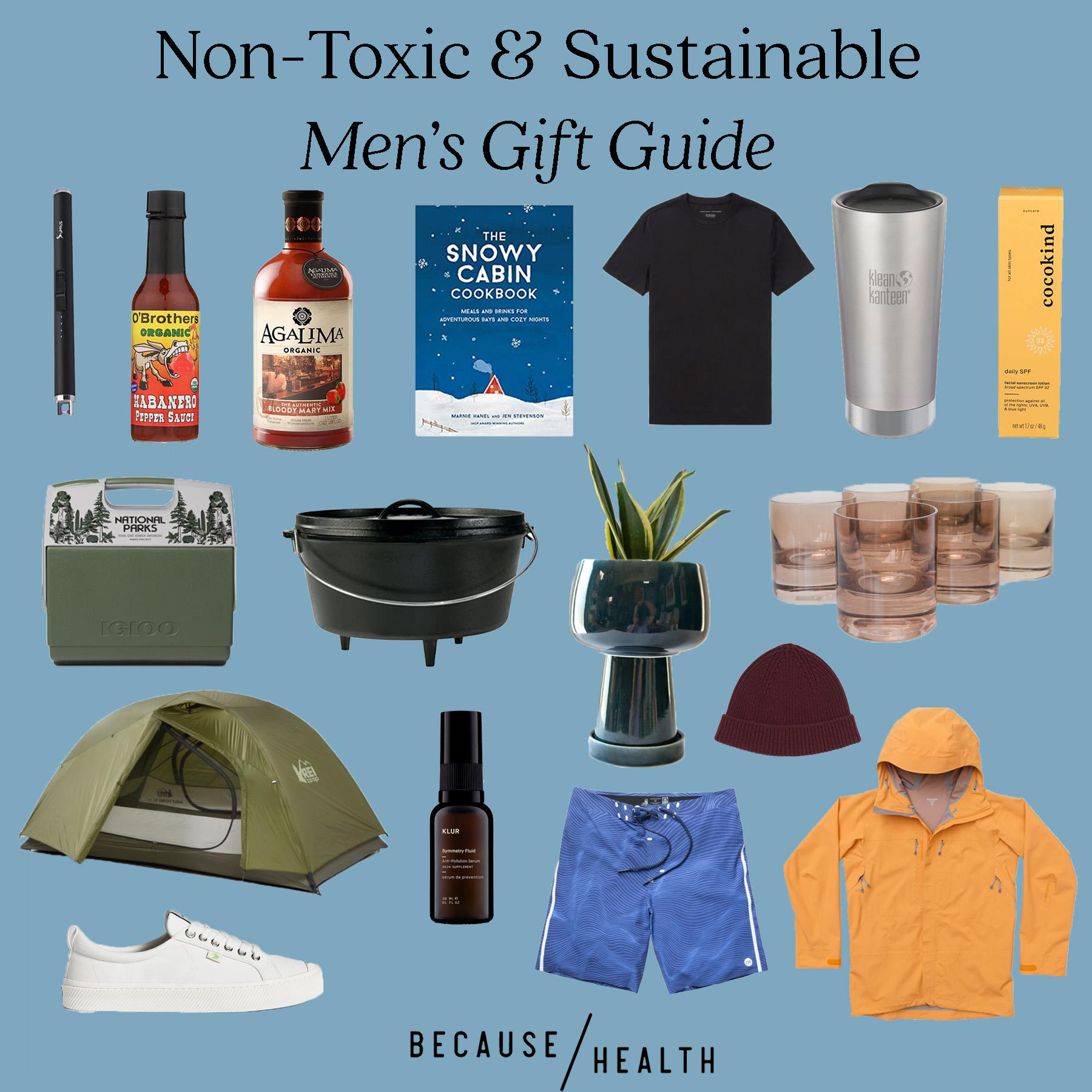 $: Under $50
Upgrade his meals with this habanero hot sauce from O'brother organics! Its flavorful recipe packs a punch.
SUPRUS Lighter Electric Lighter Candle Lighter USB Lighter with Upgraded LED
Never buy a disposable butane lighter again with this electric lighter with a USB rechargeable battery. This lighter is perfect for BBQing, camping, candles, and more!
Agalima Organic Authentic Bloody Mary Drink Mix
Sometimes you just don't have the time (or energy) to make your own bloody mary mix, which is where this mix by Agalima comes in. It's made from great organic ingredients including tomatoes, horseradish, and chipotle peppers and comes in a glass bottle!
This newly released cookbook is the perfect companion to a day of snow play or day of hibernation. Filled with fun snacks, hearty breakfasts, soups and stews, and delicious baked goods, this is the perfect cookbook for any cabin loving person.
This mid-weight GOTS certified organic cotton t-shirt by Everlane has been tested for durability and comes in over a dozen different colors. It's a classic tee, with clean lines and a classic crew neck.
Klean Kanteen Vacuum Insulated Stainless Steel Tumbler (Climate Neutral)
Once you start using a stainless steel tumbler from Klean Kanteen, you'll never want to leave the house without it! Double-wall vacuum insulation keeps contents hot or iced for hours. The tumbler lid is made from a BPA free polypropylene with a food-grade silicone seal.
Cocokind Sunscreen (BIPOC Brand)
This mineral sunscreen by Cocokind offers great sun protection without harmful ingredients! It's easy to apply with no white cast. The perfect sunscreen for snow sunny days this winter.
Parks Project National Parks ECOCOOL Playmate
This limited edition Igloo cooler is made from post-consumer plastic like milk jugs and yogurt containers. It features a design from the National Parks Project on the lid and a portion of proceeds from this recycled cooler will benefit the National Parks Conservation Association.
$ $: Between $50-100
This dutch oven by Lodge is perfect for your next camping adventure! is the pot that does it all. The lid holds hot coals and inverts for use as a griddle. Whether you're cooking chili or baking biscuits, this pot is perfect for cooking in the great outdoors.
Klur Symemetry Fluir Anti-Pollution Serum (BIPOC Brand)
Non-toxic skin care is for men too! Upgrade his skincare routine with Klur's Symemetry Fluir Anti-Pollution serum. It repairs and protects skin from daily environmental stressors.
Kaya 3 Piece Ceramic Planter (BIPOC Brand)
A Kaya ceramic planter is the perfect addition for his home or office…. or home office! The deep blue is sophisticated and will help bring a touch of greenery to any space.
Cariuma Shoes (BIPOC Brand)
Cariuma's sleek design and wide range of color choices make this sneaker a winner! Cariuma's commitment to sustainability and ethics is what we would like to see in every shoe company. The materials are thoughtfully sourced, including recycled plastic, organic cotton, and natural rubber, and they pay fair wages to their workers. They also plants 2 trees for every pair of shoes bought!
Organic Basics Recycled Cashmere Beanie
As temperatures begin to drop, make sure he's nice and warm with this recycled cashmere beanie by Organic Basics! This hat is created from worn out cashmere garments that would otherwise go to landfill.
$ $ $: Over $100
These Apex trunks by Outerknown are designed by Kelly Slater. They are made from recycled plastic and sewn in a Fair Trade Certified factory. Super light weight and comfortable, they are ready to take on any activity.
Estelle Colored Rocks Glasses (BIPOC Brand)
Cocktails just taste better in beautiful glassware. This set of hand-blown beautiful rocks glasses is heirloom worthy and lead-free.
This flame retardant free tent from REI is a great 2 person tent. It has a great mix of being lightweight enough for adventures and spacious enough to be comfortable.
Houdini's waterproof and breathable PFC-free winter jacket is perfect for skiiing or other snow sports. Made primarily from recycled fibers, recyclable, PFAS-free and Bluesign®-certified materials, this top-of-the-line shell jacket has all the features you need without unnecessary bells and whistles.