Non-Toxic and Sustainable 2020 Gift Guide for Her
Beauty, food, loungewear, and more!
The holidays are right around the corner, which means we're on the hunt for cool and unique gifts! That's why we've put together gift guides for everyone on your list. Looking for non-toxic, sustainable, eco-friendly, and fun gifts for her? Look no further!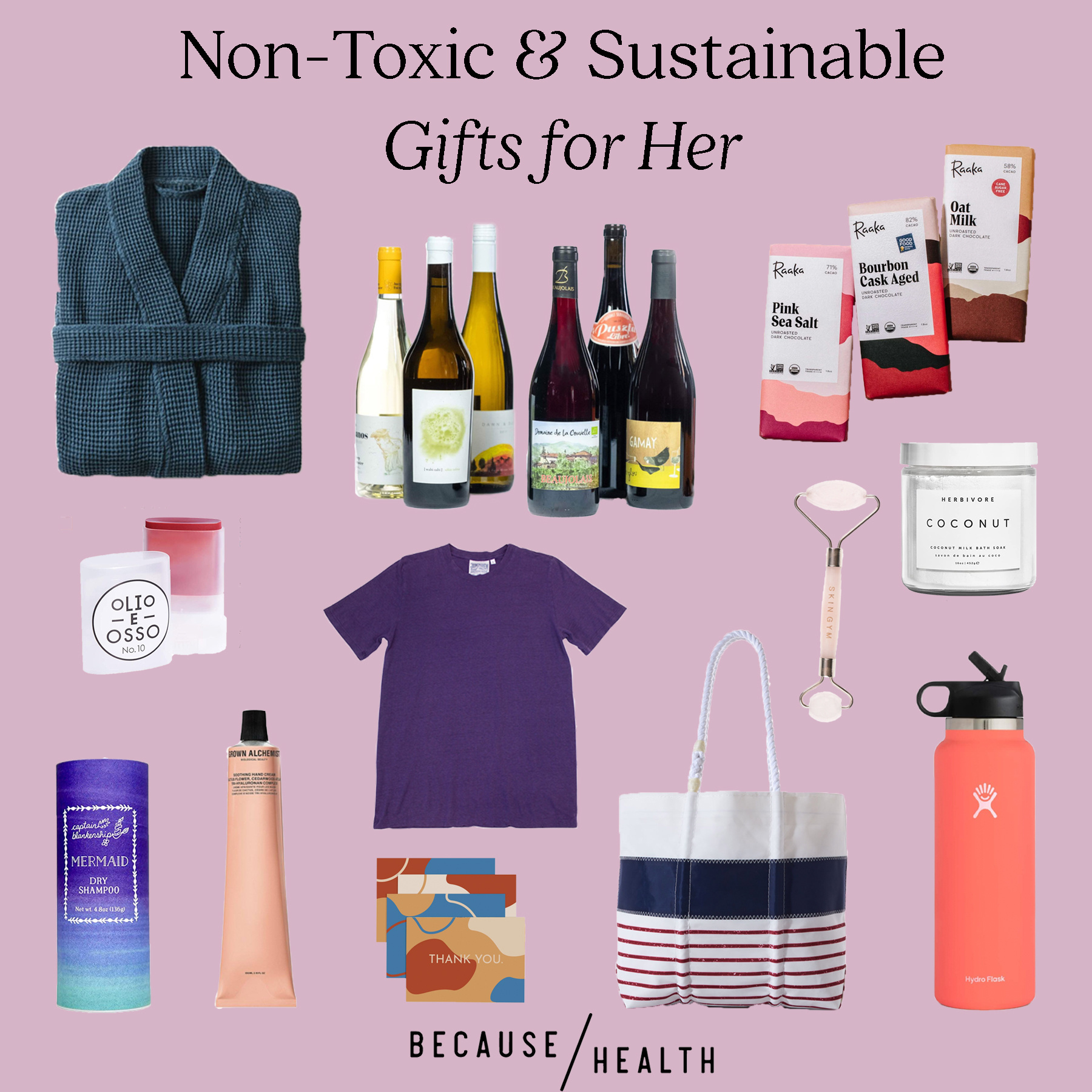 Non-Toxic and Sustainable Gifts for Her
$: Under $50
Aya Paper Co Retro Thank You Card Set
Hand written notes will never go out of style and this is the perfect time to reach out and connect with friends and family. These thank you cards from Aya Paper Co are printed with 100% non toxic toner on 100% PCW Recycled, PCF chlorine free paper.
Captain Blankenship Dry Shampoo Powder
No bad hair days here! Captain Blankenship Dry Shampoo Powder will keep your hair looking refreshed even when you don't have time (or motivation!) to shower. The aluminum free baking soda, organic arrowroot and kaolin clay will absorb oil without leaving any residue or nasty chemicals in your hair.
Olio E Osso Natural Lip and Cheek Balm
This Natural Lip & Cheek Balm from Olio E Osso is about to be your next makeup obsession. This multitasker comes in numerous shades (we're a big fan of Tea Rose), gives a natural glow, and is made with safe ingredients.
Self care gets a major upgrade with this Rose Quartz Facial Roller from Skin Gym. Natural rose quartz will help de-puff your skin and create a radiant glow. Plus it just feels good, which is good enough of a reason for us.
Herbivore Coconut Milk Bath Soak
Bring the spa to you with Herbivore's Natural Coconut Milk Bath Soak. This luxurious bath soak only contains 4 ingredients and will leave your skin soft and hydrated. This is just what you need for the perfect Friday night in.
Grown Alchemist Intensive Hand Cream
Grown Alchemist Soothing Hand Cream is perfect for hands ravaged by harsh hand sanitizer and constant hand washing. Instead of petroleum products and harsh preservatives, this hand cream has aloe vera and cactus flower extract help to relieve dry skin and keep hands moisturized.
$ $: Between $50-100
On the hunt for the perfect t-shirt? Look no further! The Jung Tee's relaxed fit makes it perfect for any occasion. Plus, it's made from 55% hemp and 45% organic cotton! We increasingly are into hemp because it's a natural material that requires almost no pesticides, irrigation, or fertilizer to grow.
Hydro Flask Water bottle with straw lid
Hydration meets style! This Hydro Flask stainless steel water bottle is super durable and comes in a bunch of fun colors. We love the straw lid and find ourselves drinking way more water this way.
Raaka Organic Chocolate Gift Subscription
This 3 Month Gift Subscription to Raaka Chocolate is a total crowd-pleaser. Who doesn't love chocolate?! And Raaka's transparent trade policy and quality organic ingredients made this treat a no brainer.
Stay cozy during those long winter days in this GOTS certified, organic cotton robe from Coyuchi. We guarantee it's the first thing you'll reach for in the morning and the last thing you'll have on before going to sleep.
$ $ $: Over $100
This cute Red Mariner Stripe Tote from Sea Bags will hold all your essentials and look good doing it. Handmade from recycled sail, this tote is the perfect work bag… even if you're just commuting to your home office!
Dry Farm Wine 6 Bottle Gift Box
Want to try natural wine but don't know where to start? Then a Dry Farm Wine gift box is perfect! It's a great introduction to organic, biodynamic, wild yeast, and more. This curated mix of reds and whites is lab-tested and delicious!