Non-Toxic and Sustainable 2020 Gift Guide for Him
Cool meets function with our top gift picks
The holidays are right around the corner, which means we're on the hunt for cool and unique gifts! That's why we've put together gift guides for everyone on your list. Looking for non-toxic, sustainable, eco-friendly, and fun gifts for him? Look no further!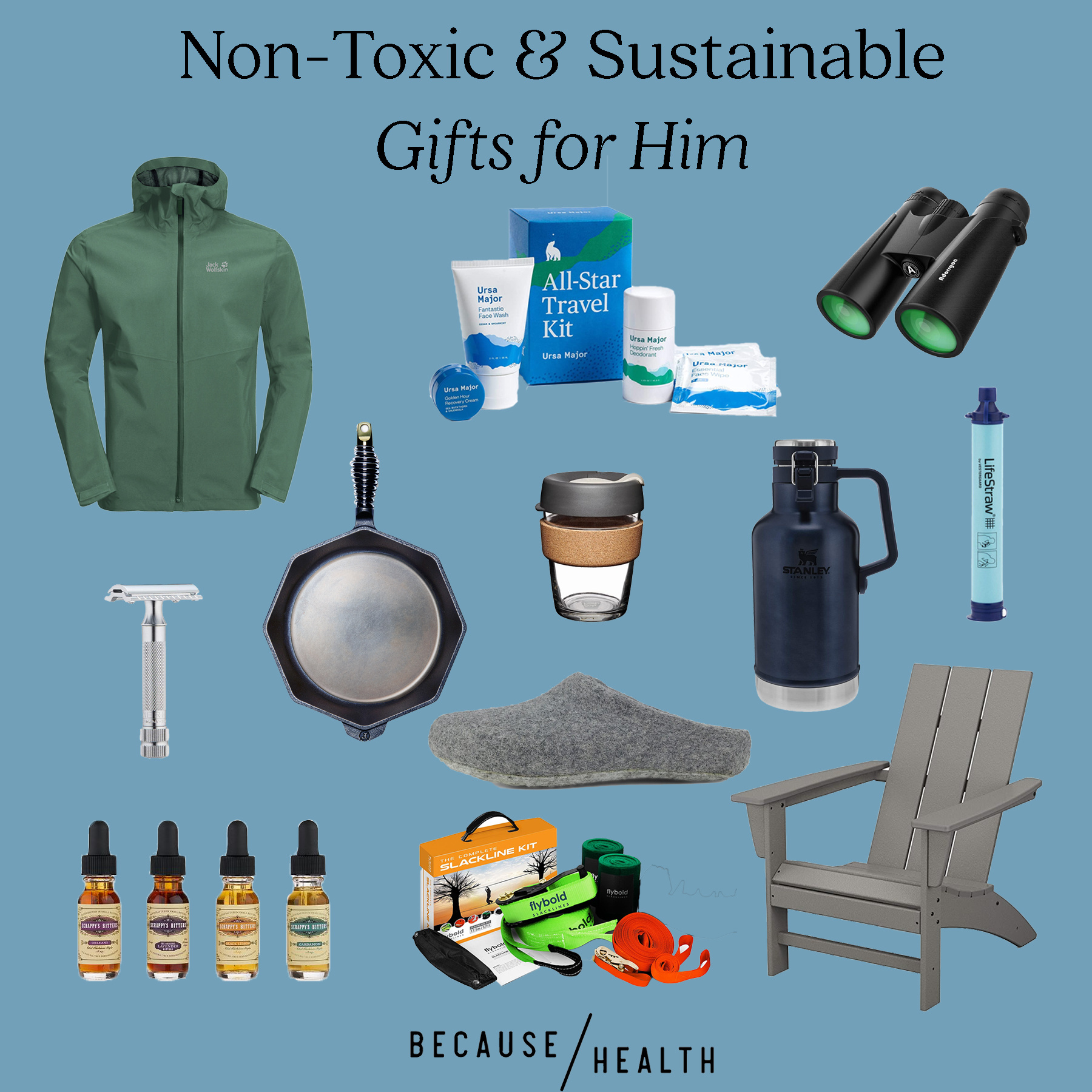 Non-Toxic and Sustainable Gifts For Him
$: Under $50
Lifestraw Personal Water Filter
This super portable water filter can be a life-saver, literally. Lifestraw's unique microfiltration system can turn unsafe water into drinking water in the blink of an eye. Super convenient for any just in case outdoor situation or for your emergency kit.
This sleek and sophisticated reusable Keepcup will become a favorite for morning coffee runs! The tempered glass body provides extra durability and protects against drops. It's also great for parents who can't seem to drink their coffee in one sitting.
Ursa Major All-Star Travel Kit
Looking to introduce someone to clean skincare? This kit from Ursa Major showcases their best products in a convenient travel kit, including deodorant, face wash, face wipes, and a recovery cream. This is the perfect way to try new clean products before committing to a full sized bottle!
These lightweight, powerful binoculars are perfect for camping, bird watching, or even live sporting events (remember those?). 12x magnification and full-coated lens creates crystal-clear images.
Scrappy's Bitters New Classics Gift Set
This bitters gift set from Scrappy's contains lavender, cardamom, black lemon, and Orleans that are essential for any home mixologist. We love how Scrappy's uses fresh organic fruits and herbs and doesn't add any food coloring or artificial flavors. These bold flavors are super fun to play with!
Banish single use plastic razors or expensive blades with this durable Merkur Safety Razor! Double edge blades and a weighty short handle will give a super close shave without skin irritation.
The Stanley stainless steel growler is an easy way to transport beer from a favorite brewery to just about anywhere! The stainless steel interior will keep the beer tasting fresh without the chance of leeching harmful chemicals. It's also a great way to share home brews with family and friends.
$ $: Between $50-100
Upgrade old, worn-out slippers to these ultra cozy Kyrgies Classic House Shoe. Handmade from felted wool, these slippers will keep feet warm during the coldest winter nights.
2020 is the perfect year to explore new hobbies, so why not try a slackline kit from Flybold? This complete kit is perfect for all skill levels and is even suitable for teenagers! Family bonding time has never been so fun!
$ $ $: Over $100
Jack Wolfskin JWP Shell Jacket
Whether the plan is to hike the Appalachians or run to the grocery store, this Jack Wolfskin Shell Jacket is perfect for every situation. The environmentally friendly TEXAPORE ECOSPHERE material keeps dry without the use of harmful PFAS chemicals.
Take cooking to the next level with this Finex cast iron skillet and ditch the nonstick pans (with their harmful Teflon and PFAS chemicals). Premium design combines with rigorous manufacturing standards to create a pan that your cook whipping up Michelin-quality meals with ease.
Polywood Modern Adirondack chair
Enjoy the great outdoors (even from a porch) with the Polywood Modern Adirondack Chair. These chairs are made from recycled milk jugs and detergent bottles and come in a wide arrange of colors!