Bridging the Health & Wealth Gap
A partnership between CEH and CityHealth aims to advance public health in 75 cities across the United States 
From air pollution to the pandemic and climate change, the threats to our public health are many, but exciting collaborations like the one between CEH and CityHealth demonstrate that strategic partnerships can have far-reaching health and environmental benefits in cities from San Francisco to Dallas to New York. 
The charge, the problem, and the expansion 
Launched in 2017, CityHealth is a national initiative of the de Beaumont Foundation and Kaiser Permanente that promotes health and health equity in the country's largest cities. CityHealth assesses cities against a package of policy solutions developed with the input of leading subject experts in areas like affordable housing, healthy food procurement, and earned sick leave. 
In 2020, CityHealth asked CEH to develop criteria to evaluate a new policy area under consideration: environmentally preferable purchasing (EPP). One of the most significant ways local governments can improve human and environmental health is through the products they buy. Cities have tremendous purchasing power, and when multiple cities specify safer products, their combined demand sends a powerful signal to the market. The transition to safer products also reduces the amount of toxic chemicals that can contaminate our environment throughout the product lifecycle: from manufacturing to use and disposal, and increases opportunities for circular systems.   
Rooted in our long history of supporting EPP in both private and public institutions, CEH staff identified best practices for procuring three product categories that are commonly purchased in large volumes by cities: furnishings, foodware, and cleaning products. These products – which often contain harmful chemicals that contribute to indoor air contamination – can pose serious health threats to the average American, who spends 90 percent of their time indoors.  And, if you're like many Americans who have increasingly received their meals in disposable food containers, you're also likely to have been exposed to PFAS: a class of fluorinated chemicals that can cause a range of serious adverse health effects (these chemicals are responsible for food packaging's water- and oil-resistant properties).
Fortunately, safer alternatives to all these products exist. Sarah Packer, Interim Director of CEH's Built Environment Program, said: 
"CEH's Procurement team partners with institutions to harness their significant purchasing power in favor of safer alternatives. We know that increased demand not only makes safer products more widely available but can also help bring down the cost of these products as they reach economies of scale. The CityHealth framework will support more and more cities across the country to adopt EPP policies, which will have substantial and far-reaching human and environmental health benefits." 
This summer, CityHealth adopted the new eco-friendly purchasing criteria as part of their 2.0 policy package, which officially launches in 2022. The new 2.0 package includes a total of 12 policy solutions as well as an expansion of the initiative from 40 to the largest 75 cities in America. Some of the newest additions include: Oakland, CA (CEH's headquarters), Cleveland, OH, New Orleans, LA, Durham, NC and Pittsburgh, PA. Explore the full list of cities on this page.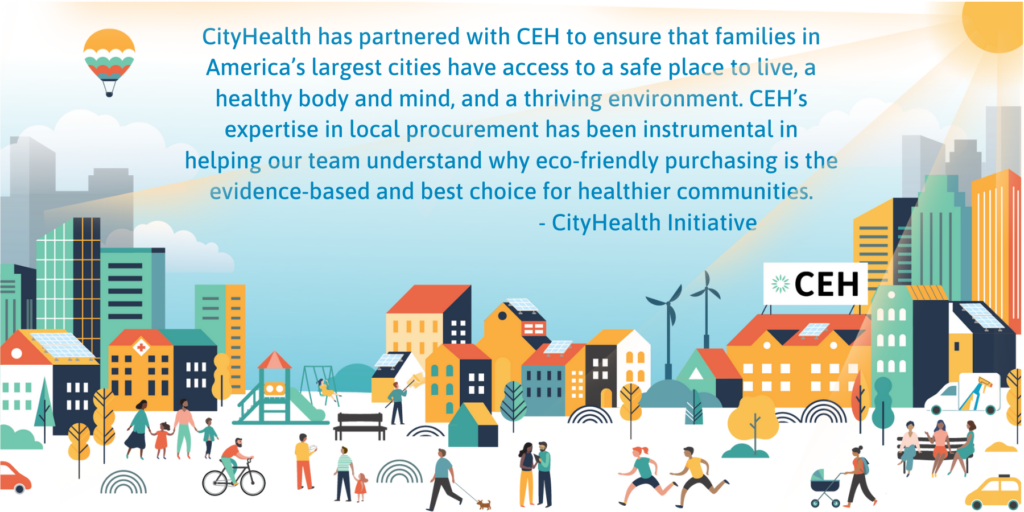 Leading the way 
CEH's work with CityHealth builds on procurement collaborations between CEH and cities across the country for the past several years. 
Take San Francisco: in 2003, CEH worked with city leaders to develop the Precautionary Principle Ordinance, a broadly influential policy which formed the basis for all subsequent environmental-related legislation and city decision-making. Then, in 2005, CEH and other groups helped the city pass another landmark ordinance which established purchasing requirements for a few targeted high-impact product categories. Fast-forwarding to today, San Francisco's procurement standards now cover nine comprehensive product categories, including a cutting-edge carpet requirement adopted in 2018 that encompasses recyclability as well as material safety and transparency, and which informed the development of the carpet standards that CEH promotes today. 
Since the passage of the 2018 carpeting policy, CEH has continued to work closely with San Francisco leaders to advance other procurement priorities. In early 2021, the city moved to adopt CEH's furniture specifications into city code to further protect the health of its workers and residents. 
Our partners at the San Francisco Department of the Environment shared the following quote: 
"CEH has been indispensable in making some of our green purchasing projects possible. Whether it is helping us develop our own specifications, building a list of preferable products, or trying to figure out how to execute policies, CEH has consistently helped us put our values into action." 
Looking ahead 
The policies and experiences of large cities like San Francisco can serve as models for other local jurisdictions – and even broader levels of government – to adopt similar health-protecting policies. The new EPP policy area will not only lead to decreased extraction, manufacturing, and disposal of toxic materials, but will also open the door for new markets to develop products that protect the health of millions of people within cities and beyond.  
"We are excited for the launch of the 2.0 policy package in 2022 and look forward to starting our work alongside our partners at CityHealth to make cities healthier for workers and families across the nation."
– Sue Chiang, Food Program Director, CEH 
"Bridging the health and wealth gap is essential to promoting improved health of the communities we serve. The CityHealth and CEH collaboration will intentionally and effectively support inclusive local economic opportunity. Addressing economic and environmental disparities builds on Kaiser Permanente's mission to create communities that are among the healthiest in the nation."
– Ije-Enu Nwosu, Executive Director of Impact Spending, Kaiser Permanente 
"Dallas's new sustainable procurement policy requires us to create a workplan each year, and this year we are also looking at updating our Environmentally Preferable Purchasing Policy. CityHealth and CEH's feedback on eco-friendly purchasing is both timely and welcome!"
– Chhunny Chhean, Director of Procurement, City of Dallas
"CityHealth has partnered with CEH to ensure that families in America's largest cities have access to a safe place to live, a healthy body and mind, and a thriving environment. CEH's expertise in local procurement has been instrumental in helping our team understand why eco-friendly purchasing is the evidence-based and best choice for healthier communities."
– CityHealth Initiative