University of California takes a major step to protect the health of students and staff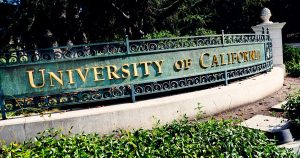 A week ago, the entire University of California (UC) system became the first public university system in the nation to sign CEH's Purchaser Pledge for healthier furniture. These standards restrict the use of five key toxic chemical classes (flame retardants, fluorinated stain treatments, antimicrobials, PVC, and formaldehyde–also known as the Hazardous Handful chemicals) in furniture, and will directly improve the health of the furniture that the UC system purchases. 
This will protect more than 400,000 UC students, faculty, and staff across 10 campuses from chemicals that cause infertility, childhood developmental issues, and cancer. It also protects workers who manufacture and recycle furniture, and signals to their suppliers that the best way to sell more furniture is to remove the toxic chemicals from the product.
Our partnership with CEH—with their deep knowledge, expertise and sharing of resources—was critical in the adoption of this policy. – Heather Perry, Sustainable Procurement Program Manager, UC Santa Barbara, Co-Chair – UC Sustainable Procurement Working Group; and Stephanie Lopez, Special Programs Manager – Sustainable Procurement, UC Office of the President
CEH is extremely grateful to partner with Heather and Stephanie who educated numerous stakeholders, pursued this project with passion  and championed internally to shepherd in this landmark policy. 
We're thrilled to have the UC system sign the pledge! Because college is often a home away from home and students are in their critical reproductive years, it's vital that they not be exposed to hormone-disrupting chemicals. CEH looks forward to working with more colleges and universities across the nation to adopt our healthier standards for furniture.
– Judy Levin, Pollution Prevention Director, CEH
The UC System joins the ranks of other major organizations such as LinkedIn, Genentech, Salesforce, Kaiser Permanente and others who have signed CEH's Purchaser Pledge to seek furniture without the five key chemicals of concern for their massive furniture purchases. The companies that have signed the CEH Purchaser Pledge collectively spend more than $200 million annually on furniture. See who all has signed CEH's Purchaser's Pledge here.