10 Best Non-Toxic Sunscreens. All Reef Safe Of Course!
For the beach and all your outdoor sweaty activities.
Updated for 2021! None of the sunscreens listed here tested positive for benzene contamination.
We updated our sunscreen roundup for 2021 with the 10 best reviewed, non-toxic mineral sunscreens we could find. As always, we make sure that our picks are easy to find online and in stores.
Sunscreen in our minds is synonymous with summer and being outside! But there are so many choices, it's hard to know if what you're getting is something that actually works and that you will like. Not to mention that there are some questionable chemicals in sunscreens that are definitely horrible for coral reefs and might be endocrine disruptors that are absorbed through your skin and have been found to circulate in your blood. We'd prefer to stick with mineral sunscreens that basically act like a physical barrier to harmful UV rays.
These picks are great as everyday body and sport sunscreens. We always have one by the door so that every family member loads up before leaving the house. So look for one of our top 10 picks for non-toxic sunscreens the next time your tube is empty. Many of these brands have plenty of options in stick formats, with and without tints, and come in a variety of formulations for everyday wear, sweaty sports and beach days. Any of these are 10 options are safe for kids and babies too, but if you're looking for a specific baby or toddler sunscreen, be sure to check out our best 13 non-toxic baby sunscreen options. We also have a roundup of facial sunscreens that are formulated especially for everyday coverage that protects against wrinkles and spots but won't clog pores.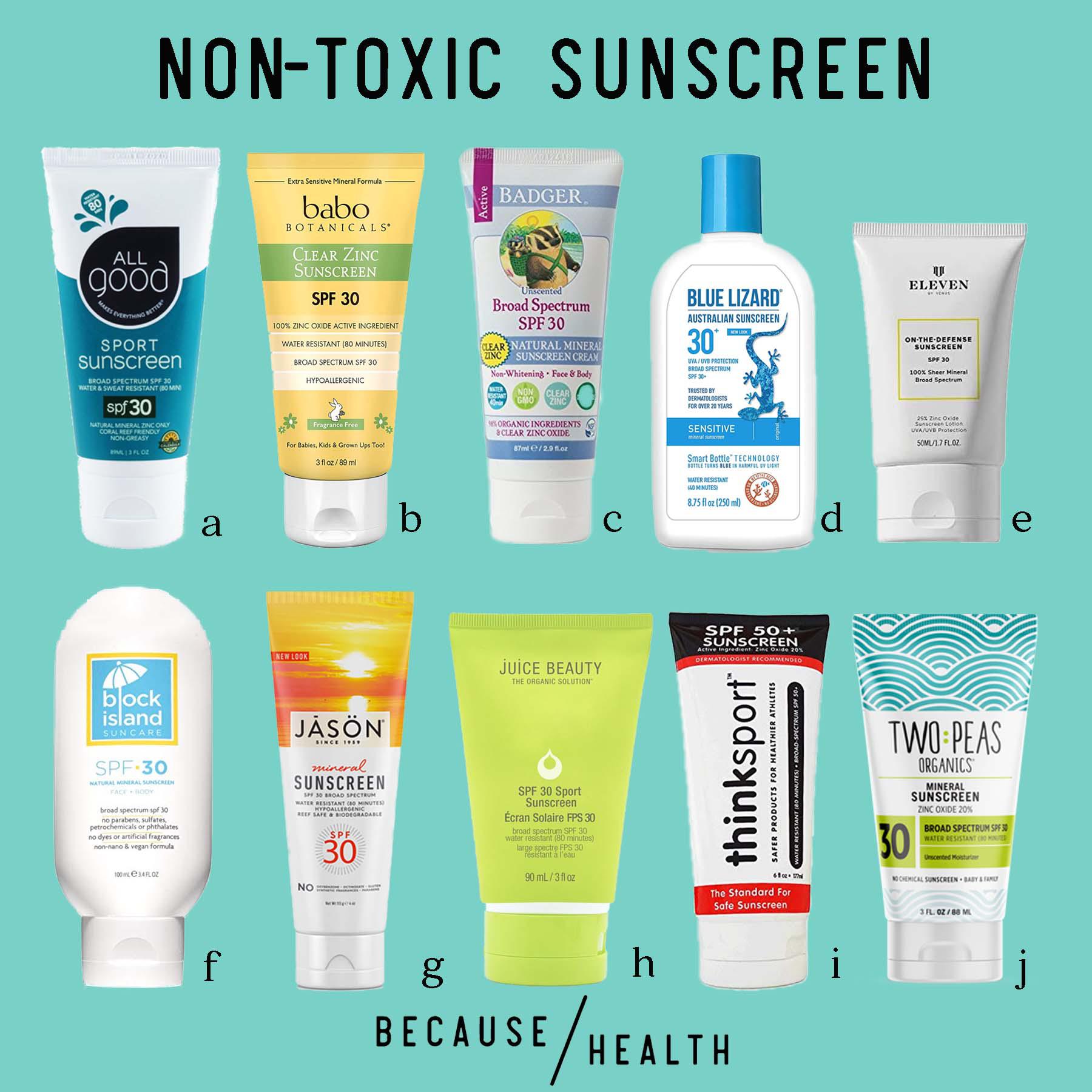 a) All Good Sport Sunscreen SPF 30
b) Babo Botanicals Clear Zinc Sunscreen SPF 30
c) Badger Clear Zinc Regular and Sport Sunscreen SPF 30
d) Blue Lizard Sensitive Sunscreen
e) EleVen On-the-Defense Sunscreen SPF 30
f) Block Island Natural Mineral Sunscreen SPF 30
g) Jason Mineral Sunscreen SPF 30 Broad Spectrum
h) Juice Beauty SPF 30 Sport Sunscreen
i) Thinksport Safe Sunscreen SPF 50
j) Two Peas Organics SPF 30 Unscented Mineral Sunscreen
Because Health is a participant in the Amazon Services LLC Associates Program, an affiliate advertising program so that when you click through our Amazon links, a percentage of the proceeds from your purchases will go to Because Health. We encourage you to shop locally, but if you do buy online buying through our links will help us continue the critical environmental health education work we do. Our participation does not influence our product recommendations. To read more about how we recommend products, go to our methodology page.