Non-Toxic Baking Essentials
For everything from cupcakes, to pie, to cornbread we've got you covered
Updated for 2022!
Whether you are a full on baker or just someone who struggles with the directions on the back of a box of cake mix, having the right pans is always a necessity. While nonstick may seem like an amazing invention to help with this, you should shy away from it (read this to learn why) and check out these great alternatives. Same goes for cooking, so check out our non-toxic alternatives to non-stick pans roundup.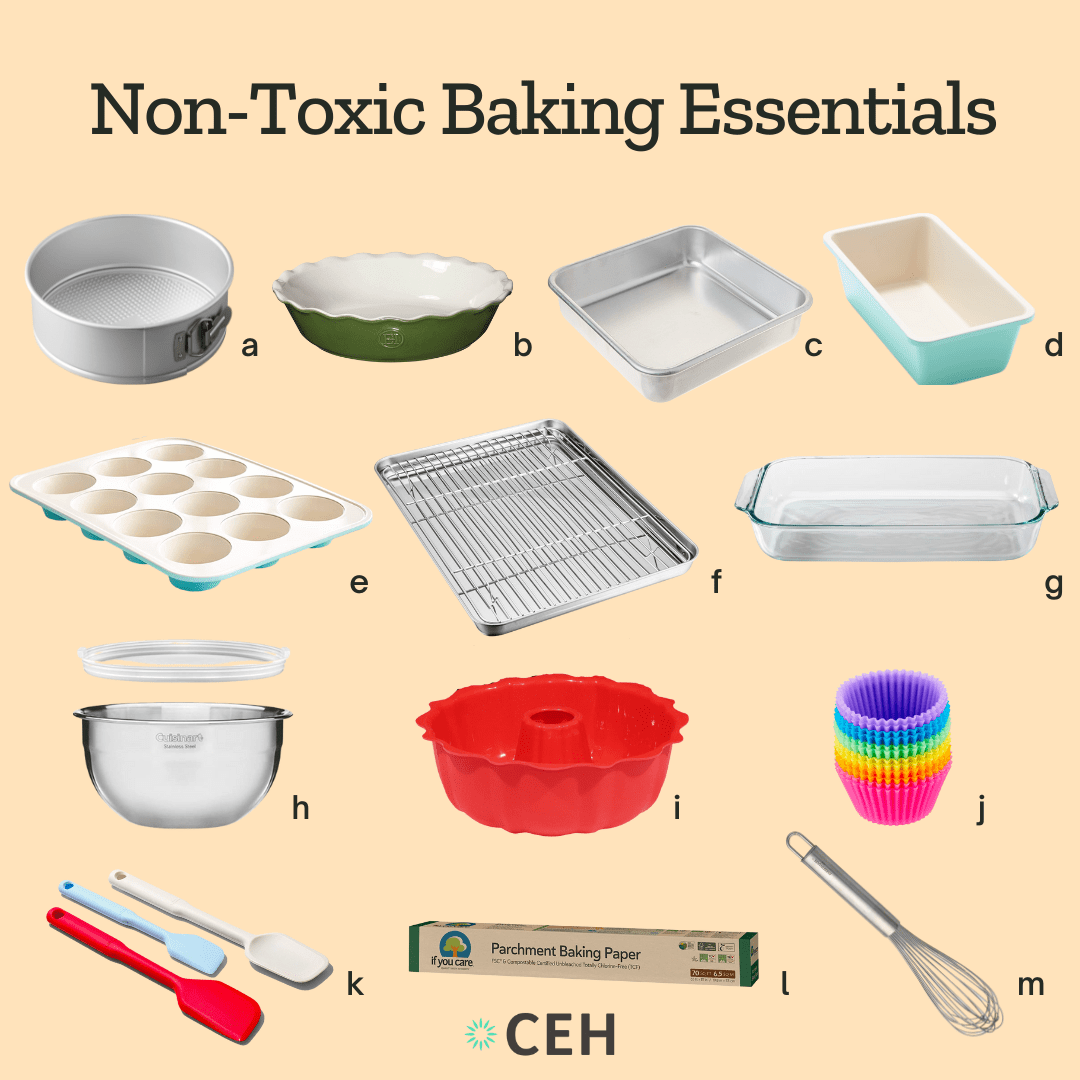 a) Wilton Aluminum Springform Pan
b) Emile Henry Modern Classics Pie Dish
c) Nordic Ware Aluminum Square Cake Pan
d) GreenLife Ceramic Nonstick Loaf Pan or NordicWare Aluminum Loaf Pans
e) GreenLife Ceramic Nonstick Muffin Pan or NordicWare Aluminum Muffin Pan + If You Care Baking Cups
f) TeamFar Stainless Steel Baking Sheet with Rack Set
g) Pyrex 3 Quart Glass Baking Dish 9″ x 13″
h) Cuisinart Stainless Steel Mixing Bowls with Lids
i) Silicone Bundt Cake Pan 9 inch
j) Amazon Basics Reusable Silicone Baking Cups, Muffin Liners
k) OXO Good Grips 3 Piece Silicone Spatula Set
l) If You Care Parchment Baking Paper
m) Farberware Professional Stainless Steel Whisk
*Because Health is a participant in the Amazon Services LLC Associates Program, an affiliate advertising program so that when you click through our Amazon links, a percentage of the proceeds from your purchases will go to Because Health. We encourage you to shop locally, but if you do buy online buying through our links will help us continue the critical environmental health education work we do. Our participation does not influence our product recommendations. To read more about how we recommend products, go to our methodology page.