9 Stainless Steel & Glass Tumblers
For iced coffee, iced tea, and smoothies on the go
Getting iced coffee in a plastic cup with a plastic straw is a lot harder to do after watching that video of a plastic straw being removed from a turtle's nose. Plus there is also that pesky condensation that creates a pool of water at the bottle of your cupholder or on your desk. So we found the 9 best reviewed stainless steel and glass tumblers, so that you can have your iced beverages in style this summer. Many of the brands have different sizes ranging from 20oz to 30oz and variety of colors. We prefer stainless steel or glass because many of the acrylic or plastic tumblers may have chemicals similar to BPA. We also link to some stainless steel straws because not all of these tumblers come with straws. And if you're like us, drinking iced coffee through a straw is just synonymous with summer.
---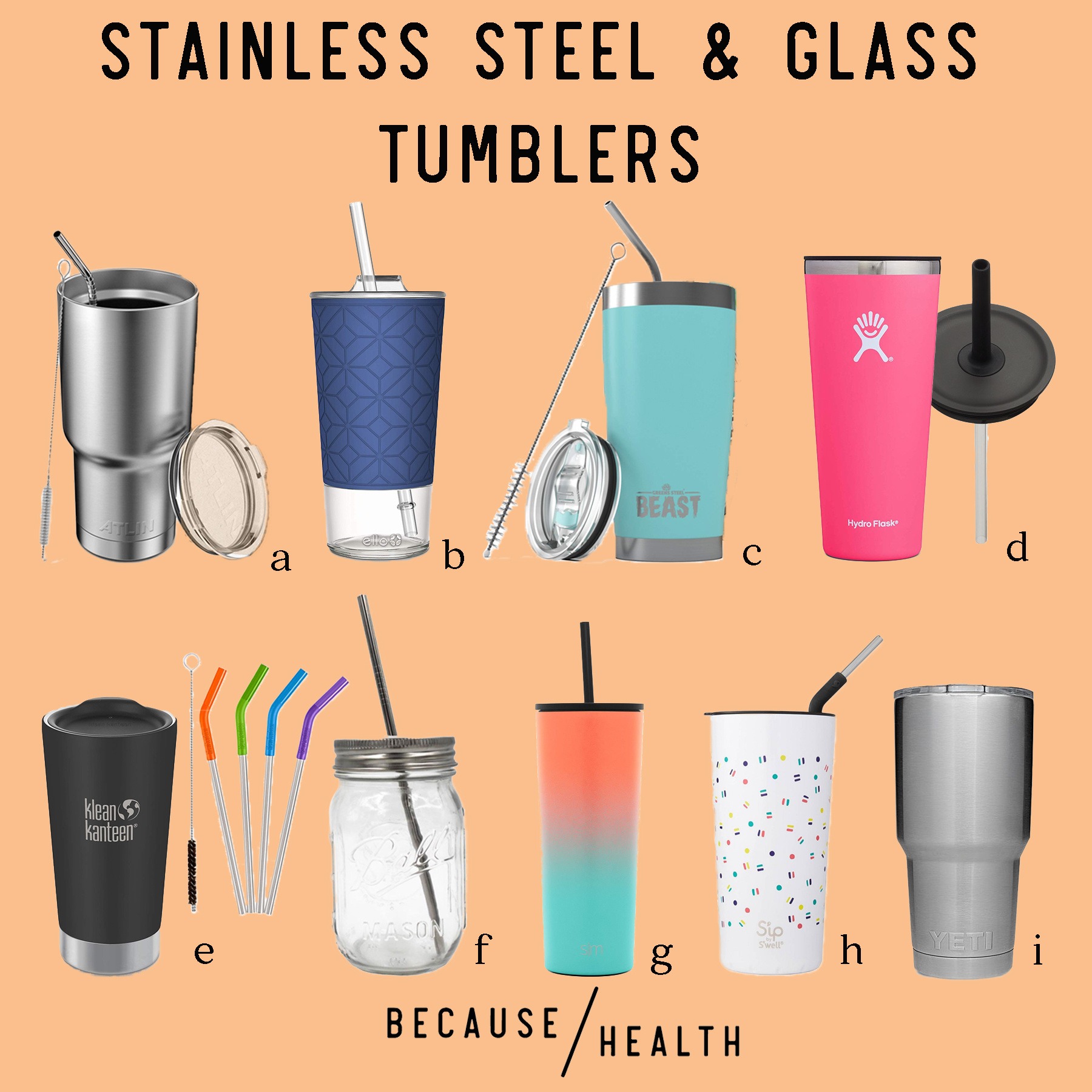 a) Atlin Sports 30oz Tumbler b) Ello Tidal 20oz Glass Tumbler with straw* c) Greens Steel 30oz Beast Tumbler and straws d) Hydroflask 22oz Tumbler and straw lid e) Klean Kanteen 20oz Tumbler with straw lid and stainless steel straws with silicone tip f) Mason jar stainless steel lids with straw g) Simple Modern 20oz Classic Tumbler* h) S'ip by S'well 24oz Takeaway Tumbler i) YETI Rambler 30oz Tumbler with MagSlider Lid*
* Has a plastic straw or does not come with a straw. This is a good option for stainless steel straws that should work with these tumblers.
Because Health is a participant in the Amazon Services LLC Associates Program, an affiliate advertising program so that when you click through our Amazon links, a percentage of the proceeds from your purchases will go to Because Health. We encourage you to shop locally, but if you do buy online buying through our links will help us continue the critical environmental health education work we do. Our participation does not influence our product recommendations. To read more about how we recommend products, go to our methodology page.