What to Know Before Your Next Big DIY Project
Protect your health without sacrificing creativity!
Whether you're inspired by a recent Etsy binge or are a Weekend Warrior who practically lives at Home Depot, DIY projects can be super fun and fulfilling. Before you get started on your next project, we have some tips on what chemicals to avoid, the safety hazards they pose, and ways to keep yourself safe.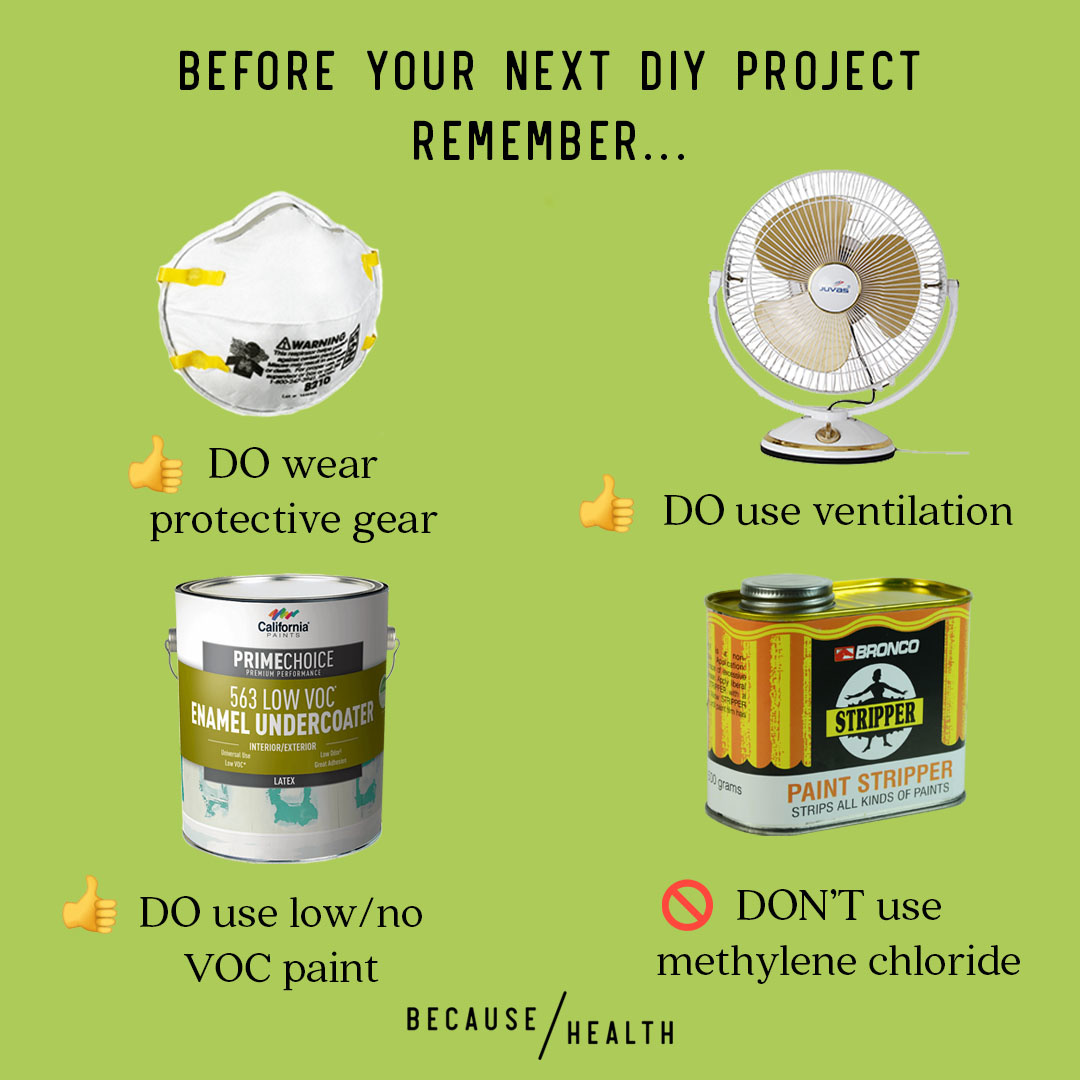 Avoid Methylene chloride
It's always fun to spruce up furniture with a new coat of paint but methylene chloride, a seriously dangerous chemical, is found in paint stripping products. In the body methylene chloride turns into carbon monoxide (1), and too much carbon monoxide can cause dizziness, confusion, and asphyxia. Methylene chloride fumes quickly accumulate and are heavier than air, which means workers bending down over projects in poorly ventilated areas are easily susceptible to the dangers of this chemical (2). There have been many accidental deaths from Methylene chloride, so you should completely avoid paint strippers that use it. Safer Chemicals, Healthy Families has created a great reference on safer alternative for paint strippers.
Paint
Before you pick up your paint brush to tackle that dresser revamp, make sure the paint you're using is low VOCs. VOCs, or volatile organic compounds, are chemicals that are emitted as gasses from products like paint and can cause headaches, eye irritation, and nausea (3). VOCs are part of the reason paint can be so smelly when it's drying! Look for a paint that says low or no VOCs on the packaging and make sure to keep the windows open while the paint is drying!
Wood Stains
Updating your wood table or decking? Reach for a water-based wood stain or finish! Traditional wood stains can contain harsh chemicals and emit a ton of VOCs. Luckily a lot of brands have a VOC rating on their label, which makes choosing a product a lot easier. We recommend choosing a stain with low VOCs (under 250 g/l) that is also Green Seal 11 (GS-11) certified (4).
Always Have Proper Ventilation
This is key for any DIY project. Chances are, you'll probably use some chemicals that are not great for you during your project. The best place to work on your project is outside but if you have to work indoor, make sure to open windows and doors, and use a fan to ventilate the area.
Wear a Protective Mask
DIY projects can expose you to a TON of dust, which is why it's a good idea to always wear a protective mask. Dust is bad for you in general, and can also contain particles containing toxic chemicals, which is why we recommend using an N95 mask while working. Normal masks can help protect you, but they don't protect you from all dust. N95 masks filter even the tiniest particles (0.3 microns) (5), which can keep you safe during those extremely messy projects.