7 Glass Water Bottles To Help You Reach Your Hydration Goals
Our top picks for clean tasting hydration
If you've made it here, you probably already know that bottled water isn't great. Plastic in general can also be tough because of the ever popular BPA and it's sister chemicals. So we found the best 7 glass water bottles that are well reviewed and that you can bring with you everywhere. That assures that even if your plastic water bottle is BPA free, you won't have to worry about BPA replacements.
Glass does tend to be a bit more heavy than stainless steel, but sometimes people complain about stainless steel having a taste or not being as easy to wash. We like how with these glass bottles, you can flavor your water or even drink iced tea in them, throw them in the dishwasher and then put water in them without a nagging smell or taste. Some of these brands have different sizes and colors, so poke around to find a size and look that work for you.
Also, in case you're wondering, it's tough to find glass bottles without plastic lids, but if the water isn't constantly touching the lid, a plastic lid usually isn't something to get too worried about. If you have some old plastic reusable water bottles kicking around (who doesn't!) then check out our advice about how to use them safely.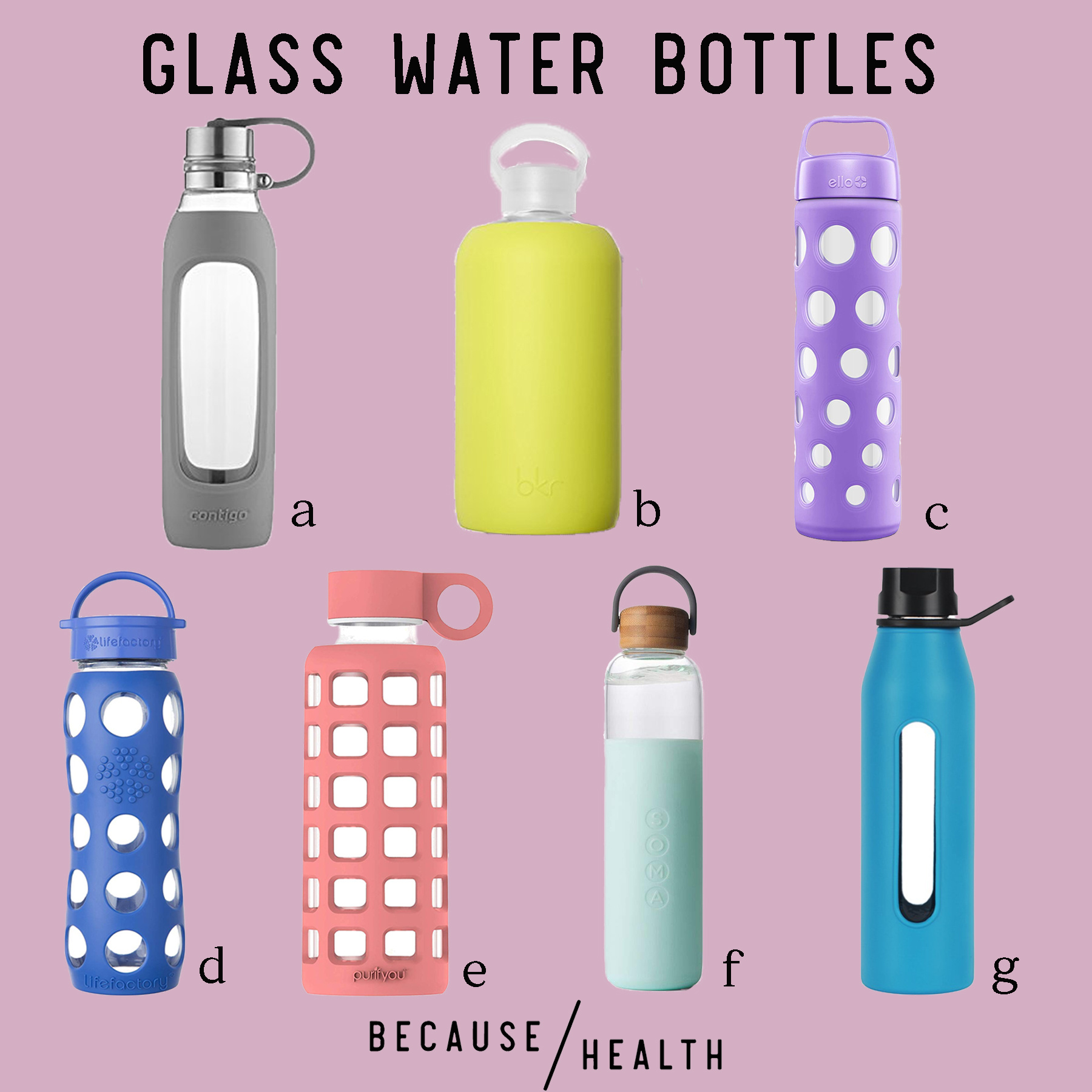 a) Contigo Purity b) Bkr c) Ello Pure d) Lifefactory with Classic Cap e) Purifyou f) Soma g) Takeya
*Because Health is a participant in the Amazon Services LLC Associates Program, an affiliate advertising program so that when you click through our Amazon links, a percentage of the proceeds from your purchases will go to Because Health. We encourage you to shop locally, but if you do buy online buying through our links will help us continue the critical environmental health education work we do. Our participation does not influence our product recommendations. To read more about how we recommend products, go to our methodology page.