Label Education: Textiles
What do all those labels on my clothing, sheets, and pillows mean?
You've heard about how it's better to choose organic food and to think twice when buying things like cleaning products so you don't add more chemicals to your home or your body. But what about clothing?
---
Turning fibers into completed garments involves the use of a slew of synthetic chemicals like dyes, heavy metals, and formaldehyde, some of which can be inhaled or absorbed through our skin, especially when we sweat. Babies can ingest small amounts too when they chew or suck on fabrics. That's why it's so important to always wash new clothes before wearing them, but you can also do more than that. You can look for clothes and other fabrics that don't have harmful chemicals added to them in the first place. How? Check for products certified with the labels below. You can find yarns, fabrics, clothing, home textiles like towels and bedding, and even pillows!
Don't be too discouraged if you can't find these labels next time you go shopping. They aren't quite mainstream yet, but awareness is growing. More good news: some brands, like H&M, Adidas, and Levi's, are working with Greenpeace to change their practices and reduce their chemical impact. Happy shopping!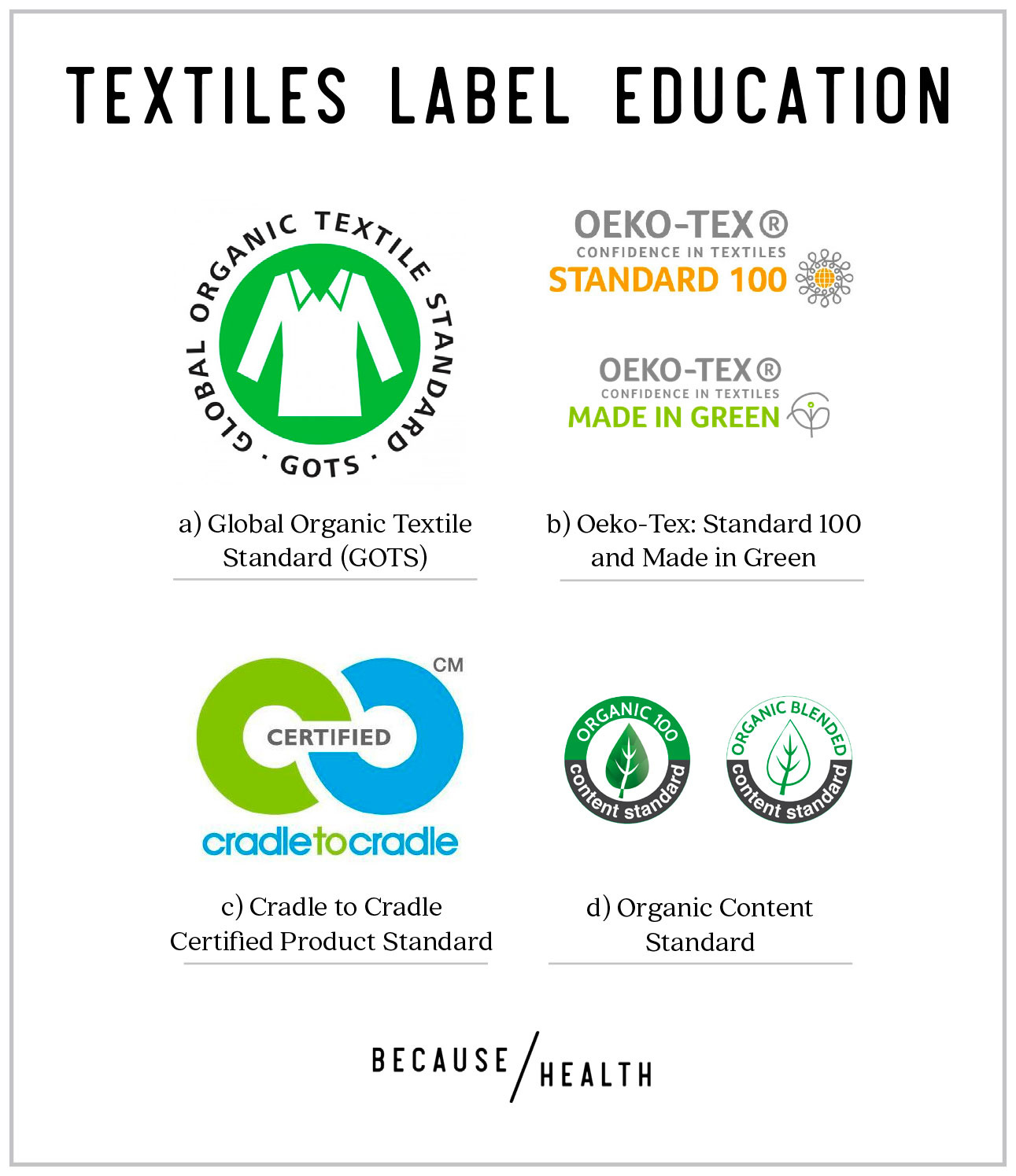 What is it? Third party certification for the processing, manufacturing, packaging, labeling, trading, and distribution of textiles made from at least 70% certified organic natural fibers. There are two label grades: 1) "organic," over 95% organic fibers and 2) "made with X% organic materials," 70-95% organic content. Read details on the standards.
Environmental Health: Many toxic chemical restrictions, including any chemicals linked with cancer, reproductive problems, genetic defects, or organ damage, or that are harmful to the environment. No chlorine bleaching, no PVC in packaging, and no PVC, nickel, or chrome in accessories (like zippers or buttons). Search the product database (select Retailing or Mail Order).
Other considerations: Also includes criteria for environmental practices (like wastewater treatment) and safe and fair treatment of workers.
What is it? Standard 100 restricts chemicals used during processing and manufacturing. Made in Green combines Standard 100 with criteria for sustainability and worker treatment and offers traceability through unique product ID numbers/codes marked on labels.
Environmental Health: Many toxic chemical restrictions. Read details on chemical standards and search the product database.
Other considerations: Made in Green also incorporates criteria for environmental practices and safe and socially responsible working conditions (Oeko-Tex's STeP Sustainable Textile Production Standard).
What is it? Product standard which provides designers and manufacturers with sustainability and social criteria across five quality categories (material health, material reutilization, renewable energy and carbon management, water stewardship, and social fairness), awarded at five levels. Also has requirements for continually improving what products are made of and how they are made. Range of certified products including clothing, home textiles, building supplies, furniture, and cleaners.
Environmental Health: Chemicals that accumulate in the environment or can lead to irreversible negative health effects are banned. View the banned list of chemicals. Search the product database.
Other considerations: Other quality categories include assessments on renewable electricity, offset carbon emissions, water impacts, supply chain issues and third party audits, and community impact.
What is it? Assures presence and amount of organic content. OCS 100 is for products that contain 95% or more organic material. OCS blended is for products that contain 5% minimum of organic material blended with conventional or synthetic raw materials. View a list of companies certified to the organic standard.
Environmental Health: Verifies that final products contain the stated amount of organic material. Doesn't address chemical use, environmental practices, and worker safety issues during manufacturing.