Non-Toxic & Eco-Friendly Backpacks
The most sustainable backpacks for toddlers, preschoolers, grade schoolers, teens, and adults!
Updated for Fall 2021!
As soon as August rolls around, all we can think of backpacks! A new backpack is often the most exciting thing on the back to school shopping list, especially if the one from last year is torn to shreds or not big enough anymore. Many backpacks are made from harmful plastics like PVC, which contains phthalates, and many times they are treated with a PFAS (Teflon-like) finish. This is why we searched high and low for backpacks that are not only cute and functional, but are also good for the environment. Our backpack recommendations are all phthalate, PVC, and lead free. We also looked for backpacks that are made from recycled water bottles, GOTS certified organic cotton, or that feature a PFAS-free water repellent. We found backs in sizes that will work for toddler, kids, teenagers and adults. Many of these backpacks have different sizing options and all of them come in assorted colors and prints so there really is a backpack for everyone!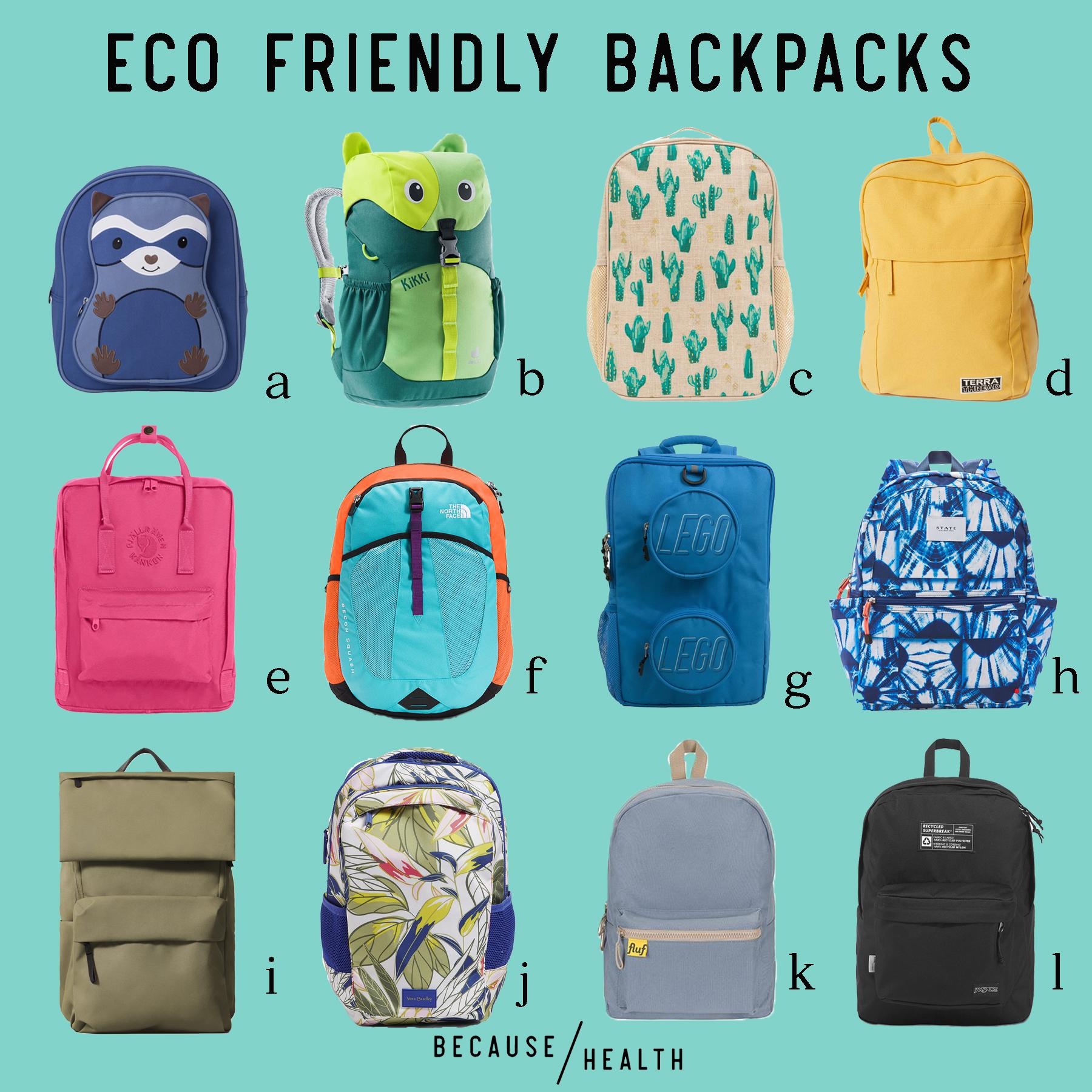 We list the dimensions or size in liters of each backpack below. As a reference, toddlers usually need a backpack of about 6 liters, preschoolers from 6-12 liters, elementary school kids from 12-18 liters, and teenagers/adults from 18 liters and above.
a) Apple Park Backpack– Toddler 10.75″ x 12″ x 5.5″, Big Kid 14.5″ x 12″ x 7″
These cute backpacks are made from 100% recycled materials. Each animal backpack saves 27 plastic bottles from landfills. Also comes in an owl and fox styles, and big kid and toddler sizes.
b) Deuter Kikki Kid's Backpack– 8 liters
This is a really fun little kid backpack. It comes in three different colors and has a chest strap to help your little one carry their load. This backpack is PFAS free and manufactured according to the Blusign (R) standard, which ensures environmental health and safety in the manufacturing of textiles.
c) So Young Toddler Backpack (9.5″L X 5″W X 13″H) and Grade School Backpack (11″L X 5.5″W x 15.5″H)
So Young backpacks come in toddler and grade school sizes and all sorts of unique modern prints. They are constructed of linen and cotton and are free from harmful chemicals.
d) Terra Thread Organic Backpack (16″H x 12″W x 5″D) and Mini Backpack (13″H x 10.5″W x 4″D)
Terra Thread backpacks are made with a durable, thick GOTS certified organic cotton canvas. They are also carbon neutral, because the company purchases carbon offsets. Plus the backpacks are made in a Fair Trade certified factory and the company is a Certified B Corporation! Terra Thread backpacks comes in a mini and a standard size, so it works for kids (and adults!) of all sizes.
e) Fjallraven Re-Kanken (16L) and Re-Kanken Mini (7L)
A special edition of the trendy Kanken backpack from Fjallraven that is made entirely from polyester recycled from plastic bottles. The dye technology also reduces the amount of water, energy, and chemicals used. It comes in a mini and standard size in lots of bright color choices, so there is something for everyone. Fjallraven takes sustainability seriously and has an impressive Code of Conduct. They were also one of the first adopters of going PFAS free.
f) North Face Youth Recon Squash Backpack (17L) and the North Face Sprout Backpack (10L)
North Face has two excellent and well built kids backpacks that are made from 50% recycled polyester. The fabric is water repellent with a non-PFAS durable water repellent. With all the right pockets and comfortable supportive straps, including a chest clip, this backpack will last for many years.
g) LEGO Brick Backpack (18 L)
The perfect backpack for the Lego obsessed. There are two zippered front pockets, and the adjustable shoulder straps and sternum strap all help to make this backpack comfortable. It's also exciting that the fabric is made from recycled plastic bottles, which reduces energy use, water use, and air pollution
h) State Kane Kids Recycled Poly Canvas Backpack Original (14.95″ H x 11.22″ W x 4.72″ D), Mini (12.60″ H x 9.45″ W x 3.54″ D) and Large (17″ H x 13″ W x 7.5″ D)
This backpack is thoughtfully designed and made from 90% recycled polyester. The main compartment has organizational zip pockets and the outside has two side water bottle pockets. The recycled fabric version also comes in several other prints and a mini version for the younger kids! There's even a large size for teenagers. State bags also gives to families in need for every backpack that is purchased.
i) Everlane Renew Backpack (18L or 27L)
This backpack is made from 100% recycled polyester and features a PFAS free water resistant finish. The dyes are also Bluesign (R) approved, which are safer for workers and for the environment. These backpacks feature a zippered laptop pocket and other slip and zippered pockets for organization. It's a comfy and classy backpack that is perfect for class, work, or travel.
j) Fluf B Pack (22L)
These Fluf backpacks are made from GOTS certified organic cotton with 100% recycled polyester felt padding. There is a sleeve for a laptop and a zipper front pouch. For every backpack sold, Fluf donates to support sending a girl to school in a developing country through Plan International.
k) Vera Bradley Reactive Grand Backpack (25 L)
A favorite brand of tweens and teenagers, Vera Bradley now makes backpacks from recycled plastic bottles. This backpack comes in a couple of trendy prints and colors and can hold all the school books kids will need.
l) Jansport Recycled SuperBreak Backpack (26 L)
A classic backpack, but now made with 100% recycled materials. Each backpack is made from the equivalent of 20 plastic bottles! This is a quality lightweight backpack that is great for school and more.
*Because Health is a participant in the Amazon Services LLC Associates Program, an affiliate advertising program so that when you click through our Amazon links, a percentage of the proceeds from your purchases will go to Because Health. We encourage you to shop locally, but if you do buy online buying through our links will help us continue the critical environmental health education work we do. Our participation does not influence our product recommendations. To read more about how we recommend products, go to our methodology page.