The 10 Best Non-Toxic Facial Sunscreens
Everyday coverage that protects against wrinkles and spots but won't clog pores
Updated for 2021!
Our best beauty tip? Wear sunscreen on your face every single day, all year round! Basically all dermatologists agree that wearing sunscreen is important to protect your skin from sun damage and keeps wrinkles and spots at bay. But, we know that it's not easy to find the right facial sunscreen for your skin type. And of course it's even harder to find facial sunscreens without any chemical sunscreens. So we dug through all that is out there to find non-toxic facial sunscreens without harmful chemicals that are well-reviewed, easy to find, and are all SPF 30 or higher. All of these facial sunscreens are mineral sunscreens, so they're healthier for you and are reef safe too, if you happen to be by the ocean. Many of our options also come in tinted versions, so they provide light coverage as well. So what are you waiting for? Check out these non-toxic facial sunscreens and pick one up!
P.S. We also have a roundup of our favorite non-toxic all purpose and sport sunscreens, and non-toxic baby sunscreens!
---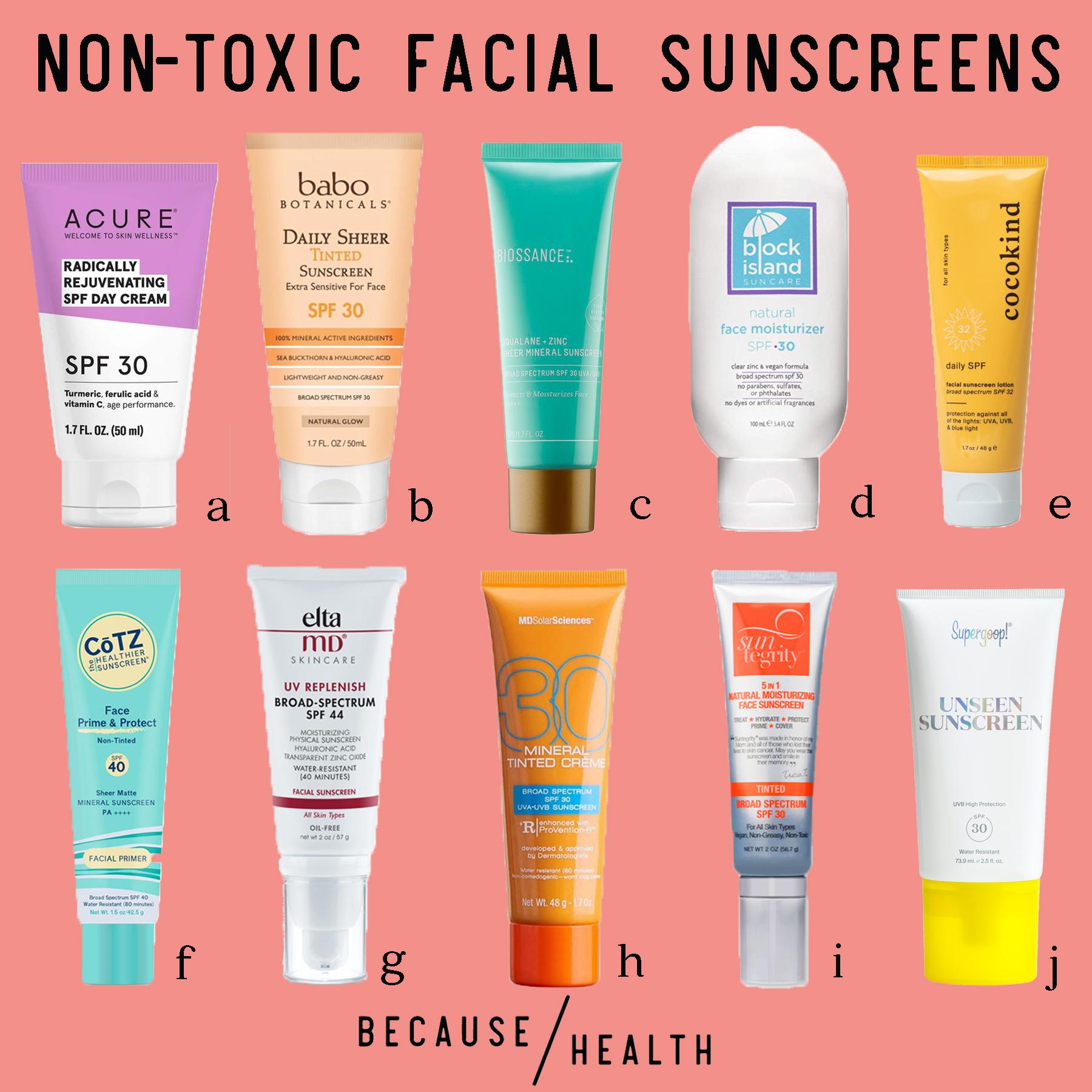 a) ACURE Radically Rejuvenating SPF 30 Day Cream
b) Babo Botanicals Daily Sheer Tinted Facial Mineral Sunscreen SPF 30
c) Biossance Squalane + Zinc sheer mineral sunscreen
d) Block Island Organics Natural Face Moisturizer SPF 30
e) Cocokind Daily SPF 32 Facial Sunscreen Lotion
f) CoTZ Face Prime and Protect Tinted SPF 40
g) Elta MD UV Elements or Replenish Broad Spectrum Facial Sunscreen SPF 44
h) MD Solar Sciences Mineral Tinted Creme SPF 50
i) Suntegrity 5-in -1 Natural Moisturizing Face Sunscreen SPF 30j) Supergoop! Unseen Sunscreen SPF 40
Because Health is a participant in the Amazon Services LLC Associates Program and the Target Influencer program, affiliate advertising programs so that when you click through our links, a percentage of the proceeds from your purchases will go to Because Health. We encourage you to shop locally, but if you do buy online buying through our links will help us continue the critical environmental health education work we do. Our participation does not influence our product recommendations. To read more about how we recommend products, go to our methodology page.