Non-Toxic and Sustainable 2020 Gift Guide for Kids
Here's the key to finding a perfect non-toxic gift for kids of all ages!
The holidays are right around the corner, which means we're on the hunt for cool and unique gifts! That's why we've put together gift guides for everyone on your list. Looking for non-toxic, sustainable, eco-friendly, and fun gifts for kids? Look no further!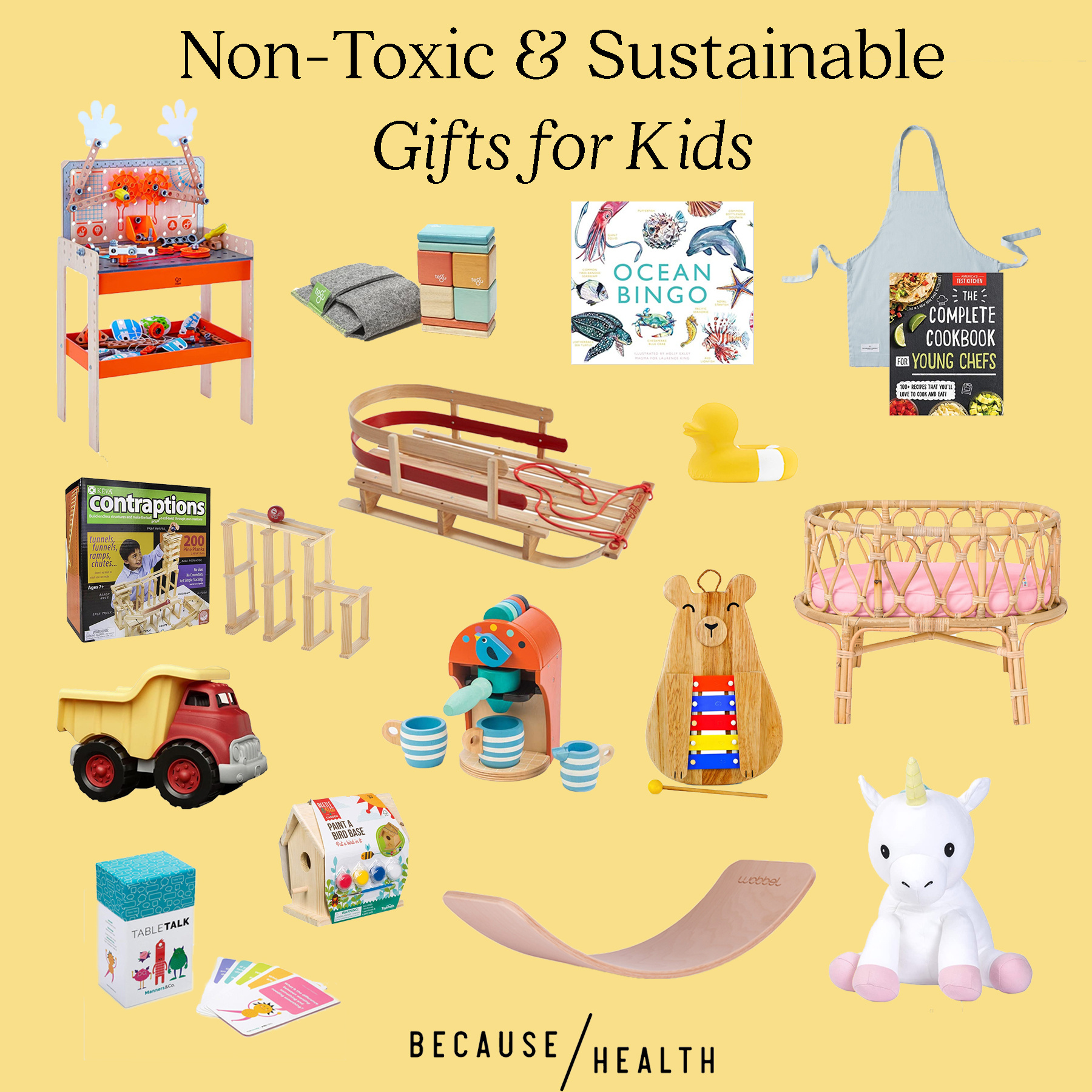 Non-Toxic and Sustainable Gifts for Kids
$: Under $50
Toysmith Beetle and Bee Paint a Bird Base, Backyard Birdhouse Kit
Welcome birds into your backyard with a fun eco-friendly project that kids will love doing. We also love that this company uses FSC certified wood.
This dump truck with some gravel or dirt gets non-stop play at our house. It's always a favorite in the sandbox too. It's super durable, yet light enough to take to the playground. Green Toys are made from recycled plastic milk containers, and contain no BPA, pthatlates, or PVC.
Oli and Carol, FLO the Floatie Natural Rubber Duckie
A rubber duckie is a favorite bath toy for a reason, but synthetic rubber is full of yucky chemicals like phthtalates. That's why we love this natural rubber version. Bubble baths just got a lot more fun!
Beautifully illustrated twist on traditional bingo. This is a fun way to learn about ocean creatures that brings the family together. It's a simple game, but one that your family can play over and over again.
Tegu 8 Piece Pocket Pouch Magnetic Wooden Block Set
This is the perfect first building set for younger kids that will still be fun years later. We love how portable this is and can be thrown in the diaper bag for on the go fun and entertainment. Not only is the wood sustainably source, but Tegu employs local workers in Honduras and pays them a living wage. Now these are blocks we can get behind.
Kids Organic Apron + Cookbook for Young Chefs
Cooking is a great way for kids to explore new foods and flavors and get excited about healthy eating. This organic apron and the award winning Cookbook for Young Chefs is the perfect starter gift set to get any kid started in the kitchen.
Elly Lu makes extremely cute organic stuffies that we love. There is also a really cute book that goes along with the stuffed animal that helps the stuffed animal come to life. The cloth is OCS Certified Organic Cotton and filled with a recycled polyfill made from recycled water bottles. They also have narwhals, tigers, elephants and more!
This is a top quality cute glockenspiel with beautiful crisp sounds. It's made from eco-friendly rubberwood and the clever designs mean that kids don't take the bars on and off. That's less cleaning up for parents!
Tender Leaf Toy Espresso Machine
If it's your dream to have your kids make your cup of coffee in the morning, this wooden espresso machine is great for pretend play. It's eco-friendly and quality made and is the perfect gift for a budding barista.
$ $: Between $50-100
Made from solid pine, KEVA Contraptions are a fantastic building and engineering toy for older kids. This set includes 200 wooden planks that can be used to build scaffolding, ramps, paths, and much more. Kids will have so much fun making their own Rube Goldberg machine in their living rooms.
Manners&Co TableTalk Conversation Cards
Use this set of 135 cards to spark meaningful conversations with kids at the dinner table or in the car. It's a great way to get even the most reticent little ones (and partners) thinking and talking. There's a good variety of topics that can be revisited time and time again.
A fun and quality workbench that will inspire kids to experiment and tinker. This set includes contains everything children as young as four need to conduct over 15 experiments and learn basic scientific principles. Made of FSC certified wood like all Hape toys.
This beautiful doll crib is made from sustainably sourced rattan and cotton. It is a heirloom piece that will inspire hours of pretend open-ended play. The fact that it's beautiful enough to fit in with your decor is just a bonus.
$ $ $ : Over $100
This quality balance board promotes balance and creativity. The board can be used a bridge, boat, and anything else they can imagine! This board is made with European FSC beech wood and even adults will have fun with it.
A heirloom quality pull sled for the littlest snow explorers. We love that it's beautiful enough to function as holiday decor when it's not in use. We also love that it's not plastic, which inevitably cracks and breaks and contributes to our plastic pollution problem.