Non-Toxic Laundry Detergents
We searched and found all the safer options for doing your laundry
Non Toxic Laundry Detergent Updated for 2020!
Laundry detergent is such a necessary for every day life that we often don't stop to think about what it's made from. Traditional laundry detergent can be made from lots of different ingredients that aren't great for our health, including SLSs, formaldehyde, bleach, and phosphates. These ingredients have been linked to air pollution and cancer. Yikes!
After lots of research, we collected an assortment of safe, non-toxic detergents to keep your clothes smelling and looking new. Some specifically say they are for baby, others have versions for baby along with the original and both are safe, so choose what you like, and know they really are all safe for any age. You don't necessarily need a baby specific detergent. Choose what you think works best for you. And, while you're at it, check out our roundup of fabric softeners and dryer sheets. Yay for clean clothes!
---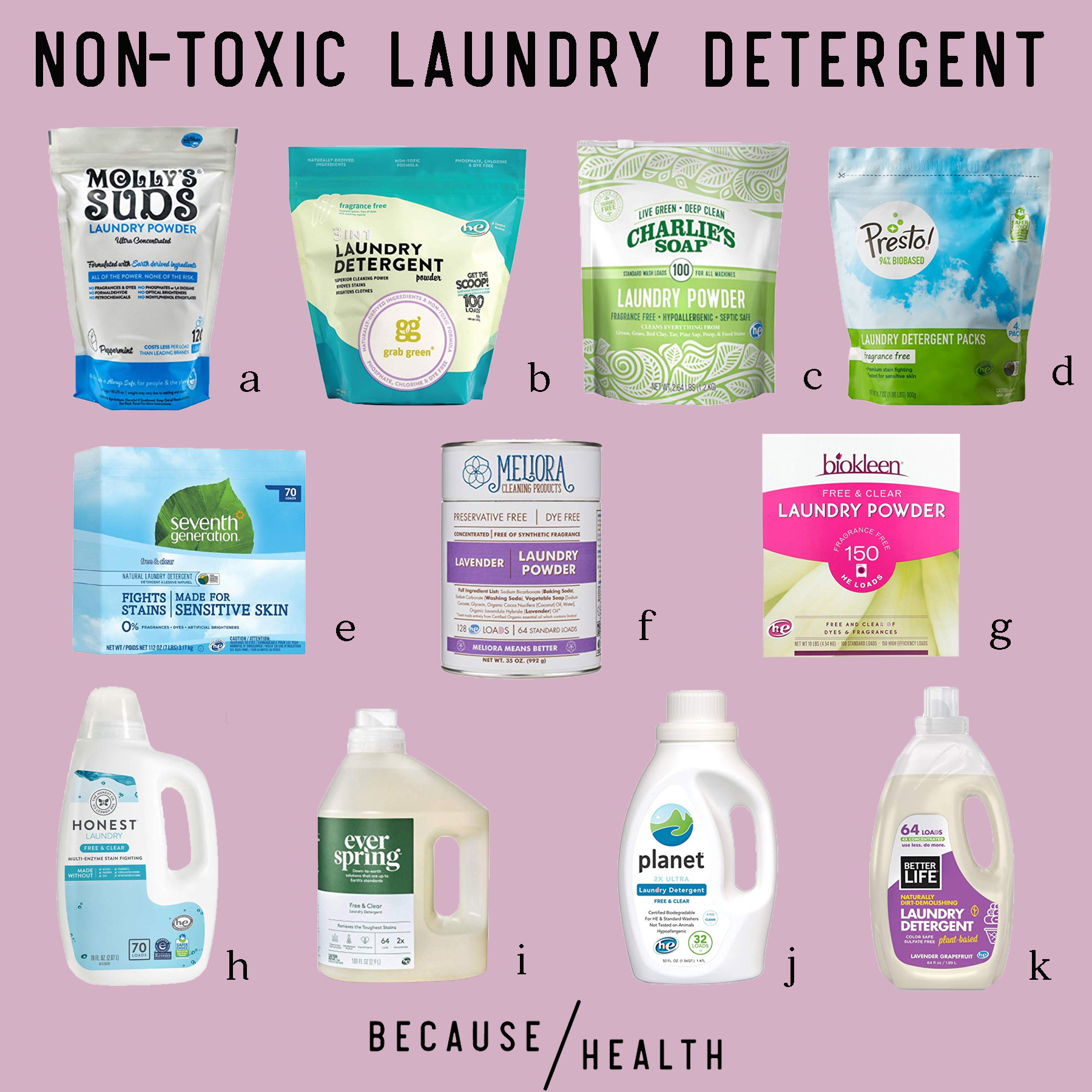 a) Molly's Suds Laundry Powder b) Grab Green 3-in-1 laundry detergent powder and pods c) Charlie's soap laundry powder d) Presto Laundry detergent packs fragrance free e) Seventh Generation Natural Laundry detergent powder f) Meliora Cleaning Products Laundry Powder g) Biokleen free and clear laundry powder h) Honest company laundry detergent i) Everspring Laundry detergent free and clear j) Planet 2X ultra laundry detergent k) Better Life laundry detergent
We rely on EWG's consumer databases, the Think Dirty App, and GoodGuide in addition to consumer reviews and widespread availability of products to generate these recommendations. Learn more on our methodology page.
*Because Health is a participant in the Amazon Services LLC Associates Program, an affiliate advertising program so that when you click through our Amazon links, a percentage of the proceeds from your purchases will go to Because Health. We encourage you to shop locally, but if you do buy online buying through our links will help us continue the critical environmental health education work we do. Our participation does not influence our product recommendations. To read more about how we recommend products, go to our methodology page.