Non-Toxic Body Lotion Roundup
Stay moisturized without feeling sticky, slippery, or like you're covered in chemicals with these natural lotion options
Colder weather is coming, which means so is dry skin. Ugh! Usually we'd just grab whatever is on sale at the drugstore, but all body lotion is not created equal. In fact, traditional body lotions can contains some harmful chemicals that could be absorbed through your skin. Many lotions also contain petroleum products, which is something we also like to steer clear of. That's why we did the research and found you the best non-toxic body moisturizers and lotions that are well reviewed and readily available.

---
Why Go Non-Toxic for Lotions
When you put something on your skin for a long period of time (like lotion) there's a chance of dermal absorption, which means chemicals gets absorbed through the outer surface of the skin into the body (1). These chemicals can then enter the blood stream and cause negative health effects in areas of the body other than the skin. Scientists have shown that chemicals can be absorbed through the skin, like triclosan (2), parabens (3), phthalates (4), bisphenols (5), and sunscreen chemicals like oxybenzone and octinoxate (6)… all of which can be found in personal care products! We definitely don't want to be putting chemicals like that on our body!
That's why we look for a non-toxic or natural body lotion. Ingredients like coconut oil, shea butter, beeswax, and sweet almond oil are all natural ingredients that are safe to use on skin. In fact, you can even try completely natural options like coconut oil and olive oil from your kitchen. But if you want something in a pretty package that is easier to apply, many brands (like the ones listed below!) include these ingredients in their formulations.
Whether you're looking for a luxurious lotion or just want to keep your hands from cracking, our non toxic lotion roundup has you covered. And, our picks for best natural lotions are well reviewed all over the internet and easy to find both online and in your typical drug stores or beauty aisles.
---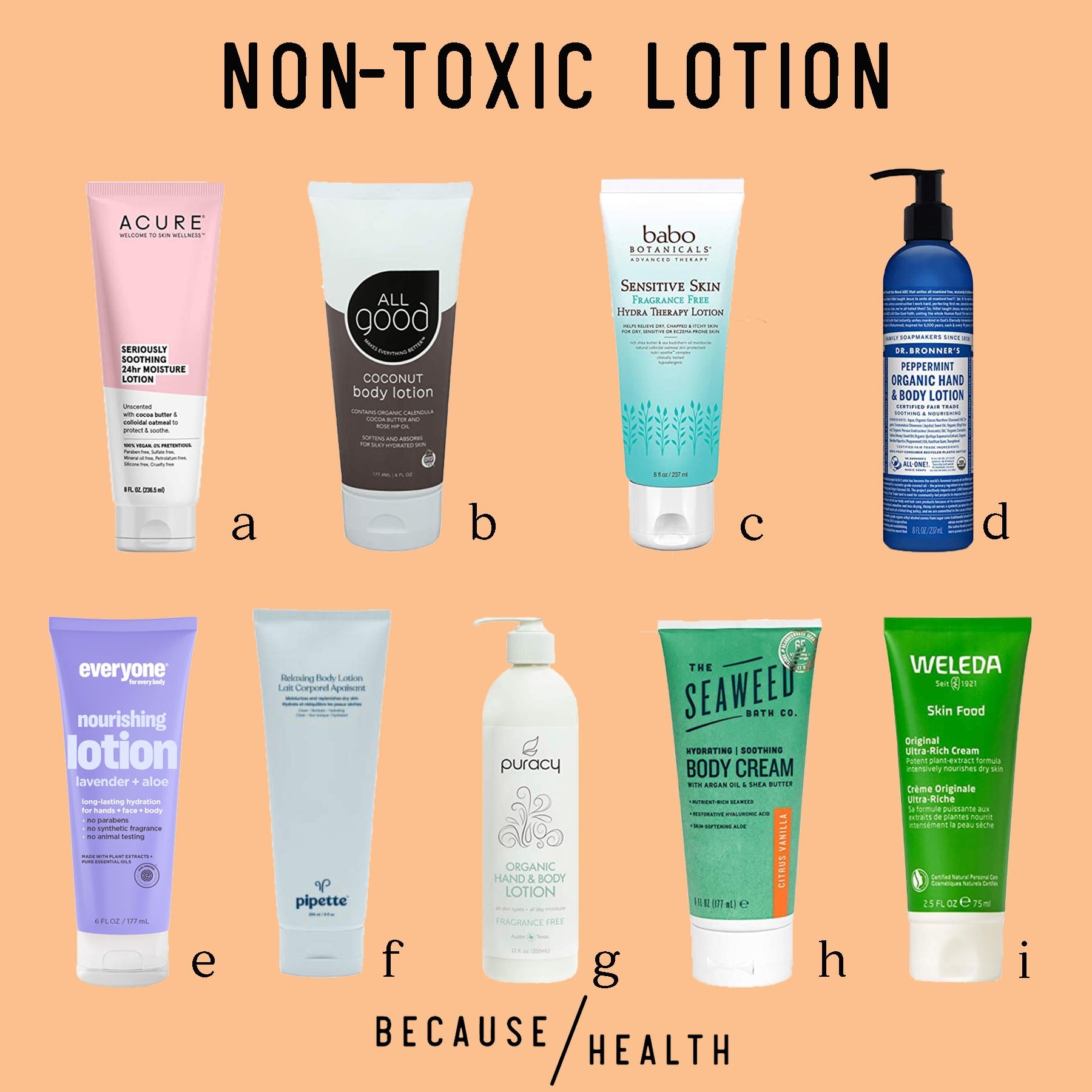 a)
Acure Seriously Soothing Body Lotion
c)
Babo Botanicals Sensitive Skin Fragrance Free Daily Hydra Therapy Lotion
d)
Dr Bronners Organic Hand and Body Lotion
f)
Pipette Relaxing Body Lotion
g)
Puracy Organic Hand & Body Lotion
h)
The Seaweed Bath Co. Hydrating Soothing Body Cream
Enjoying our product roundups? Then you'll love the Because Health newsletter! Subscribe here
References
1.
https://www.cdc.gov/niosh/topics/skin/default.html…
2. Queckenberg, Christian, et al. "Absorption, pharmacokinetics, and safety of triclosan after dermal administration."
Antimicrobial Agents and Chemotherapy 54.1 (2010): 570-572.
3. Janjua, Nadeem Rezaq, et al. "Urinary excretion of phthalates and paraben after repeated whole‐body topical application in humans."
International journal of andrology 31.2 (2008): 118-130.
4. Gong, Mengyan, Yinping Zhang, and Charles J. Weschler. "Measurement of phthalates in skin wipes: estimating exposure from dermal absorption."
Environmental science & technology 48.13 (2014): 7428-7435.
5. Zalko, Daniel, et al. "Viable skin efficiently absorbs and metabolizes bisphenol A."
Chemosphere 82.3 (2011): 424-430.
6. Matta, Murali K., et al. "Effect of sunscreen application on plasma concentration of sunscreen active ingredients: a randomized clinical trial."
Jama 323.3 (2020): 256-267.
We rely on
EWG's consumer databases, the Think Dirty App, Made Safe, and GoodGuide in addition to consumer reviews and widespread availability of products to generate these recommendations. Learn more on our methodology page.
*Because Health is a participant in the Amazon Services LLC Associates Program, an affiliate advertising program so that when you click through our Amazon links, a percentage of the proceeds from your purchases will go to Because Health. We encourage you to shop locally, but if you do buy online buying through our links will help us continue the critical environmental health education work we do. Our participation does not influence our product recommendations. To read more about how we recommend products, go to our methodology page.