Plastic-Free (and Melamine-Free!) Outdoor Tableware
They won't break, look great, and are sure to be perfect for you outdoor gatherings
Updated for Summer 2022!
Getting ready for some outdoor parties and dining this summer? We sure are! If you're looking to spruce up your outdoor dining scene, you'll quickly see that most options are made of melamine. Even though melamine dishware doesn't look like plastic, melamine can leach into food after dishes are repeatedly microwaved or used to hold both hot and acidic foods (read this to learn why you might want to skip the melamine). So if melamine is out, and easy to break options like ceramic just don't work for you (children being children, slippery surfaces, clumsy grownups!), check out these stainless steel, enamelware, wood, and tempered glass options. Although we always recommend reusable, we included one disposable option too (without PFAS chemicals). These are our top picks for plastic-free outdoor dishware, serving bowls and platters, tumblers, and more. They are all light weight, hard to break, and will make your outdoor entertaining photos look on point. So pick up some of these plastic-free and melamine-free outdoor dishes and enjoy dining al fresco!
---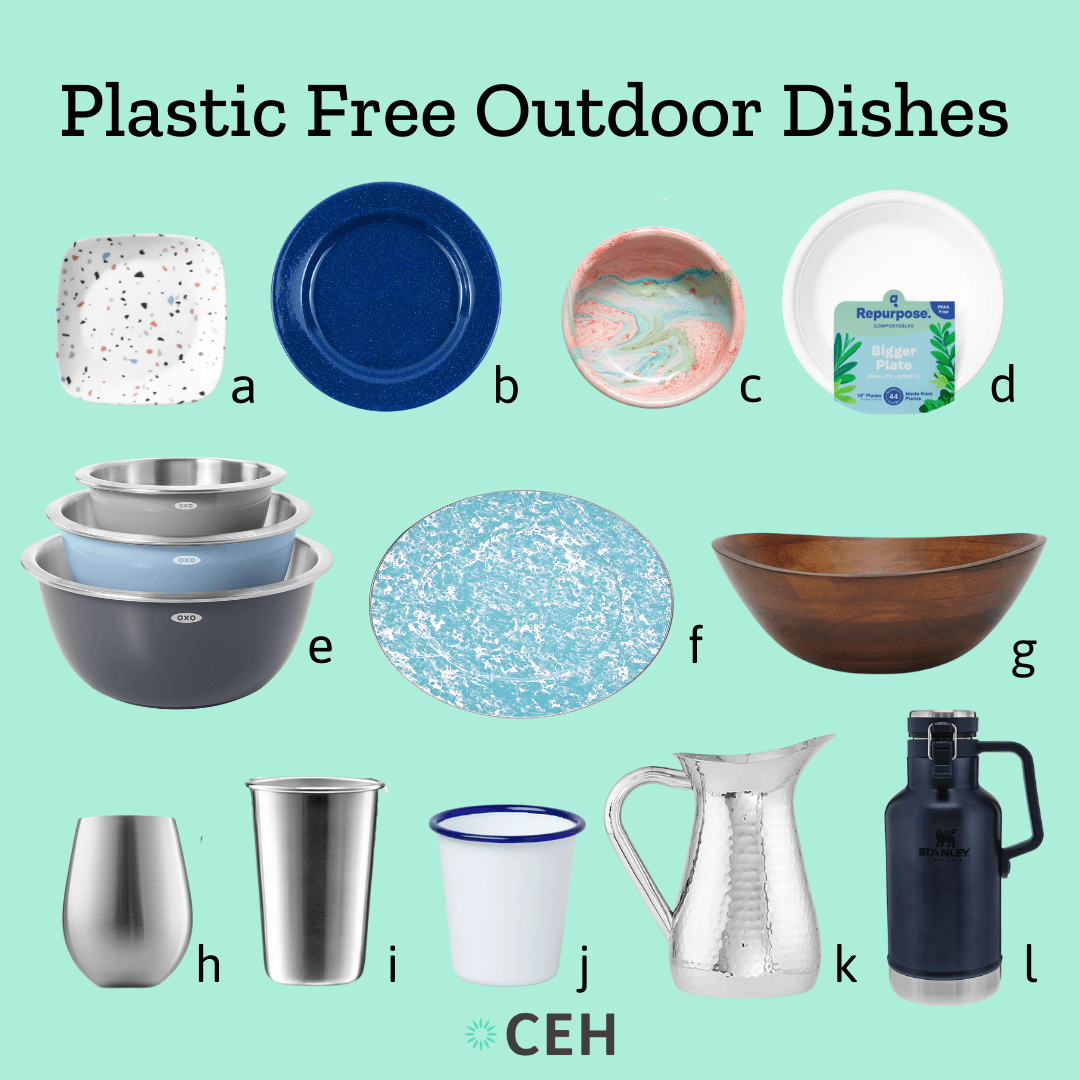 a) Corelle Terrazzo Plates
b) Crow Canyon Enamelware Stinson Dinner Plate
c) Bornn Multi-swirl Enamelware Bowl
d) Repurpose Compostable Plates
e) Oxo Good Grips 3 piece Stainless Steel Bowls
f) Golden Rabbit Enamelware Serving Platter
g) Lipper International Wood Serving Bowl
h) Stainless Steel Pint Cups
i) Stainless Steel Stemless Wine Cups
j) Falcon Enamelware Tumbler
k) Stainless Steel Hammered Water Pitcher
l) Stanley Classic Easy-Pour Growler
*Because Health is a participant in the Amazon Services LLC Associates Program, an affiliate advertising program so that when you click through our Amazon links, a percentage of the proceeds from your purchases will go to Because Health. We encourage you to shop locally, but if you do buy online buying through our links will help us continue the critical environmental health education work we do. Our participation does not influence our product recommendations. To read more about how we recommend products, go to our methodology page.