Non-Toxic Target College Dorm Picks
Everything you need to make a dorm feel like home!
Starting college is so exciting for so many reasons! A new school, new friends, and new adventures are just a few weeks away. If you're going to be living in a dorm room, you've probably already started thinking about decor and living essentials. That's why we picked out some of our favorite non-toxic dorm room essentials from Target! Our picks are made from safe materials like glass, stainless steel, and organic cotton. Each cotton item is also made with OEKO-TEX guidelines, which means it's been independently tested and certified against a list of over 350 harmful chemicals.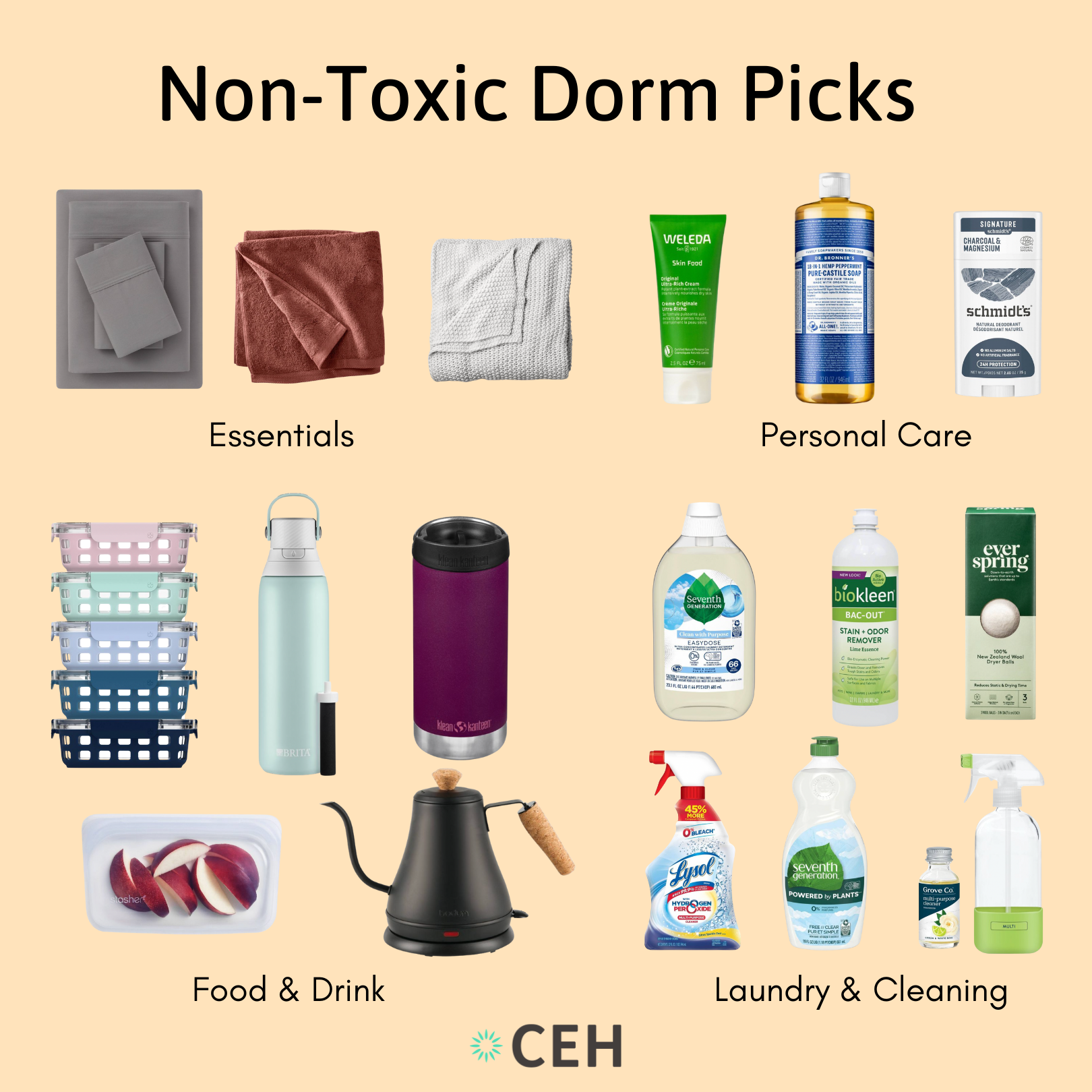 Getting a good night's sleep is a crucial part of any school routine. These 400 thread count cotton sheets will have you catching ZZZs in no time! We love that they're pill and shrink resistant, and made to strict Standard 100 by OEKO-TEX guidelines.
This soft, organic cotton bath towel is Made in Green by OEKO-TEX and will help any dorm shower feel a little more like home.
This chunky knit blanket will add some serious cozy vibes to any dorm room! It's Standard 100 by OEKO-TEX® certified and comes in a ton of cute colors.
Seventh Generation Easy Dose Laundry Detergent
This ultra-concentrated laundry detergent will keep your clothes fresh and clean without harmful chemicals found in traditional laundry detergents.
Biokleen Stain and Odor Remover
If you're a workout aficionado with lots of athletic clothes, or if you just have a neglected pile of dirty clothes in the corner of your room, this stain and odor remover is perfect for you. It gets rid of those tough, lingering odors safely and naturally without the use of harsh chemicals.
Dryer sheets can be full of harsh chemicals, which is why we love wool dryer balls instead! These dryer balls will keep your clothes static free!
Grove Co. Multi-Purpose Cleaner Concentrates
Even a dorm room needs some TLC every now and then! Clean hard surfaces with this multi-surface cleaner from Grove Co. This streak-free cleaner will effectively remove dirt, grime, and residue leftover from that late night study session or post-finals party.
Lysol Power and Free Multi-Purpose Citrus Sparkle Cleaner Spray
Sometimes you needed a heavy-duty cleaner. We get it. That's why this Lysol hydrogen peroxide all-purpose cleaner is perfect for life's bigger messes. This product has an EPS design for environmental certified disinfectant, which means it was reviewed for both human health and environmental health, so you don't have to compromise on safety.
Ello Meal Prep Food Storage Container Set
That dorm room mini fridge was basically invented for leftovers. Keep your food fresh in these Ello food storage containers. Since they're made from glass instead of plastic, you can use them in the microwave without having to worry about harmful chemicals leeching into your food. Bonus: they're dishwasher safe!
Brita 20oz Premium Double-Wall Stainless Steel Insulated Filtered Water Bottle
Students do a lot of walking while on campus, so make sure to stay hydrated with a reusable water bottle! This insulated Brita stainless steel bottle will keep your water cool even on the hottest days. Bonus: It has a built in filter to keep your water pure and delicious.
Bodum Goose Neck 27oz Electric Water Kettle
You don't need a kitchen to enjoy a kettle! This compact glass kettle is perfect for dorm snacks like hot chocolate, tea, or coffee.
Klean Kanteen 12oz TKWide Insulated Stainless Steel with Café Cap
This stainless steel travel mug by Klean Kanteen is the perfect mug to toss in your backpack while you're on the go! It's spill and leak proof lid means you can enjoy your beverage on the go in any situation!
Dr. Bronner's Pure Castile Soap
Dr. Bronner's Castile Soap is a multi-use concentrate. Great as a body wash or even a shampoo or detergent. Its highly concentrated and made with great ingredients to ensure you get a bang for your buck and peace of mind.
Schmidt's Charcoal + Magnesium Aluminum-Free Natural Deodorant Stick
Aluminium-free deodorant is where its at! Stay fresh and free of unnecessary harmful chemicals.
Weleda Skin Food Original Ultra-Rich Cream
Keep that skin moisturized and toxic-free with this rich cream. Perfect for dry weather.
Stasher Reusable Silicone Food Storage Snack Bag
Great for taking a snack to lecture or for a weekend adventure, these Stasher snack bags are the answer to a useful plastic bags without all the waste and plastic made from harmful materials.
Seventh Generation Dish Liquid Soap
This dish soap will cut through grease and leave your dishes shiny and spotless without all the unnecessary harmful chemicals.