Non-Toxic Bassinets and Cosleepers
All well-reviewed and safe for your newborn to sleep in all night (or day) long
Updated for 2020!
*whispers* The baby's asleep! *silent celebrating* And, while the baby is snoozing away, you can actually eat some food and shower. While getting the baby to sleep can be a bit of a headache, figuring out where you will be gently laying them down in the first few months once they are asleep shouldn't be. So, we did all of the hair pulling research to narrow it down to a selection of 8 non-toxic bassinets and cosleepers that parents and experts agree are great options. Without further ado, here are the top picks.
---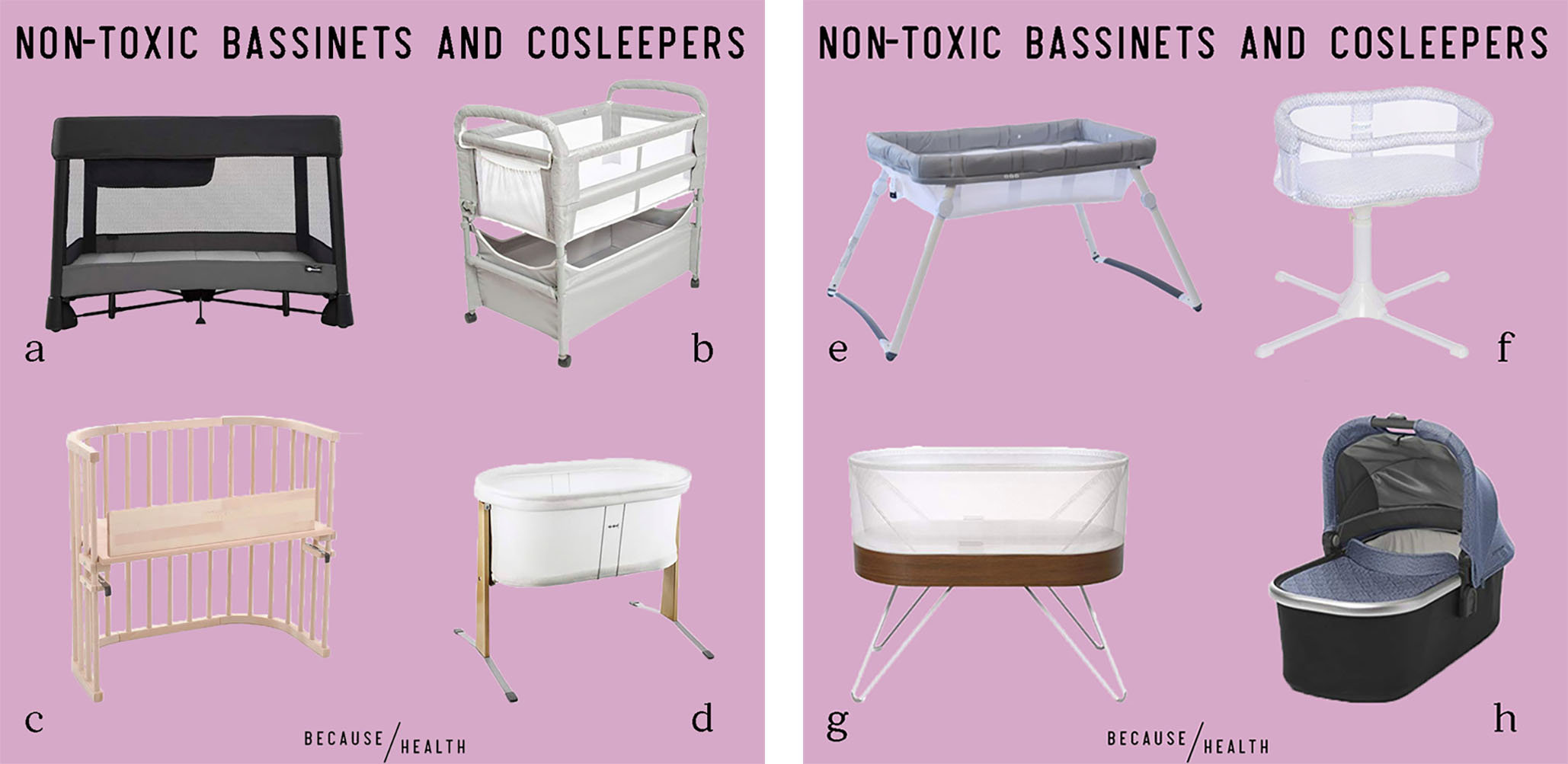 a) 4 Mom's Breeze Bassinet and Playard b) Arm's Reach cosleeper and all natural mattress* c) Babybay Cosleeper and eco-organic mattress* d) BabyBjorn Baby Cradle* e) Guava Lotus Bassinet and Travel Crib (for the bassinet, you need to buy both pieces) f) Halo Bassinest Swivel or Bassinest Glide Sleeper, and Breathable Replacement Mattress g) Snoo Smart Sleeper h) Uppababy Bassinet and Stand
At Because Health, we believe that having safe and non-toxic baby gear shouldn't come at the expense of convenience or great customer reviews. So, we made a bunch of lists that pulled together all of the top rated and recommended gear from Lucie's List, BabyGearLab, and Babylist. Then, we contacted every manufacturer to check which products were free from flame retardants and phthalates. While we were at it, we focused on those made with as many natural materials as possible (i.e. little or no polyurethane foam). Then, like always, we made sure the products were easily available everywhere and had positive consumer reviews before they made it to our final roundup.
For more non-toxic baby gear, check out our roundups of baby cribs, travel cribs and playards, and swings and bouncers.
Enjoying our product roundups? Then you'll love the Because Health newsletter! Subscribe here
*No polyurethane foam.
** Because Health is a participant in the Amazon Services LLC Associates Program, an affiliate advertising program so that when you click through our Amazon links, a percentage of the proceeds from your purchases will go to Because Health. We encourage you to shop locally, but if you do buy online buying through our links will help us continue the critical environmental health education work we do. Our participation does not influence our product recommendations. To read more about how we recommend products, go to our methodology page.