Non-Toxic Candle Roundup
They smell even better than they look! Plus no harmful chemicals
Trying to set the perfect mood for Valentine's Day? We've got you covered! Our candle roundup is a great guide to finding the perfect candle. Most candles contain paraffin wax, which is made from petroleum and use fragrance oil. And fragrance can contain a ton of harmful chemicals. Our candles only use natural wax like soy or beeswax, and only contain essential oils! Plus they all smell amazing!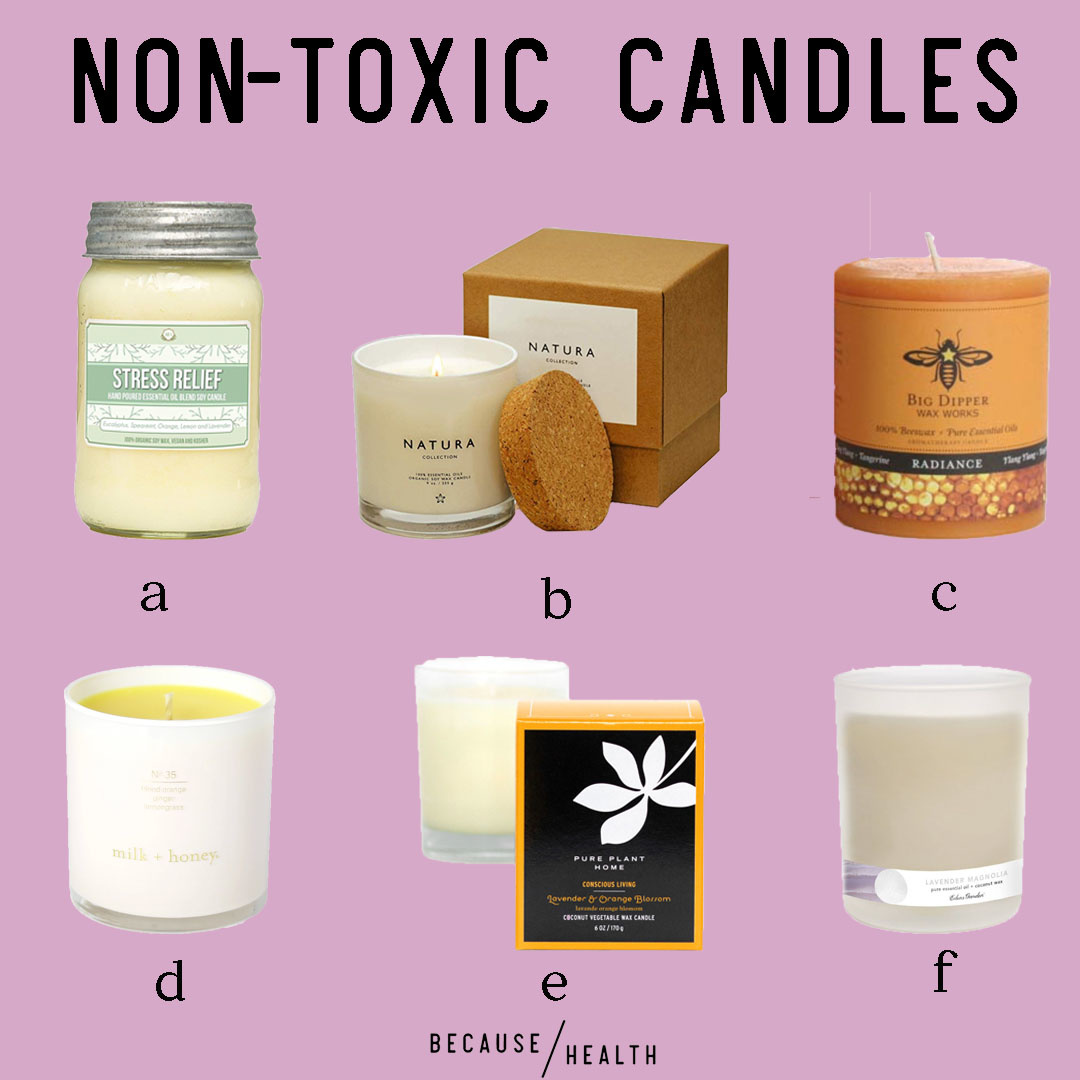 a) Aira Soy Candles
b) Lulu Candles Natura 100% Organic Soy Vegan Wax Candle
c) Big Dipper Beeswax Aromatherapy candle
d) Milk + Honey essential oil candle
e) Pure Plant Home glass candle
f) Edens Garden essential oil candles
Wondering why you need a non-toxic candle? Candles release compounds known as volatile organic compounds whether they are lit or not (1). VOCs can have both short and long term adverse health effects and there are consistently higher concentrations of VOCs indoors than outdoors. The majority of the VOCs released from candles is because they doesn't burn cleanly, which releases acetaldehyde, formaldehyde, acrolein, phenol, benzene, and toluene, many of which are carcinogenic (3). Phenols (one of the words in that list if you jumped to the end of the sentence when you started seeing a bunch of scary words) are the fragrance chemicals that make candles smell like brown sugar, wild mango, and clean laundry. It makes sense that it would take some pretty weird chemicals to bottle up the smell of a tropical island in a single candle, right?
It's definitely healthier and safer to go with candles scented with essential oils to avoid some of these nasty VOCs. A few of the other VOCs released can cause changes to our DNA (and in some cases, bad changes!). Of all of the VOCs released, formaldehyde and acrolein are the other two biggest worries because they are released in the highest concentrations. Formaldehyde itself can cause cancer (4) while acrolein, which is used to make weapons in high concentrations, can kill you if you breathe in too much of it – Yikes (5). I don't know about you, but those are some things I definitely don't want to invite to my relaxing spa night!
Candles are also traditionally and most commonly made of paraffin, which is obtained from petroleum or shale. We recommend candles made from beeswax or soy because they come from natural sources. Some candles wicks may contain lead, so always make sure to look for a "lead-free" wick made from cotton.
References
1. https://www.sciencedirect.com/science/article/pii/S0304389414010243
2. http://candles.org/elements-of-a-candle/wax/
3. https://www.sciencedirect.com/science/article/pii/S1352231010010502
4. https://www.atsdr.cdc.gov/substances/toxsubstance.asp?toxid=39
5. https://www.atsdr.cdc.gov/ToxProfiles/tp124-c1-b.pdf
*Because Health is a participant in the Amazon Services LLC Associates Program, an affiliate advertising program so that when you click through our Amazon links, a percentage of the proceeds from your purchases will go to Because Health. We encourage you to shop locally, but if you do buy online buying through our links will help us continue the critical environmental health education work we do. Our participation does not influence our product recommendations. To read more about how we recommend products, go to our methodology page.