PFAS and PVC Free Kids Rain Gear
Rain, rain, go away... unless you're wearing one of these jackets!
For most people, the arrival of spring also means the arrival of the rainy season. And if you have kids, and are having an increased number of outdoor playdates due to covid, you probably need to stock up on some new rain gear. Remember, there's no bad weather, just bad clothing! But before you go out and purchase just any rain gear, you should know that a lot of the common gear you see at the stores could be made with toxic chemicals.
The two chemicals that we want to steer clear of are PVC and PFAS. PVC or otherwise known as Polyvinyl Chloride is a super common plastic that is used in hundreds of places, but it's often used in rain gear to make it more waterproof. PVC on its own is not inherently toxic but it is extremely brittle, which is why phthalates are often added to make it stronger. Phthalates are harmful endocrine disruptors that have been linked to cancer, infertility, heart disease, and obesity.
The other group of chemicals that we want to steer away from is PFAS or PFC (i.e. Teflon-like chemicals). These chemicals have extremely tight bonds between the atoms, which means nothing can get past them. While this makes them great waterproofing agents, it also means these chemicals basically don't break down over time. These "forever chemicals" are also found in nonstick cookware, stain-resistant fabrics, and even take-out containers. Because these chemicals are found in so many common products they eventually end up in our environment polluting the water and soil and staying there forever. PFAS have been known to cause serious health problems like decreased fertility, increased cholesterol levels, harming the growth and development of children, and lowering immune system function.
I think it's pretty clear that it's best to stay away from any rain gear that uses these chemicals. They are not good for the planet, nor for your health. We definitely think PVC, PFAS (PFCs) need to be avoided, which is why we rounded up our favorite PVC and PFAS free kids rain gear so you don't have to worry this Spring!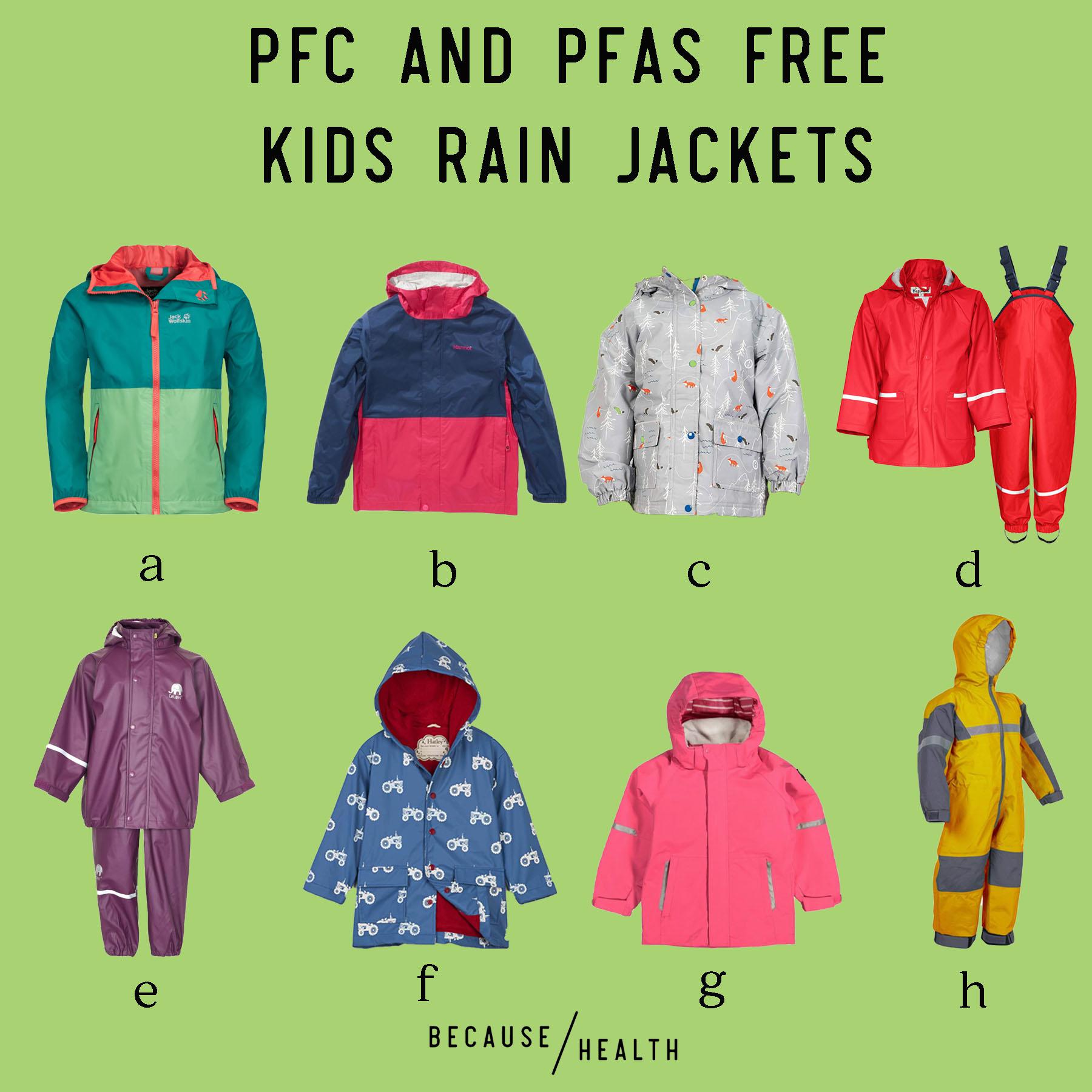 a) RAINY DAYS KIDS This lightweight jacket is waterproof, windproof, and comes in a variety of fun colors and sizes for toddlers to preteens! It also has built in, high visibility reflectors for added safety.
b) Kids' PreCip Eco Jacket This waterproof jacket is ultra lightweight and breathable for all types of weather protection. Also it's made out of completely recycled materials!
c) JAN & JUL Girls' Fleece-Lined Rain Jacket for Toddler Kids, Water-Proof This jacket comes in a variety of prints and solid colors and is fleece lined to keep the kiddos warm no matter the weather. It also comes with reflective strips for some added safety!
d) Playshoes Childrens Waterproof Reflective Rain Jacket and pants These super cute raincoats and pants are heavier duty while also being breathable and easy to pack away. Plus, they're waterproof and windproof!
e) CeLaVi – Kids Rain Suit Reflective Waterproof 2 Pcs Jacket and Pants/or Dungarees This waterproof set comes with a jacket and pants for full protection from the rain. The set comes in a crazy amount of colors and has sizes from toddlers to age 10.
f) Hatley Boys' Printed Raincoats This rain jacket comes in so many fun prints your kids are guaranteed to love it! It also comes in sizes for toddlers to preteens and is super durable.
g) WATERPROOF SHELL JACKET Made from recycled materials, this jacket is fully sealed to create the ultimate waterproof jacket. Also because of the jacket's unique finish it makes it super easy to clean!
h) OAKI Rain & Trail Suit – Kid &Toddler – Girl & Boy One Piece Rain Jacket & Pant Not only does this one piece waterproof suit come in so many fun colors it is also guaranteed to keep you kids dry! It's great for the rain and the snow.