PFAS and PVC Free Adult Rain Gear
Stay protected from the elements
As spring approaches, you may be thinking of upgrading your rain gear before the rainy season hits. Most rain gear can contain harmful chemicals like PFC/PFAS or PVC, which is not something you want on your body. PVC (Polyvinyl Chloride) is a common plastic that is used in hundreds of places, but it's often used in rain gear to make it more waterproof. PVC on its own is not inherently toxic but it is extremely brittle, which is why phthalates are often added to make it stronger. Phthalates are harmful endocrine disruptors that have been linked to cancer, infertility, heart disease, and obesity.
The other group of chemicals that we want to steer away from is PFAS or PFC (i.e. Teflon-like chemicals). These chemicals have extremely tight bonds between the atoms, which means nothing can get past them. While this makes them great waterproofing agents, it also means these chemicals basically don't break down over time. These "forever chemicals" are also found in nonstick cookware, stain-resistant fabrics, and even take-out containers. Because these chemicals are found in so many common products they eventually end up in our environment polluting the water and soil and staying there forever. PFAS have been known to cause serious health problems like decreased fertility, increased cholesterol levels, harming the growth and development of children, and lowering immune system function.
That's why we found the best rain jackets and rain boots for adults! These boots and jackets are free from PFAS and PVC but will still keep you protected from the elements.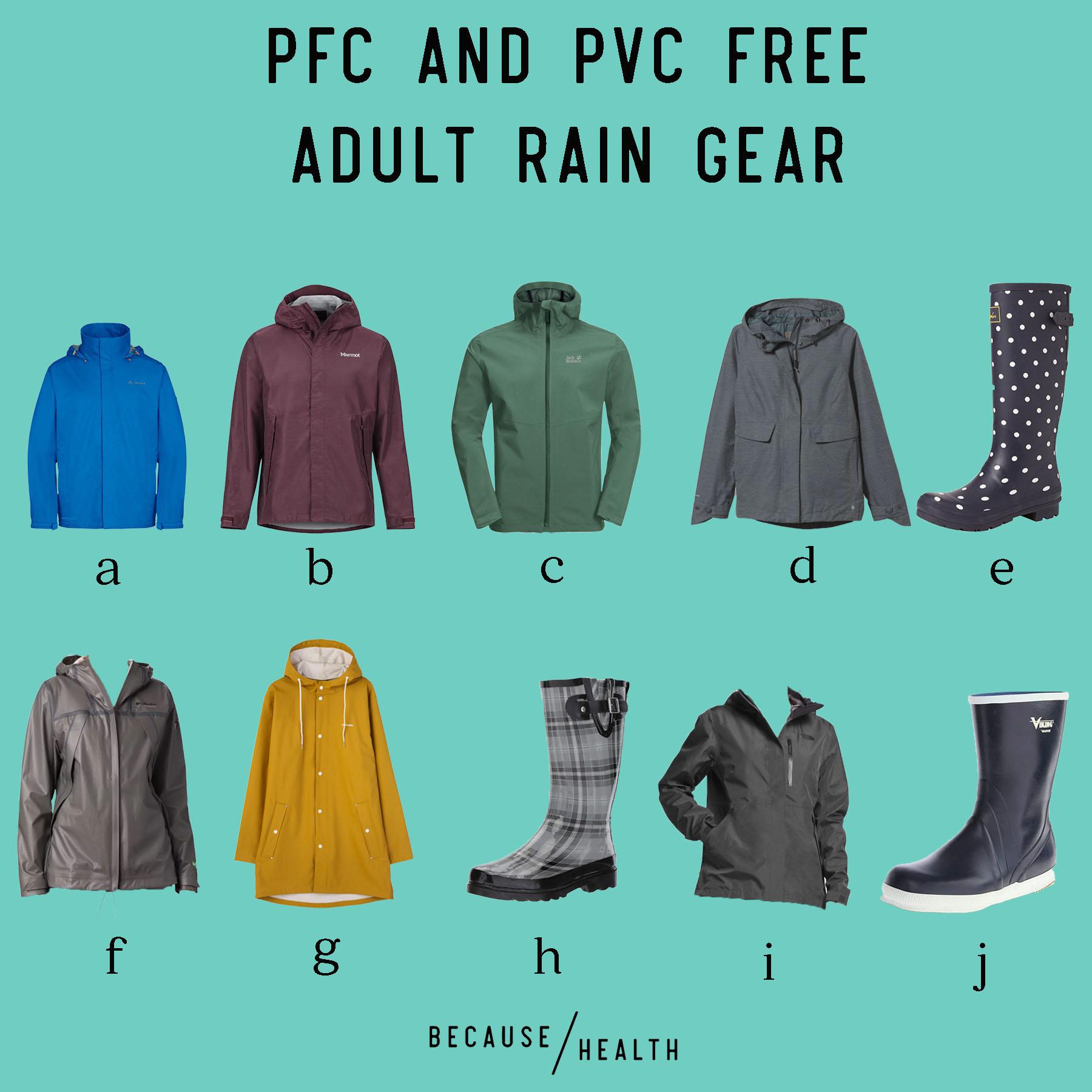 a) VAUDE Escape Light Rain Jacket
b) Marmot Phoenix EVODry Jacket
c) Jack Wolfskin Hardshell Jacket
d) Royal Robbins Switchform Waterproof Jacket
e) Joules Welly Print Rain Boot
h) Western Chief Women's Printed Tall Waterproof Rain Boot
i) North Face Dryzzle FUTURELIGHT™ Jacket
j) VIKING Unisex Marine Kadett Boot