The Best Water Filters
These easy to install filters are perfect for renters or homeowners!
Sometimes we take tap water for granted. If it comes out of our tap it has to be safe, right? Unfortunately, that's often not the case. While our water treatment plants do a great job filtering out the obviously toxic stuff, harmful chemicals like lead, pesticides, PFAS, and pharmaceuticals can still make their way into our tap water. That's why we always recommend a water filtration system! If you're a homeowner, you can install a filtration that integrates with your own water throughout your house.
There are also a ton of great options if you're renting or can't install anything in your home. A small water filter pitcher or countertop dispenser are great options if you're looking for something hassle free. If you're feeling a little more crafty, you can install a faucet mount. These mounts require no tools and can easily install on most faucets!
These water filters are all meet NSF standards and remove dozens of contaminants.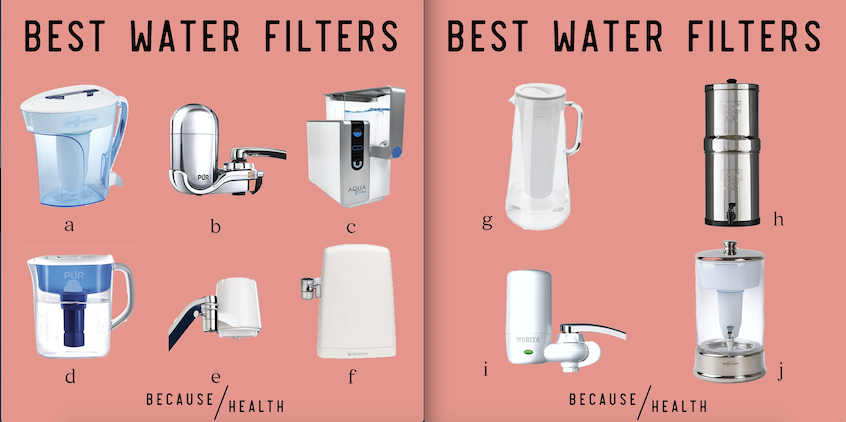 a) Zerowater 10 or 23 Cup Pitcher
c) AquaTru Reverse Osmosis Counter Top Water Filtration System
f) AquaSana Countertop Water Filter
g) Lifestraw Home Water Filter Pitcher*
i) Brita Tap Water Filter for Faucets
j) ZeroWater 40 Cup Ready-Pour Glass Dispenser
*Meets NSF standards but is not NSF certified
Enjoying our product roundups? Then you'll love the Because Health newsletter! Subscribe here
We rely on EWG's consumer databases, the Think Dirty App, and GoodGuide in addition to consumer reviews and widespread availability of products to generate these recommendations. Learn more on our methodology page.
*Because Health is a participant in the Amazon Services LLC Associates Program, an affiliate advertising program so that when you click through our Amazon links, a percentage of the proceeds from your purchases will go to Because Health. We encourage you to shop locally, but if you do buy online buying through our links will help us continue the critical environmental health education work we do. Our participation does not influence our product recommendations. To read more about how we recommend products, go to our methodology page.