Why does your activewear stink and what can you do about it?
The scientific reason behind your bad smelling activewear and easy DIY solutions
Do you ever take your laundry out of the dryer and realize that your activewear still smells bad? Sometimes it feels like no amount of laundry detergent or scented fabric softener will get rid of that funky smell that lingers in all of your workout clothes. The reason this happens isn't because your washing machine isn't strong enough to get rid of the sweat from your run or all the burpees you did, but it's actually the fabric. Most workout clothes are made from synthetic fabrics or cotton, two materials that are great for working out in, but really bad at getting clean. Luckily there are a few ways to get rid of that smell that doesn't involve lots of harmful chemicals. So instead of throwing those smelly clothes away, check out some of our easy non-toxic cleaning methods and DIY solutions!
Why do workout clothes trap smell?
Most people think that the reason their workout clothes stink is because there is sweat trapped in them, but that is only partially true. Sweat by itself actually has no smell at all, but when it comes into contact with the bacteria on your skin, the sweat gets broken down and releases the typical body odor smell (1). So that means there isn't excess sweat trapped in your clothes, it's bacteria, along with dead skin cells and natural particles that are all contributing to the bad smell (2).
There is also a difference in how natural and synthetic workout clothes are affected by this bacteria. Natural fibers like cotton are more affected by sweat and bacteria compared to synthetic fibers because the bacteria that becomes trapped within the fabric can actually start to break down and degrade your clothes. The fibers of cotton are made completely of cellulose, a natural component of plants, and the bacteria can consume this substance and break down the clothes. Cotton is really good at absorbing sweat, so that means there is bacteria deep inside the cotton fibers and the bacteria can quickly multiply due to their massive food source i.e. your clothes. So not only will the bacteria in your sweat make your natural workout clothes smell bad, it will also degrade them over time until they fall apart (2).
Synthetic fabrics, on the other hand, are man-made fibers that are derived from petroleum products. Think plastic threads. Fabrics like spandex, polyester, and nylon are all made of synthetic materials and they are often marketed as sweat wicking or having a cooling effect. These types of fabrics collect bacteria in the space between the fibers, but does not absorb the sweat or bacteria in the fibers. These small spaces where the bacteria are trapped are really hard to access with standard cleaning products making the smell linger (2).
What makes it worse?
To get rid of the smell a lot of people use more detergent or heavily scented fabric softeners, but this only temporarily covers up the smell. These products coat the fibers and fill up the space between them, creating more and more build up the more you wash the clothes. Having build up on your clothes can trap the bacteria and every time you work out more bacteria will start to grow on your clothes.
Traditional detergents were made for traditional fibers like cotton, so when trying to get spandex or polyester fabrics clean, these detergents often aren't strong enough to penetrate deep into the synthetic fabric. Also sometimes your washing machine might be too big or too full and isn't able to clean the clothes effectively. The good news is that there are some non-toxic products and DIY methods that will really deep clean your clothes and make them smell brand new!
What can you do?
First things first, before you get into the products and DIY solutions, try some of these simple ways to avoid having stinky workout clothes in the first place. Sometimes all it takes is changing the temperature or washing your clothes a little sooner. But if none of these work, check out the special products and DIY solutions that are sure to get your clothes squeaky clean!
Don't overfill your washing machine.
Don't use extra laundry detergent.
Stay away from fabric softener.
Wash clothes as soon as possible after working out, don't let them sit wet.
Always wash workout clothes in cold water.
Use a powdered detergent to prevent buildup.
Products and DIY solutions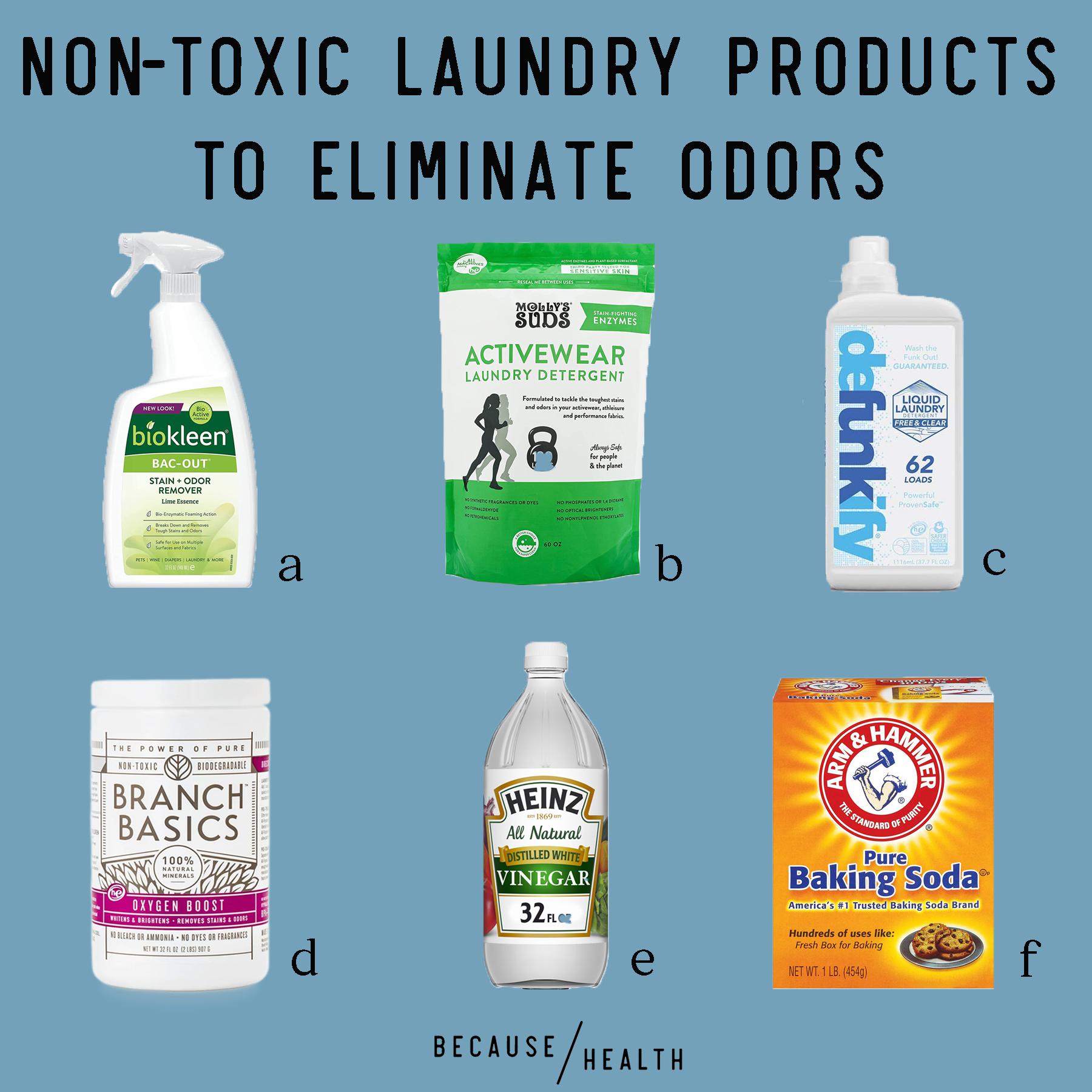 a) Biokleen Bac-Out Stain remover. Uses natural enzymes to get deep in fabrics and kills bacteria. Spray and let sit for 5 minutes and then wash as normal.
b) Molly Suds Activewear Laundry Detergents. Powdered laundry detergent that uses enzymes and baking soda that penetrates deep within fabrics.
c) Defunkify Liquid Laundry Detergent. Specifically designed to break down odor and get deep into fibers.
d) Branch Basics Oxygen Boost. Strips odors and brightens clothes. Add a scoop in addition to detergent.
e) White Vinegar- Add 1 cup of vinegar to your laundry drum in place of the normal detergent. This helps break down residues that make odors worse.
f) Baking Soda- Add half a cup to your laundry drum. Baking soda is a natural deodorizer!
If the smells are really not going away, you can try laundry stripping! Laundry stripping is a way to remove built up oil, dirt, bacteria, and other detergents. Check out our article on stripping and how to do it!
Sources