Audacious Action 2019 featuring Mark Ruffalo
On October 7th, Mark Ruffalo and Rob Billott discussed what it took to beat corporations like DuPont chemical company— just like they did in the new feature film Dark Waters.
Center for Environmental Health presents activist and actor Mark Ruffalo in conversation with Rob Bilott, partner, Taft Stettinium & Hollister, LLP. Mark portrays Rob in an upcoming feature film telling the story of Rob's historic legal battle against DuPont chemical company for exposing people to toxic PFAS chemicals and the destruction of the environment in West Virginia.
This is the very type of threat to the health of people and planet that CEH has tackled and solved for decades. We are thrilled to share this special evening with supporters and allies like you as we raise awareness and funds to support our mission to protect people from toxic chemicals.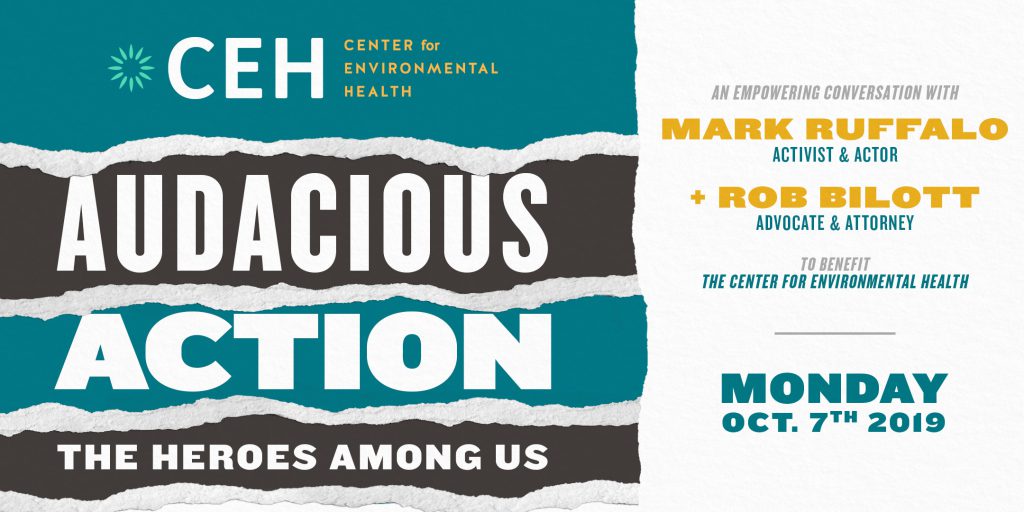 $1,000 Patron
1 ticket
Preferred seating
Program listing
$50,000 Presenting
Two tables of 10
Invitation to VIP pre-reception
Most preferred seating
Acknowledgment from the stage
Dedicated placement on main screen
Program and website listing
One opportunity available
$25,000 Earth

Table of 10
Invitation to VIP pre-reception
Preferred seating
Dedicated placement on main screen
Program and website listing
$15,000 Water

Table of 10
Placement on main screen
Program and website listing
Preferred seating
$10,000 Air

Table of 10
Shared placement on main screen
Program and website listing
$5,000 Fire

Table of 10
Program listing