GreenScreen Certified™ For Food Service Ware
Nonprofit organizations Center for Environmental Health (CEH) and Clean Production Action (CPA) have unveiled the GreenScreen Certified™ Standard for Food Service Ware. The groundbreaking certification program sets a new safety standard for everyday items like disposable plates and bowls that do not contain per- and polyfluoroalkyl substances (PFAS) plus thousands of other chemicals of concern. 
Eliminating toxic chemicals in food takeout containers is urgently needed and is a priority reason for the creation of the GreenScreen Certified Standard for Food Service Ware. The standard gives manufacturers clear guidance on how to integrate preferred chemistry into their products.
The certification draws from CEH's extensive work testing single-use food ware for PFAS and builds on CPA's GreenScreen® for Safer Chemicals, the globally recognized tool for chemical hazard assessment used by governments, companies, and certification standards to encourage the design and use of inherently safer chemical ingredients.
Read the Green Screen Certified Food Service Ware fact sheet or watch the webinar recording.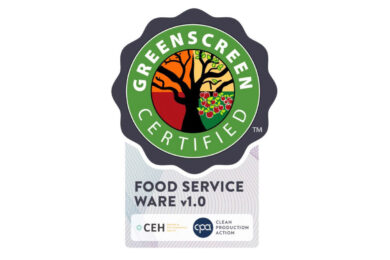 Learn what it means to be Green Screen Certified and industry standards.
How Do I Get My Product GreenScreen Certified™?
1. PRE-REGISTRATION
Read GreenScreen Certified Standard for Food Service Ware
Know the key requirements

Analytical test requirements for PFAS with independent laboratories
Complete chemical ingredient information greater than 1 part per million (ppm) and impurities greater than 100 ppm
3. APPLICATION
Contact Clean Production Action to understand the certification process
Decide whether to pursue Silver certification with Clean Production Action or Gold/Platinum certification with a GreenScreen Certified Reviewer
Silver Level:

Complete application form
Pay invoice to Clean Production Action

Gold/Platinum:

Contact GreenScreen Certified Reviewer
4. EVALUATION
Silver

Provide product and ingredient information, and analytical test data to Clean Production Action
Clean Production Action reviews data and informs whether the product meets the criteria

Gold/Platinum:

Provide product and ingredient information, and test data to GreenScreen Certified Reviewer
GreenScreen Certified Reviewer reviews data and informs whether the product meets the criteria
5. CERTIFICATION
Silver

Sign licensing agreement with Clean Production Action
Clean Production Action issues certificate

Gold/Platinum:

Submit application form to Clean Production Action
Pay invoice to Clean Production Action
Submit GreenScreen Certified Reviewer data to Clean Production Action
Clean Production Action reviews data
Sign licensing agreement with Clean Production Action
Clean Production Action issues certificate

All products

Highlighted and promoted by Center for Environmental Health and Clean Production Action
Take full advantage of the licensing agreement in your products' marketing