Clearya and GreenScreen Certified™ Team Up to Shift Market Away From Toxic Chemicals in Foodware
OAKLAND, CA – Today nonprofit organizations Center for Environmental Health (CEH) and Clean Production Action (CPA) announced a partnership with the Google Chrome extension and mobile app Clearya on the GreenScreen Certified™ Standard for Food Service Ware. GreenScreen Certified is a groundbreaking certification program that sets a new safety standard for everyday items like disposable plates and bowls that do not contain per- and polyfluoroalkyl substances (PFAS) "forever chemicals" plus thousands of other chemicals of concern.
Clearya's free web browser extension and mobile app helps people reduce exposure to toxic chemicals by automatically analyzing the product ingredient lists at major online shops, and notifying the shoppers if any of the ingredients matches a known toxicant, according to authoritative regulatory or scientific sources. 
People who use the Cleaya browser extension or app will be able to find GreenScreen Certified™ products and an explanation of why the products are safer. Products qualified for the GreenScreen CertifiedTM do not contain PFAS nor endocrine disrupting chemicals such as bisphenols, ortho-phthalates, parabens, organotin compounds as well as organohalogens, polycyclic aromatic amines and compounds of cadmium, hexavalent chromium, lead, mercury, antimicrobials, nanomaterials and more.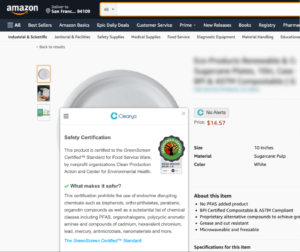 "It's not worth risking our health over products that are meant to be used once and thrown away," said Sue Chiang, Director of the Food Program at the Center for Environmental Health (CEH). "We are so pleased to be partnering with Clearya to help consumers to make healthier decisions for themselves and their families."
"Clearya is an accessible tool anyone can use to make safe choices when shopping online," said Amit Rosner, Co-founder of Clearya. "It's a perfect fit to be teaming up with the GreenScreen Certified™ since no one wants PFAS and other toxic chemicals with their takeout food." 
"As awareness rises about the problems of PFAS in food contact materials, brands and retailers want assurance that alternative products are truly free of PFAS and other known chemicals of high concern," said Shari Franjevic, GreenScreen Program Manager. "GreenScreen Certified™ takes the guesswork out of choosing environmentally preferred products."
About Center for Environmental Health 
CEH has conducted extensive testing on single-use food service ware and maintains a publicly available database identifying products with high and low levels of fluorine, indicating likely use of PFAS. The database, alongside educational and training programs, provide guidance for consumers looking for safer alternatives and institutional purchasers at schools, government and corporate offices looking to create healthier environments. 
About Clean Production Action and GreenScreen® for Safer Chemicals
Clean Production Action is a mission driven non-profit organization that designs and delivers strategic solutions for green chemicals, sustainable materials, and environmentally preferable products. Clean Production Action's four programs are BizNGO, GreenScreen for Safer Chemicals, Chemical Footprint Project, and Investor Environmental Health Network.
Clearya is a technology platform that empowers online shoppers to make healthy choices by automatically screening product ingredients for toxic chemicals and suggesting safe alternatives. In parallel, Clearya mines insights that support environmental health and justice organizations, scientists and regulators in protecting public health.
Read the GreenScreen Certified Food Service Ware fact sheet.
Learn more about GreenScreen Certified Food Service Ware products.