Community Spotlight: No One Should Be Exposed to Cancer-Causing Chemicals
When communities are threatened by toxic substances in our air, water, or the products we use in our homes, environmental watch groups utilize Proposition 65 as a tool to pressure manufacturers to take accountability for our exposure to hazardous chemicals. Public health advocates like the Environmental Health Coalition use Prop 65 to obtain justice for historically marginalized groups who have been disproportionately exposed to dangerous chemicals in their environments for decades.
For the Environmental Health Coalition, the fight began with an alert from Orange County, California. Leticia Ayala, Healthy Kids Campaign Director, read an alert that stated that many kids' candies contained the toxic heavy metal lead, specifically Bolirindo lollipops. Environmental Health Coalition, who work to organize communities, advocate, and fight for environmental justice, rushed to alert as many news sources as possible, sparking an exposé into the manufacturers of these toxic candies. As a result several brands of candies consumed by children were found to contain massive and harmful amounts of lead, a neurotoxin with no safe level of exposure.
No children should be exposed to chemicals that could harm them. The Environmental Health Coalition took legal action against the manufacturers using Proposition 65. A coalition was built combining the Center for Environmental Health, Environmental Health Coalition, the California Attorney General's Office and other partners to spearhead the movement to eliminate lead in candy. After a thorough investigation, lawsuit and a statewide law, California now requires candy manufacturers operate within strict legal standards and undergo regular audits to ensure compliance. As a result, candy sold in stores today has been tested for lead levels and certified as lead free. 
The candies in question, popular tamarind and chile candies, were largely marketed and consumed by Latinx children and the exposure went underreported and unchanged, until the litigation. Oftentimes, the health impacts of toxic chemicals that affect marginalized communities receive little attention and remain unresolved for years because of environmental racism. However, the results of this legal action provided a pathway toward environmental justice.  
The Environmental Health Coalition wasn't just motivated by justice for their community, they wanted to ensure that the candy producers, rather than the smaller individual candy sellers, would be held accountable. The public health advocates' use of Prop 65 ensured that the lead present in candies was removed and that mom-and-pop stores and candy makers could remain open. They supported the businesses and found alternatives to make the candies in a healthier way through alternative processing methods and materials. 
The Environmental Health Coalition used Proposition 65 as the tool to achieve environmental justice. The innovative right-to-know law requires businesses to place warnings. But oftentimes, companies choose to take corrective actions, like reformulation, on products that contain chemicals known to cause cancer, birth defects, or other reproductive health problems. When corporations break this law, watch-dogs like the Environmental Health Coalition take notice and advocate for historically marginalized groups. Whether it's lead in our children's candies or arsenic in play structures, Prop 65 can be used to achieve environmental health and justice." 
For further information please see the comprehensive timeline of action below: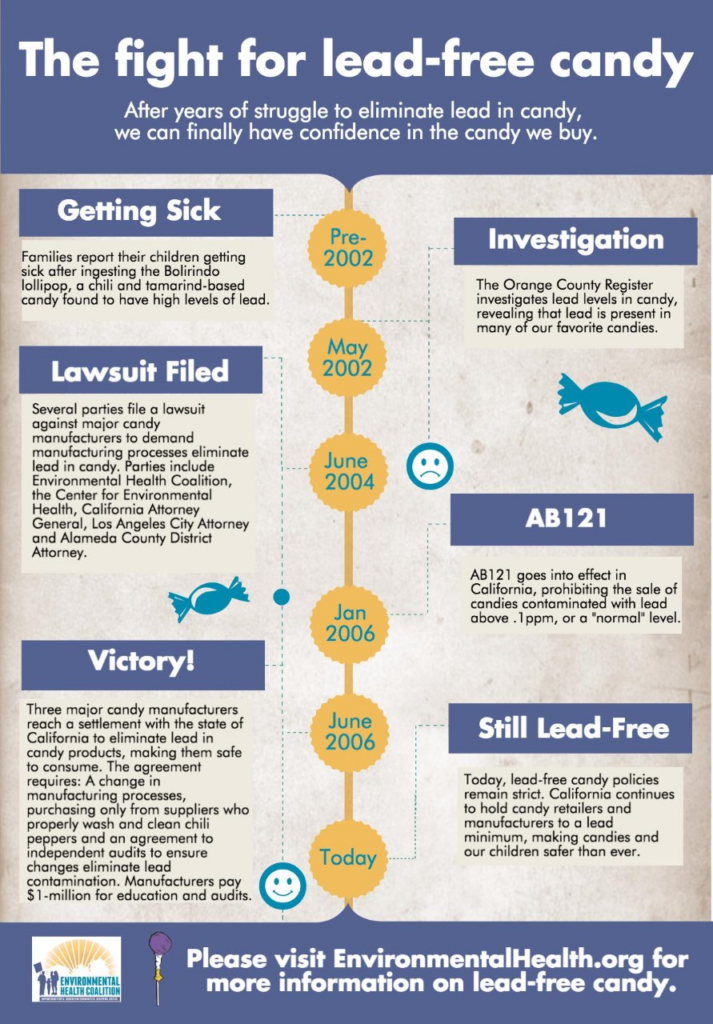 Visit the Environmental Health Coalition.