Non-Toxic and Sustainable 2021 Kid's Gift Guide
These fun toys and games will be a hit with everyone!
The holidays are right around the corner, which means we're on the hunt for cool and unique gifts! First of all, especially for kid's gifts, we encourage you to look for hand me downs among friends and neighbors. That's always a super sustainable and cheap solutions. But if you're looking for a new purchase that is both non-toxic, healthy, and sustainable, we put together a great kid's gift guide. We've chosen some fun, eco-friendly gifts for kids of all ages.
This year, we have highlighted many products by many Black, Indigenous, People of Color (BIPOC) owned/founded brands. Buying from these brands is a great way to support economic opportunities in BIPOC communities and celebrates diversity in the sustainability space. Additionally, since climate change is an urgent issue with so many health impacts, we are also highlighting brands that are Climate Neutral certified. That means that the brand has committed to measure, offset, and reduce the carbon they emit. We believe that consumers and companies must work together to embrace and make true commitments to diversity and sustainability. Look no further for the ultimate gift guide!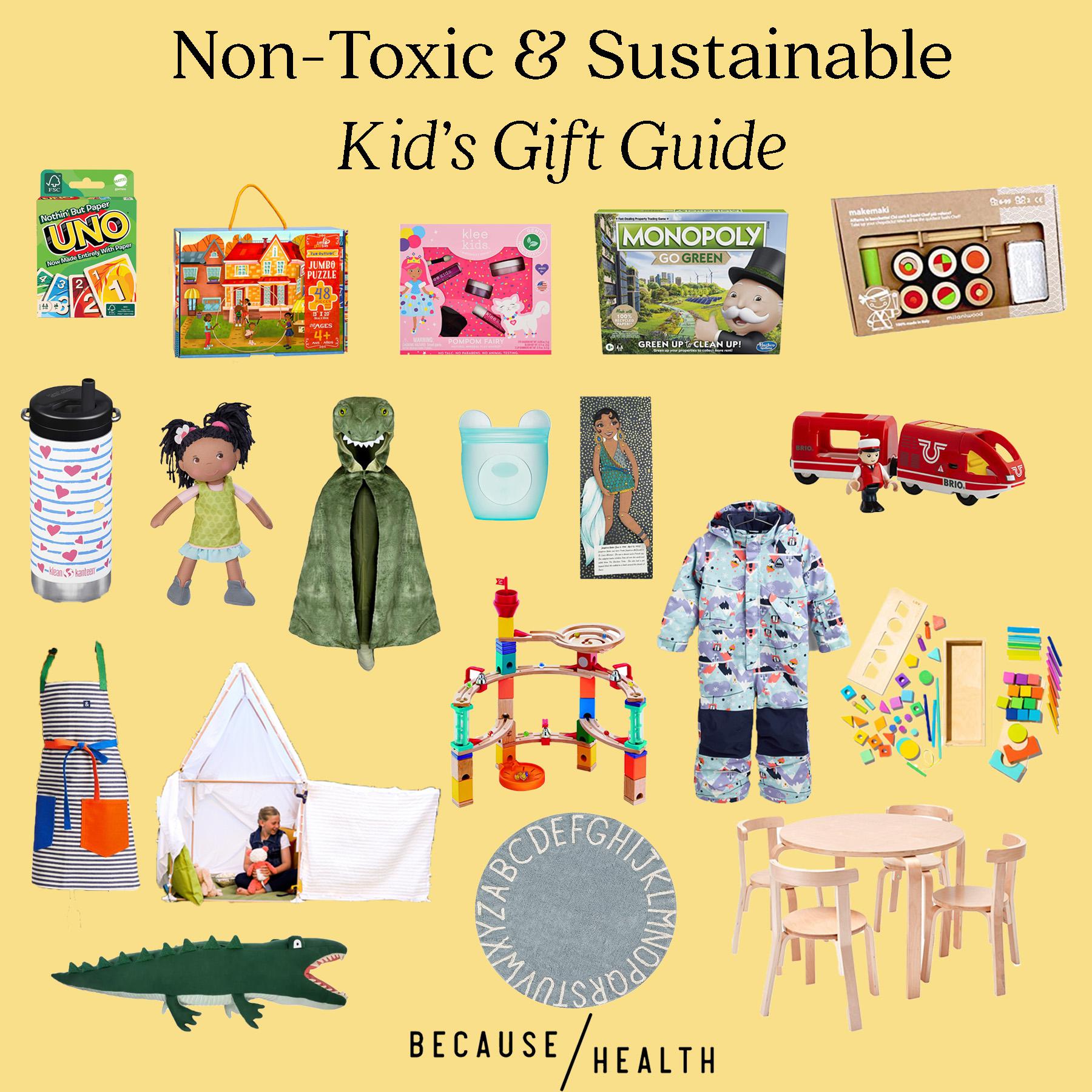 $: Under $50

Uno Nothin' but Paper Card Game
This classic card game game will keep kids and adults entertained for hours! This edition of UNO is made with all-paper and is fully recyclable. The deck and packaging are all made with FSC certified materials, soy-based ink, and water-based glue. We love this kind of attention to environmentally friendly materials and want more of it!
Little Like Kids Floor Puzzle (BIPOC brand)
This floor puzzle will entertain kids while encouraging brain development. The original artwork represents diversity by depicting families of mixed race and ethnicity. Plus these large puzzle pieces are durable enough to withstand years of use!
Klee Kids Natural Mineral makeup (BIPOC brand)
Natural, mineral-based makeup makes this kit by Klee Kids a no-brainer for dress-up play dates or costume parties. From a Snowy Star kit to a Rainbow Fairy kit, your kids will be begging for more. Formulated without parabens, phthalates, and synthetic fragrances, you can feel good about he quality of this play makeup.
Go green with this limited edition Monopoly game! Everything from the packaging to the gameboard are made with 100% recycled paper and the houses and dice are made from FSC certified wood. Moreover, the utilities in this version of the game are a wind farm and a solar field and the railroads are now bike paths! We love this opportunity to talk about sustainability and environmentally friendly practices while having some family fun.
Compete against a partner to see who can be the quickest maki maker! This wooden game is made from sustainable, FSC-certified wood, and non-toxic, water-based paints.
Klean Kanteen 12 oz Water Bottle (Climate Neutral certified)
This durable water bottle from Klean Kanteen is perfect for little hands! Cute designs and a metal straw make this bottle a winner. It's also easy to take the cap apart so that no mold grows in nooks and crannies.
A doll without PVC! This HABA doll is sturdy enough to withstand rough play but also soft for cuddling and carrying. She has beanbag bottom so she can sit on her own. Your kids can also dress up the doll in other HABA compatible outfits and accessories. Plus the doll is machine washable so if it really gets dirty you can give it a good cleaning before bedtime.
Great Pretenders Dinosaur Cape
Bring Jurassic Park to your home with this super cute dinosaur pretender cape from Great Pretenders. Made to last for hand me downs, this costume is durable and machine washable.
Zip Top Reusable 100% Silicone Baby + Kid Snack Containers
These silicone snack containers with animal faces are so cute we want some for ourselves! Perfect for snacks on the go.
Minikin Black History Paper Doll (BIPOC brand)
These Black history paper dolls by Minikin Paper Dolls are educational and seriously cute. Each doll includes a short bio and 1 additional outfit.
This rechargable train toy by Brio means no more batteries in the trash! Fully compatible with most wooden railway sets, this train is sure to become a favorite.
Hedley & Bennett Kids Apron (BIPOC brand)
Your little sous chef will look adorable in this kids apron by Hedley and Bennett. It's two size options can fit kids as young as 2 and old as 8
$ $: Between $50-100

Kiwico Fort Builder Kit (BIPOC brand)
Let creativity run wild with this fort builder kit from Kiwico! It's strong but flexible wooden polls and connectors allow kids to create countless different structures.
Hape Castle Escape Quadrilla Wooden Marble Run
Kids will develop a love for STEM with this award winning wooden marble run by Hape. It's built from wooden and recyclable materials and the paint is non-toxic. Help your kid develop spatial and reasoning abilities with this fun gift.
The Block Set by Lovevery contains 70 toy pieces that offer 20+ fun activities for many growth stages, starting at 18 months to 4+ years. Crafted using FSC-certified, sustainably harvested wood and water-based finishes.
Meri Meri Jeremy Crocodile Toy
Made from knitted organic cotton, this Jeremy Crocodile from Meri Meri will be the perfect addition to any playroom!
$ $ $: Over $100

A kids table and chair set that boasts clean lines and a simple modern structure. Bonus that it is also certified Greenguard Gold and lead and phthalate free. Super sturdy and easy to clean, it's perfect for arts and crafts and snack time.
Burton One piece Winter Snowsuit
Keep kids warm on the slopes without the use of PFC (PFAS) chemicals with a snowsuit from Burton! Plus, the sleeves and pant legs are extendable so it can be used for many snow seasons!
Washable rugs are so in right now, but many are made from synthetic fibers. This play rug from Lorena Canals is crafted from natural cotton and uses only non-toxic dyes an is easy to wash. No more worrying about spills and messes that are just a natural part of childhood!