Air Purifier Roundup
Keep your air quality healthy while staying indoors!
Being inside our house for days on end has us thinking a lot about indoor air quality. How do I keep myself healthy while sheltering in place? If you're also worried about indoor air pollutants, it might be a good time to consider buying an air purifier! But there are so many choices out there, how do you know which is best for your house? We did some research and picked our top 6 air purifier choices.
Air purifiers are an easy way to help maintain a healthy indoor air quality. If you experience seasonal allergies or asthma, live in the middle of a big city, are exposed to wildfire smoke, or cook at home a lot, an air purifier might be right for you! Air purifiers are a great tool at protecting your indoor air quality against small particles you can't remove with vacuuming and dusting alone like smoke particles, pet dander, dust, and pollen. Purifiers with a HEPA filter provide even more protection- they're "99.97% efficient for removing particles less than 0.3 microns" (1). Some air purifiers even have a substrate that absorbs VOCs (volatile organic compounds) too! VOCs are released when your gas range is turned on and can also be released from consumer products and furniture. Some VOCs are harmful to your health causing irritation, headaches, damage to organs, and some are carcinogenic.
There are a few things to consider before choosing an air filter, including:
– Make sure the air purifier doesn't generate ozone. While these machines were thought to be effective, they actually cause more indoor air pollution.
– Determine the number of air purifiers and size you need. The product description of an air purifier should say the square footage one purifier can cover. Some larger rooms may need more than one purifier or a purifier with a larger capacity. Many of our picks are offered in models that cover a larger or smaller square footage.
– Check how long one filter lasts. Every air purifier is different, and some filters may last longer than others! It's also a good idea to check filter prices before committing to a specific model.
– Follow manufacturer instructions to clean or buy new air filters when necessary to ensure that your air purifier continues to work properly.
Below are our top air purifier picks: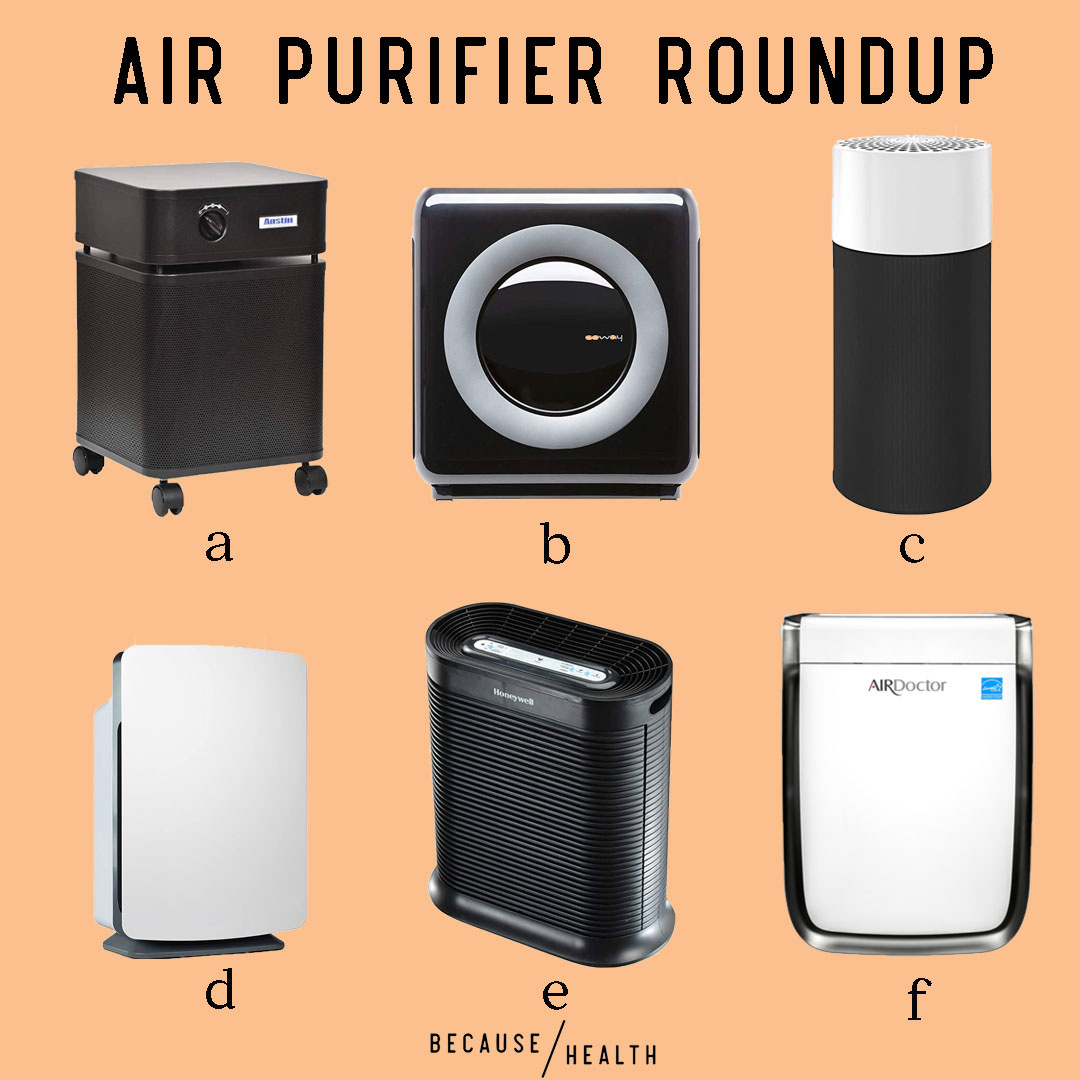 f) AirDoctor
*Because Health is a participant in the Amazon Services LLC Associates Program, an affiliate advertising program so that when you click through our Amazon links, a percentage of the proceeds from your purchases will go to Because Health. We encourage you to shop locally, but if you do buy online buying through our links will help us continue the critical environmental health education work we do. Our participation does not influence our product recommendations. To read more about how we recommend products, go to our methodology page.
References:
1. https://ww3.arb.ca.gov/research/indoor/acdsumm.pdf