9 Non-Toxic Cribs for Your Little One
perfect choices for any nursery
Updated for 2022!
Your little one deserves a crib that is both good looking and healthy. While we can't promise they will sleep through the night, we can promise that these cribs aren't covered in harsh chemicals or releasing large amounts of potentially dangerous fumes into your baby's room. We all want a nursery that will be a nurturing and loving place so that our babies can grow up strong and healthy. So we did our research and found all the highest rated cribs and then limited our picks to cribs that are GREENGUARD Gold certified, meaning they have been tested and meet stringent chemical and VOC emissions standards. That means your baby can sleep without fumes damaging their fragile lungs or irritating their eyes. And when your little one starts chewing on the rails, you can be rest assured that these paints and finishes are safe. We also included a non-toxic budget crib, which is a solid-wood choice from Ikea. While you are looking for a safe crib, you might also want to peruse our roundup of safe crib mattresses, to double down on the safest of safe sleeping places for your kiddos.
---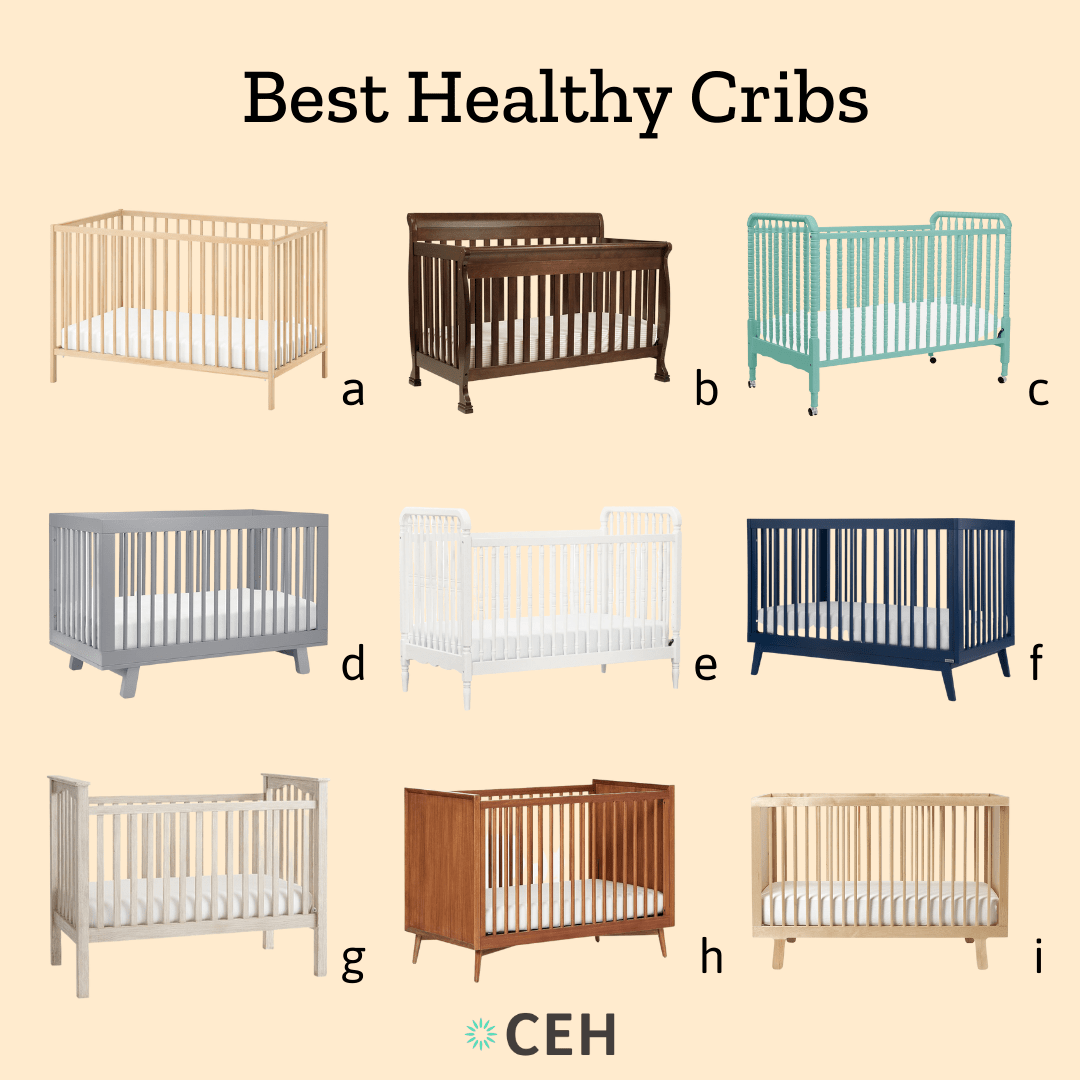 a) Ikea Sniglar Crib b) DaVinci Kalani 4 in 1 Convertible Crib c) DaVinci Jenny Lind 3 in 1 Convertible Crib d) Babyletto Hudson Crib e) Million Dollar Baby Classic Liberty 3 in 1 Convertible Crib f) Dadada Soho 3 in 1 Convertible Crib g) Pottery Barn Kendall Convertible Crib h) West Elm Mid-Century Convertible Crib i) Oeuf Sparrow Crib
At Because Health, we believe that having safe and non-toxic baby gear shouldn't come at the expense of convenience or great customer reviews. For cribs, we pulled together all of the top rated and recommended ones from Lucie's List, Babylist, Consumer Reports, The Bump, and Wirecutter. Then, we selected cribs that were GREENGUARD Gold certified, which limits the VOCs in the finishes and glues used (read more about what GREENGUARD certification means). While we were at it, we focused on cribs made with solid wood, and ended up including a budget solid wood pick from Ikea. Although the budget pick is not GREENGUARD certified, Ikea has a transparent chemicals policy and we like having an affordable solid wood option. Then, like always, we made sure the products were easily available and had positive consumer reviews before they made it to our final roundup.
For more non-toxic baby gear, check out our roundups of travel cribs and playards, bassinets and cosleepers, and swings and bouncers.
*Because Health is a participant in the Amazon Services LLC Associates Program, an affiliate advertising program so that when you click through our Amazon links, a percentage of the proceeds from your purchases will go to Because Health. We encourage you to shop locally, but if you do buy online buying through our links will help us continue the critical environmental health education work we do. Our participation does not influence our product recommendations. To read more about how we recommend products, go to our methodology page.