4 Recipes for Batch Summer Drinks that You Can Spike AND that are Kid-Friendly
Ditch single use plastic and canned drinks at your next party
Summer is basically one big outdoor party. Anyone else wishing it will never end? With all of the heat, it's important to have icy beverages that everyone can enjoy. While it's easy to just load up with flats of canned cocktails or plastic bottles of flavored sparkling water, making a big batch of easy, tasty drinks is more budget friendly and planet friendly! Here are 4 of our favorite drink recipes meant for big containers, so you can quickly prepare them in advance and just set up a glass beverage dispenser as people start to arrive. Kids will love these fruity drinks and so will adults, especially if you add a splash of alcohol into your cup (we won't tell!). Plus you'll be skipping out on single use plastic bottles and BPA-lined aluminum cans. Try out one of these recipes at your next summer BBQ or event!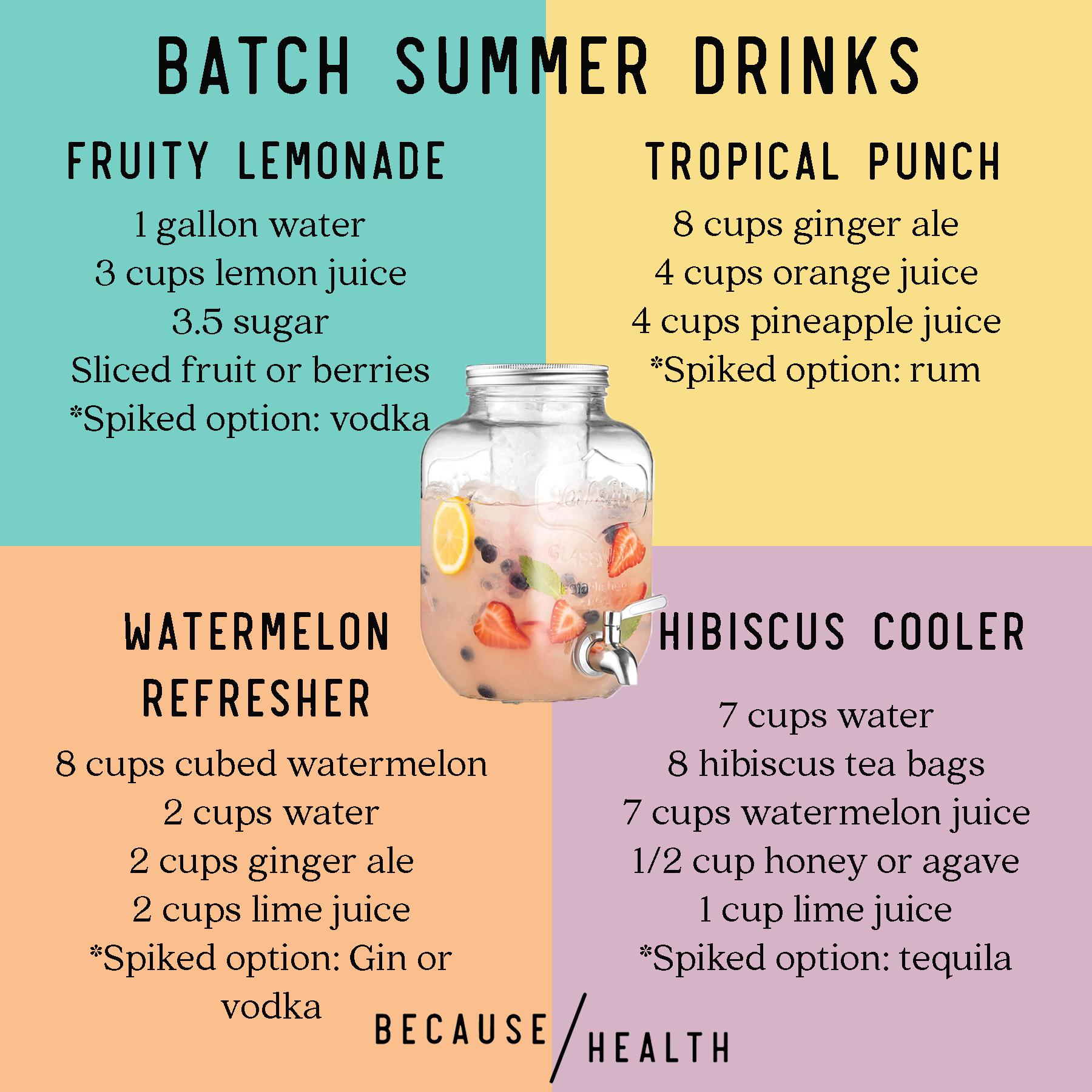 Spiked Lemonade

-1 gallon of water
-3 cups lemon juice
-3.5 cups white sugar
-Fruit like peach, blueberries, blackberries, mint, etc
-4 cups vodka or 1 shot per glass if adding vodka after pouring
Instructions
Stir the sugar into the water until it's completely dissolved.
Mix in the lemon juice, fruit, and optional vodka. Serve over ice.
Fruit Punch
-8 cups ginger ale
-4 cups orange juice
-4 cups pineapple juice
-sliced fruit like orange
-Optional: 2 cups rum
Instructions
Combine all ingredients and serve over ice
Watermelon Refresher
-8 cups seedless watermelon, cubed
-2 cups water
-2 cups ginger ale
-2 cups lime juice
-4 cups gin or vodka or 1 shot per glass if adding after pouring
Instructions
Blend watermelon in a blender until pulverized. If you want a completely smooth consistency without pulp, strain the blended watermelon through a sieve.
Combine all ingredients, including pulverized watermelon, and serve over ice.
Hibiscus Watermelon Cooler
8 cups water
8 hibiscus tea bags
8 cups watermelon juice (puree watermelon in blender)
½ cup honey
1 cup lime juice
4 cups tequila or 1 shot per glass if adding after pouring
Instructions
Add the teabags to the water and let steep for 5-10 minutes
Remove the teabags and add the rest of the ingredients
Serve over ice