Ground Beef Tacos Loaded with Veggies that are Kid-Friendly and Planet-Friendly
Reduce Your Meat Consumption Without Sacrificing Taste
We've all heard that reducing meat consumption is a great way to combat climate change, but for many people giving up meat completely is just really hard. That's why we're all for meals that reduce meat, but don't give it up completely. Just eating less meat on a consistent basis can have a big impact on carbon emissions and plant rich diets are really good for your heart health too. Adding veggies into ground beef tacos is one of our favorite ways to do that. This recipe is super kid-friendly and doesn't sacrifice on taste; it will definitely become a go-to recipe that everyone will gobble up. It's also budget friendly because it can stretch a pound of ground beef to last two meals. Sounds almost too good to be true, right?!
This recipe is also great for using up any veggies that are languishing in the fridge. Here we use onion, celery, zucchinis, and kale, but most veggies will work in this recipe. Broccoli stems, wilted leafy greens, leftover bell pepper, and even eggplant and mushrooms will work in this recipe. By using up what you have, you're reducing food waste, which is another way to combat climate change. So give this recipe a try the next time Taco Tuesday rolls around!
Ground Beef Loaded with Veggies Recipe
Ingredients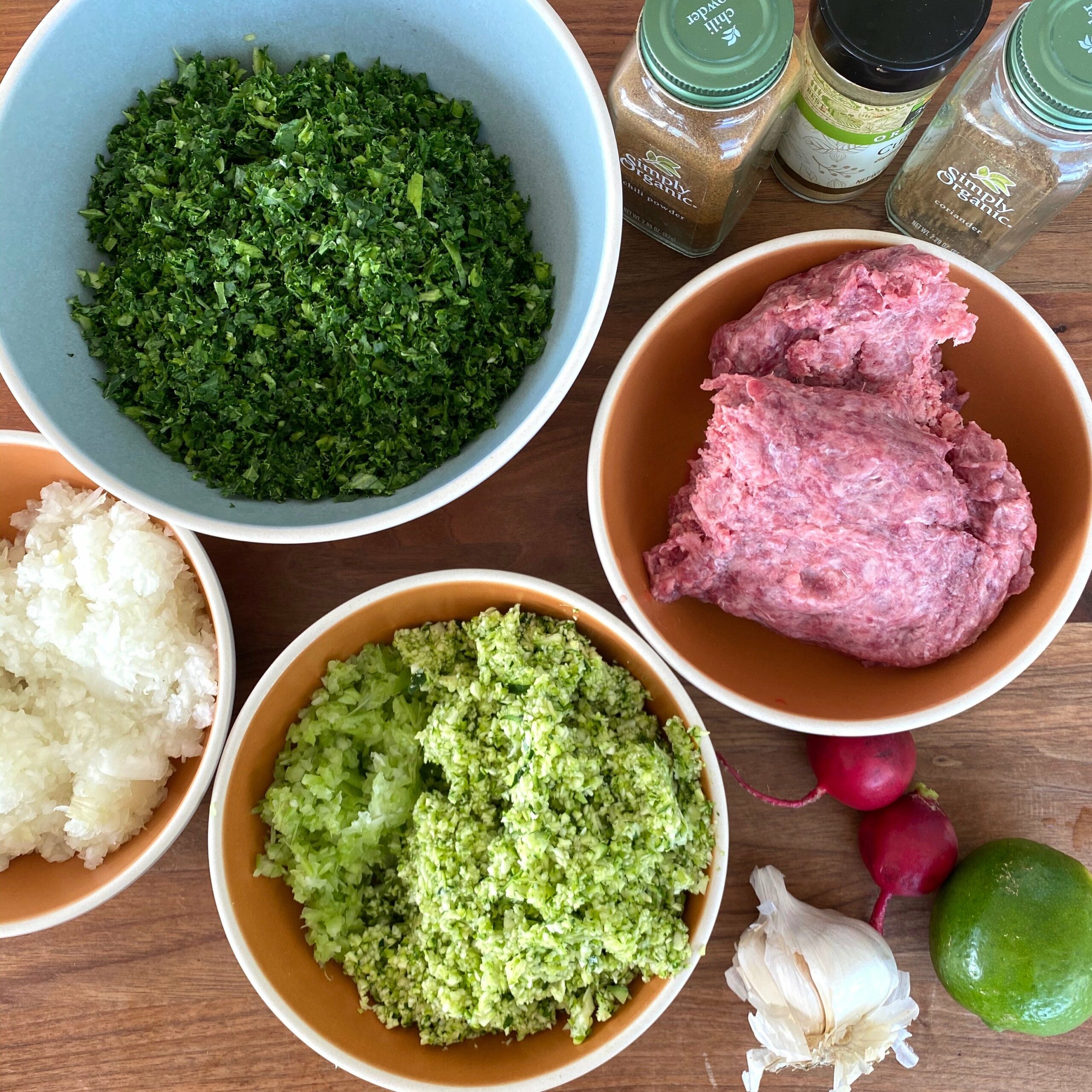 For the Filling

1 lb Ground Beef
½ onion
1 stalk celery
3 small zucchinis (or 2 medium)
1 bunch kale or other leafy green
2 cloves garlic minced
1 tsp ground cumin
1 tsp ground coriander
½ tsp chili powder (or sub taco seasoning mix for all spices)
1 Tbsp olive oil
Salt and pepper
For the Tacos
Flour or corn tortillas or hard taco shells
Garnishes like avocado, salsa, shredded cheese, sliced radishes, shredded lettuce, sour cream, pickled onions
Instructions
Finely chop or food process onion, celery, zucchinis, and kale. You can use any other vegetables that you have in the refrigerator. Broccoli, swiss chard, cabbage, mushrooms all work well.
Heat 1 Tbsp olive oil in a skillet and add vegetables. Cook over medium high heat, stirring frequently until the veggies have lost most of their water content. Depending on the moisture in the veggies you used, this may take anywhere from 5-15 minutes. Season with salt and pepper. Remove veggies from the skillet and set aside.
Add ground beef to the skillet and break up with a spatula. Add garlic, cumin, coriander, and chili powder. Feel free to change the amount of chili powder so that it's more spicy or less spicy depending on your preference. You can also substitute some taco seasoning mix if you have that on hand. Season with salt and pepper as well.
When the ground beef is browned evenly, add the veggies back into the skillet and mix with your spatula until the mixture is well combined.
Serve in heated tortillas with any garnishes you may have. Leftover filling is also really good in quesadillas, as a side to a big salad, or as part of a scramble.