Banish Bugs With Our Recommended Insect Repellent Ingredients
Don't be an all-you-can-eat-buffet for annoying critters again!
Summer is here! But that means so are the biting insects…. Ugh. Mosquitoes, ticks, chiggers, fleas, and biting flies seem impossible to avoid when the weather heats up. They're really annoying and they can post a pretty big health risk. Mosquitoes and ticks alone can transmit some scary diseases like Zika, Lyme, malaria, encephalitis, and dengue fever. And to make matters worse, a new CDC report shows the number of mosquito and tick-borne diseases are on the rise (1). To help protect yourself against these pesky insects, we're discussing the most effective insect repellent ingredients that are EPA registered (AKA safe and effective) and CDC recommended: DEET, picardian, and oil of lemon eucalyptus.
We know what you're thinking- synthetic chemicals are recommended?! In this case, the risk of disease is a bigger environmental health threat than using these two specific synthetic chemicals. Additionally, there have also been no scientific studies that show essential oils are effective in protecting against insect bites so we can't include them in our recommendations. You can try them and maybe they'll work for you, but there's no guarantee. If you really want our one DEET alternative, non-synthetic repellent recommendation, that has a transparent list of ingredients, and is scientifically proven to keep bugs away, stay tuned!
DEET
DEET (N,N-diethyl-meta-toluamide) is considered to be the "gold standard" of insect repellent. It's a good choice if you're outside all day in a high-insect are because it repels the most insects, including both mosquitoes and ticks, and lasts the longest amount of time (2). When applied correctly (make sure to read the label!), there are very few negative reactions from DEET. A product with a concentration of DEET between 20-30% can provide protection from insects for most of the day (3). DEET can be used while pregnant and on children older than two months and has not been found to be carcinogenic. Although some may see dermatitis or an allergic reaction from long-term exposure to high levels of DEET (2) and oral ingestion has been shown to have neurotoxic effects like seizures (4).
Picaridin
Picaridin (icardian) is another repellent ingredient that repels ticks and mosquitoes. It's been widely used in Europe and Australia for years with positive results. A product containing at least 20% picaridin has similar short-term results as DEET, although picaridin does not provide long-lasting protection as well as DEET and has to be reapplied more often (2). Picaridin has not been studied as thoroughly as DEET, but it does not seem to have any major negative health impacts. Although uncommon it can cause skin or eye irritation, so make sure to read the directions when using a product containing picaridin (5). We've become big fans of Ranger Ready Picaridin 20% Insect Repellent Mist!
Oil of Lemon Eucalyptus
Oil of lemon eucalyptus (P-menthane-3,8-diol) is a natural oil extracted from the lemon-scented eucalyptus plant (6). It can be an appealing ingredient to people because it's an alternative to synthetic chemicals like DEET or picaridin. Oil of lemon eucalyptus is great at repelling mosquitoes, flies and gnats, but not so great against ticks (2). Products containing at least 30% of oil of lemon eucalyptus have shown to be almost as effective as repelling mosquitoes as DEET, but it has to be applied much more frequently (6). While it is natural, it can irritate the eyes or skin and is not recommended for children under 3 (7). Just a quick note: lemon essential oil and eucalyptus essential oil are NOT the same thing as oil of lemon eucalyptus though, so make sure to look for that exact phrasing in any ingredient lists.
Since oil of lemon eucalyptus is EPA registered and a natural ingredient, we think it's a great synthetic-ingredient alternative! We love Murphy's Naturals Lemon Eucalyptus Oil Insect Repellent Spray. It uses 30% oil of lemon eucalyptus as a way to repel those annoying bugs and lists all of the ingredients (ethanol and water). It's super super hard to find a complete list of ingredients in insect repellent products, so we think this is a huge plus.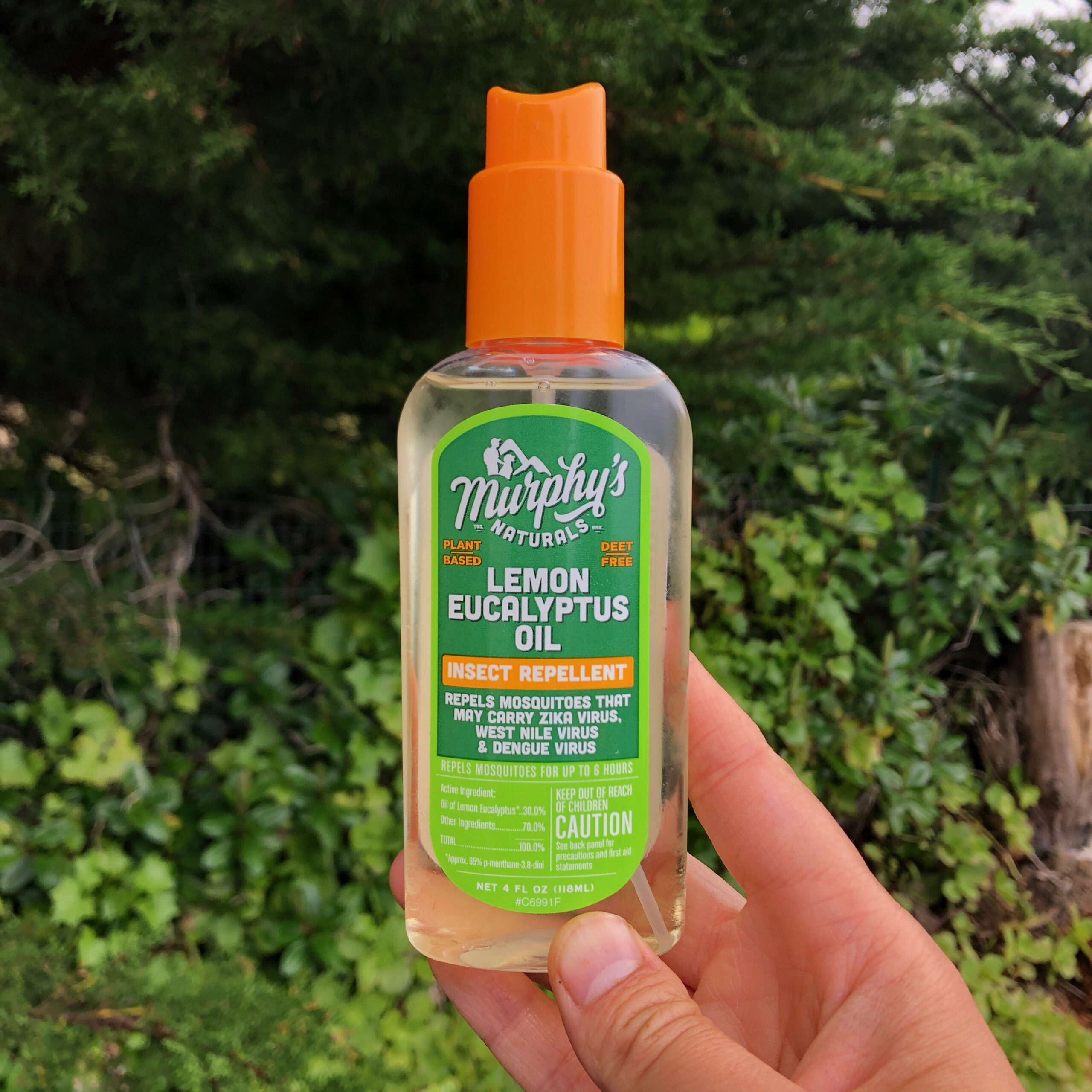 So which ingredient should I choose?
It depends! Are you in an area with a high amount of mosquitoes and ticks? Are you outdoors for the entire day or maybe just an hour? Do you want to avoid synthetic chemicals or are you okay with it? Are you traveling to a place that has a high rate of diseases like malaria or yellow fever? The EPA has a quiz you can take in order to find the best insect repellent for your needs.
We recommend to always read and completely follow the directions listed on any repellent product you use, and wash your hands after applying a repellent. Generally you want to apply repellent when you're outside while holding the product at least 6 inches away as you spray. While spraying repellent on your clothes is okay (although DEET shouldn't be sprayed on synthetic fabric), it's not a good idea to spray it under your clothes (8). Long sleeved shirts, pants, long socks, and closed toe shoes can reduce the risk of a bite because less skin is exposed.
Now that you're fully up-to-date on the best insect repellent ingredients you can go back to focusing on what really matters: barbecuing, swimming, beach trips, and all of fun activities that come with summer!
References:
1. https://www.cdc.gov/mmwr/volumes/67/wr/mm6717e1.htm?s_cid=mm6717e1
2. https://www.uptodate.com/contents/prevention-of-arthropod-and-insect-bites-repellents-and-other-measures
3. https://www.ewg.org/research/ewgs-guide-bug-repellents/ewg-repellent-guide
4. https://www.ncbi.nlm.nih.gov/pubmed?term=2506420
5. http://npic.orst.edu/factsheets/PicaridinGen.html
6. https://www.beyondpesticides.org/assets/media/documents/pesticides/factsheets/oillemoneucalyptus.pdf
7. https://www.cdc.gov/zika/prevention/prevent-mosquito-bites.html
8. https://wwwnc.cdc.gov/travel/yellowbook/2018/the-pre-travel-consultation/protection-against-mosquitoes-ticks-other-arthropods