The Best Non-Toxic Baby Sunscreens
Well reviewed, easy to find, and super safe for your little one
Updated in June 2021! None of the sunscreens listed here tested positive for benzene contamination.
It's finally here! We've rounded up the best non-toxic baby sunscreens just in time for all your outdoor adventures. We took into account ingredient safety, as well as reviews from parents, and availability at major retailers. Trust us that these options will not result in a goopy disappointment. All of these non-toxic baby sunscreens are safe for baby, toddlers, kids (and you!) and are free from harmful chemicals. They are all reef safe too! Many of these brands also make a stick that can be a lot easier for face application if your baby is extra squirmy, so make sure to check those out too. Hope this makes your summer to-do list just a bit easier! If you're looking for a sport or adult sunscreen, make sure to check out our roundup for the 10 best non-toxic sunscreens.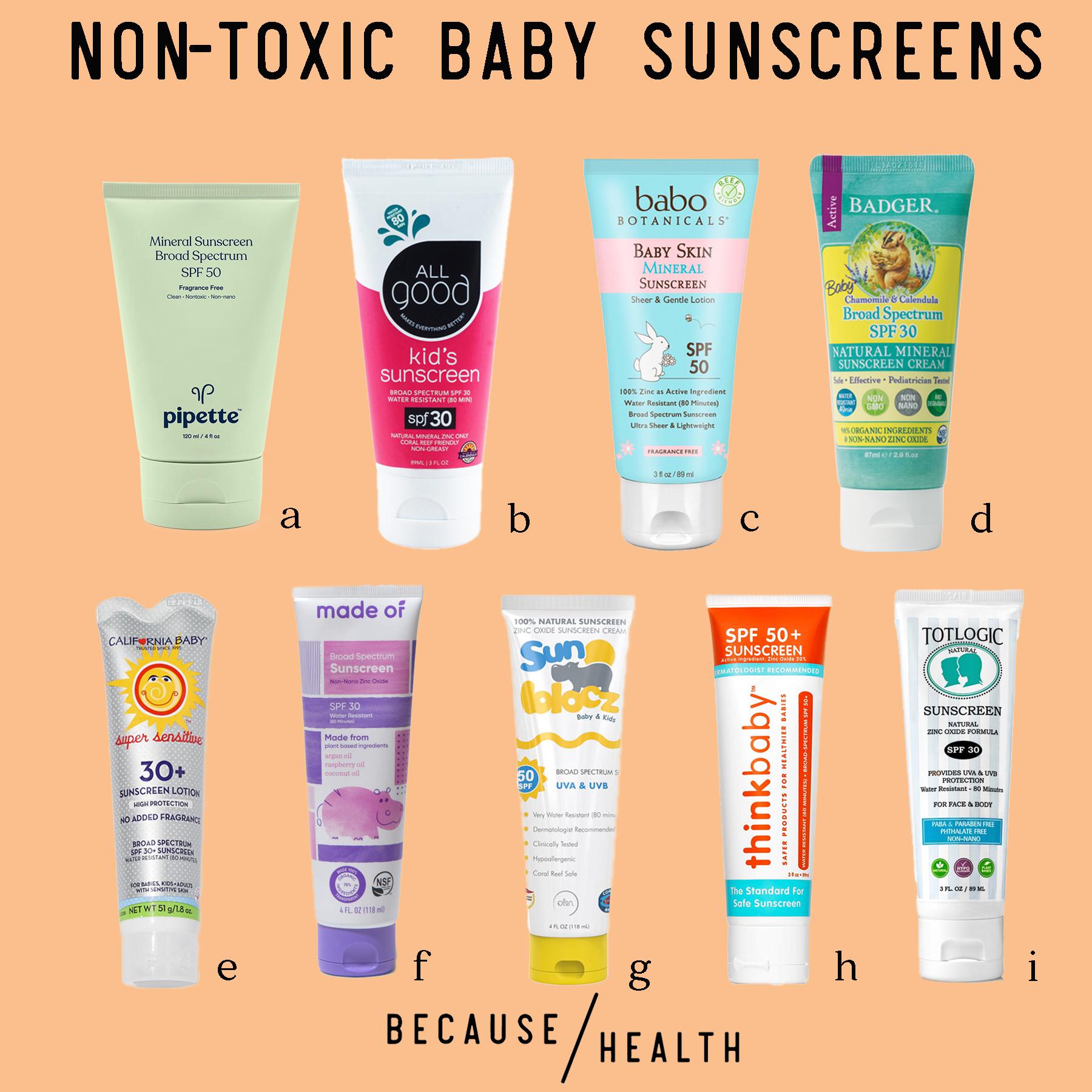 a) Pipette SPF 50 mineral sunscreen
b) All Good Kid's Sunscreen SPF 30
c) Babo Botanicals Baby Skin Mineral Sunscreen SPF 50
d) Badger Baby Natural Mineral Sunscreen Cream SPF 30
e) California Baby Super Sensitive Sunscreen Lotion SPF 30
f) Made Of Baby Sunscreen SPF 30
g) Sunblocz Baby and Kids Sunscreen SPF 50
h) Thinkbaby Safe Sunscreen SPF 50
i)Totlogic Mineral Sunscreen SPF 30
Because Health is a participant in the Amazon Services LLC Associates Program, an affiliate advertising program so that when you click through our Amazon links, a percentage of the proceeds from your purchases will go to Because Health. We encourage you to shop locally, but if you do buy online buying through our links will help us continue the critical environmental health education work we do. Our participation does not influence our product recommendations. To read more about how we recommend products, go to our methodology page.