Non-Toxic Infant and Convertible Car Seats
Keep your little one safe and secure in flame retardant free and PFAS free car seats
Updated for 2020!
If there's only one thing you absolutely need before your baby is born, it's a car seat. Everything else on your registry (except maybe diapers) can come later! Car seats are an absolute necessity for keeping your little one safe while you're on the road, from the first car ride home and on. Most kiddos actually end up spending a lot more time in car seat other than just for rides. Many kids end up napping and snacking in them. Unfortunately, most car seats contain flame retardants and forever chemicals called PFAS (per- and polyfluoroalkyl substances.) The good news is that car seat makers can meet the required flammability safety standards without using chemical flame retardants and car seat covers can be removable and washable for when messes happen. There are great flame retardant free and PFAS free infant car seats and convertible car seats. We outline all the options and why they are important for you.
---
Why Flame Retardant Free and PFAS free Car Seats?
Starting in the 1970s, flame retardants were added to products because they were thought to help reduce flammability. Since then, scientists have shown that flame retardants don't work in the way we thought they did and they're also bad for our health. Exposure to harmful flame retardant chemicals is associated with disruption of the hormones, neurodevelopmental delays, obesity, and cancers. Babies breathe them in and absorb them through their skin, potentially creating unnecessary long term health problems.
Despite the evidence for harmful health effects and the fact that there is no evidence that these chemicals provide any added fire safety benefit, the National Highway Traffic Safety Administration (NHTSA) has not updated their fire safety regulations since the 1970s. That's why the Ecology Center periodically tests car seat brands for hazardous chemicals. In their tests, they have found that the majority of car seats do contain chemical flame retardants. Thankfully, car seat manufacturers have recently come up with fabric options that contain some wool, which is naturally flame retardant, so there are some infant and convertible car seats without chemical flame retardants available.
Many car seats are also coated in stain resistant chemicals called PFAS. You've heard of Teflon before, right? Well the chemicals used to impart stain resistance on car seat fabrics are similar. PFAS chemicals can cause reproductive and developmental difficulties, liver and kidney problems, as well as increased cholesterol levels. Other worries include: an altered immune system, thyroid hormone disruption, cancer, and low infant birth weight. Some car seats now come with washable covers, so the PFAS chemicals aren't needed.
Infant or Convertible Car Seat?
Don't know what type of car seat you need? We've got you. Most parents start with an infant car seat because it's portable and can easily plop onto compatible strollers. They make getting out of the house much faster! Relatively speaking of course… Just make sure that you get an infant car seat that is compatible with the stroller frame that you like. You can check out which adapters are available in this stroller and car seat compatibility resource.
However, infant car seats will only last up to when your little one is one year old. Each seat has its own weight and height limits, so make sure to check them. Convertible car seats are a lot bigger, are not as easy move in between cars, and will not work with a stroller. But they will last for years and you only have to buy one! You will start it as a rear facing car seat and then turn it forward when your kid is too big to fit facing backwards.
Of course if you're not in the market for a new car seat, please keep using the one you currently have. Motor accidents are the #1 cause of injuries to children, so a car seat must be used, no matter what!
Non-Toxic Car Seats that are PFAS and Flame Retardant free
Below are all the non-toxic infant and convertible car seats available on the market. All of our picks are flame retardant free and PFAS free, and will keep your little one safe.
Infant Car Seats: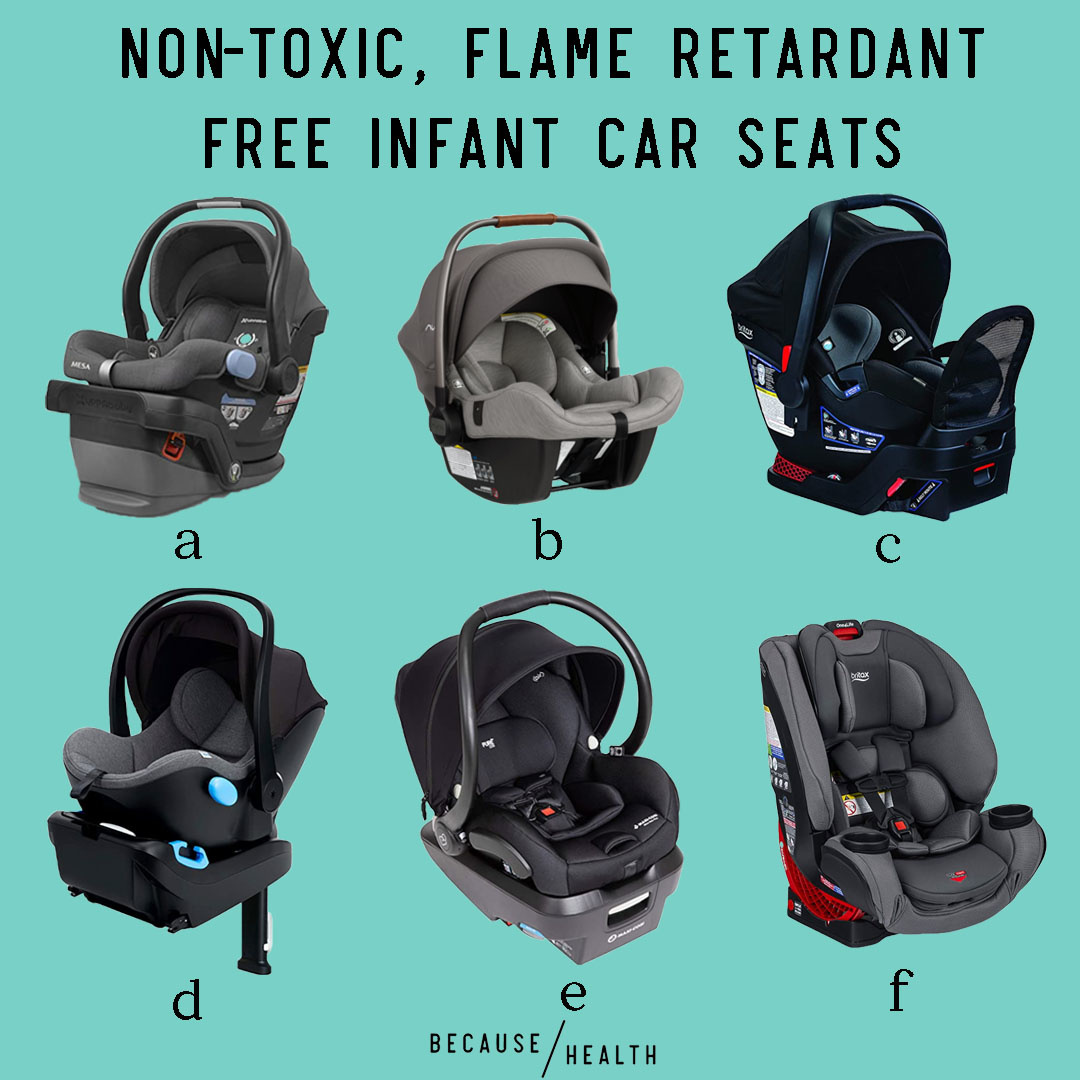 a) Uppababy Mesa in Henry and Jordan
c) Britax Endeavors in Safewash Fabric, Otto
d) Clek Liing in Mammoth or Twilight
e) Maxi-Cosi Mico 30 Infant Car Seat and Maxi-Cosi Mico XP Max Infant Car Seat (any Pure Cosi fabrics)
f) Britax One4Life ClickTight in Safewash, drift, eclipse black, plum, and cadet
Convertible Car Seats: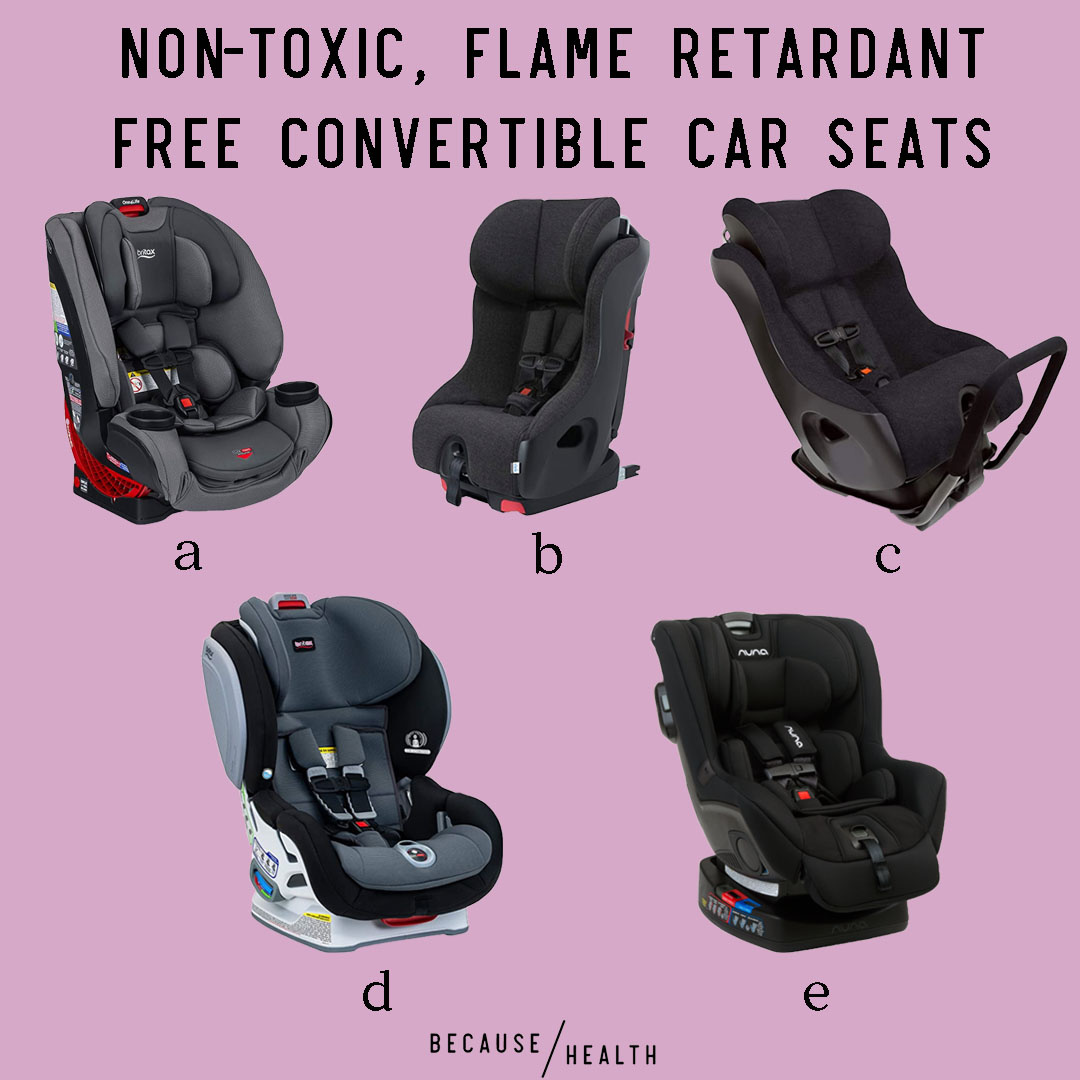 a) Britax One4Life ClickTight in Safewash, drift, eclipse black, plum, and cadet
c) Clek Fllo in Mammoth or Twilight Fabrics
d) Britax Advocate ClickTight in Safewash Fabric, Otto
e) Nuna Rava
Enjoying our product roundups? Then you'll love the Because Health newsletter! Subscribe here