9 Non-Toxic Menstrual Cups and Organic Period Underwear
Made with safe materials and zero-waste friendly
Tired of changing and throwing away tampons or pads every month? Want a zero-waste alternative for your period? Heard of menstrual cups and period underwear, but not sure which one to pick? Well, look no further! We rounded up the 9 best-reviewed non-toxic menstrual cups and organic period underwear options for you to try out. All of the menstrual cups are made of a flexible medical-grade silicone that collect fluid instead of absorbing it. The period underwear options we found are made with organic cotton, and can be washed.
---
If you're like us, menstrual cups and period underwear are an interesting alternative but making the switch can feel a bit intimidating. But here's why it's worth giving them a try! First of all, both menstrual cups and period underwear are cost effective- you can wash them and use them month after month. And when you compare that to the cost of buying tampons or pads every month, investing in a menstrual cup or a couple pairs of period underwear seems like a no brainer. Also, menstrual cups and period underwear are environmentally friendly because there's no monthly waste from plastic applicators, used tampons or pads, or plastic product packaging. Many menstrual cup users also say that they feel more comfortable than tampons once you get used to inserting and removing them. You can also use these organic period underwear as a backup to a menstrual cup for those super heavy days!
All of the menstrual cups below come in different sizes that depend on light or heavy flows, the length of your cervix, and whether or not you've given birth vaginally. Here's a quiz and a detailed guide that can help you see which ones of these menstrual cups might work for you. Give them a try and tell your friends about your experience!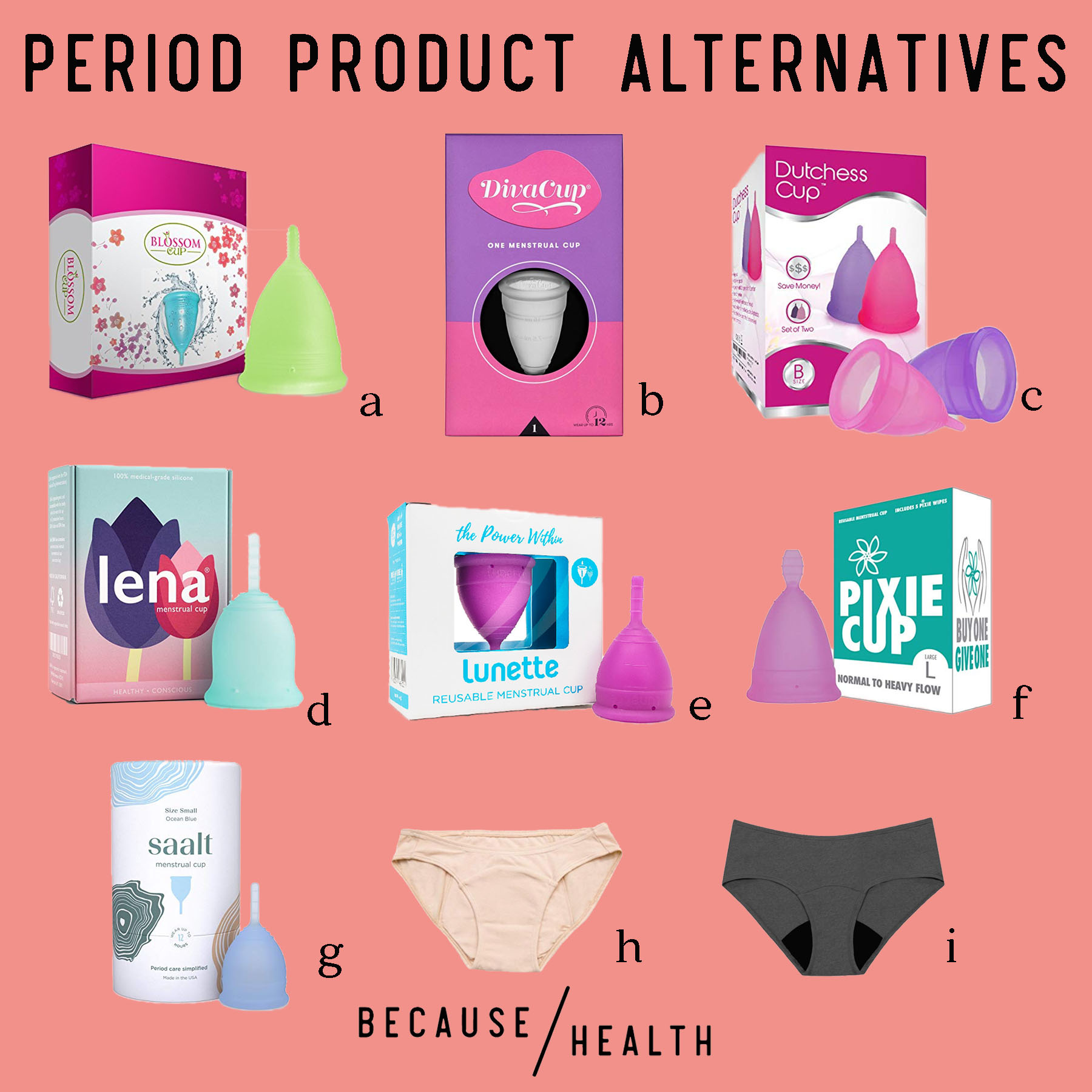 a) Blossom b) DivaCup c) Dutchess Cup, set of 2 d) Lena e) Lunette f) Pixie Cup g) Saalt h) Hesta Organic Period Panties i) Lunapads Period Underwear
Because Health is a participant in the Amazon Services LLC Associates Program, an affiliate advertising program so that when you click through our Amazon links, a percentage of the proceeds from your purchases will go to Because Health. We encourage you to shop locally, but if you do buy online buying through our links will help us continue the critical environmental health education work we do. Our participation does not influence our product recommendations. To read more about how we recommend products, go to our methodology page.