Non-Toxic School Lunch Packing Essentials
Get ready for school with these eco-friendly options
Packing lunches for school is a lot of work! We know from firsthand experience how hard it can be to pack something nutritious that your kids will actually eat. Plus if you're trying to reduce the amount of food packaging or plastic waste in your kid's lunch, it can just seem overwhelming. To make things easier, we rounded up our favorite non-toxic school lunch packing essentials. We included stainless steel lunchboxes, a hot food container, snack containers and bags, reusable food wrap, and a couple of cute and functional lunch bags. All of these items are free of lead, phthalates (commonly found in vinyl), BPA, and PFAS (Teflon-like chemicals). Check out these lunch packing essentials and get inspired to pack the best lunches ever.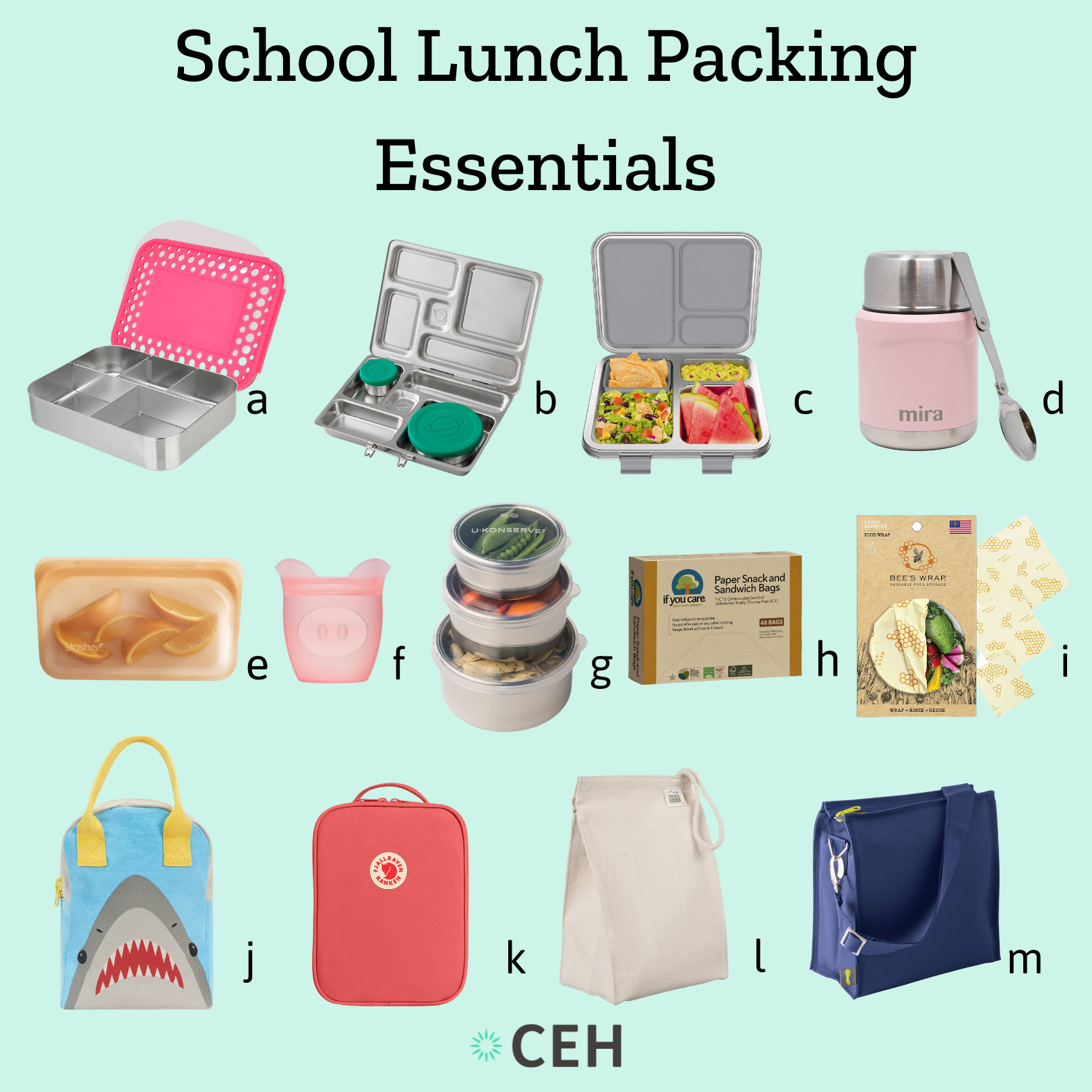 a) Lunchbots Large Stainless Steel Lunch Container
Lunchbots is a great stainless steel bento container that will last for years. This one has 5 compartments for every type of lunch and snack combo you can come up with. You can get dip condiment containers that are leak proof that neatly fit inside. Lunchbots also has smaller containers for snacks that you should check out as well.
This stainless steel lunch box is easy for kids to open with a simple latch. The lunchbox comes with containers for wet foods and dips and you can buy extra dividers. The different compartments make it easy to pack a variety of foods. We love how it comes with magnets on the cover so that kids can customize the look. Planetbox also has an insulated carry bag, just make sure to pick one of the patterns that is made without a PFAS durable water repellent. Planetbox also has a smaller sized box for snacks or for little ones.
c) Bentgo Kids Stainless Steel
Bentgo is a favorite bento container that now comes in stainless steel! The silicone lining on the lid makes it leak resistant as and the latches make the container easy to open. It comes with 3 compartments and an extra silicone container.
d) Thermos Stainless Steel Insulated Food Jar
This container keeps food hot for 5 hours and is perfect for days when soup or mac n cheese are on the menu. The handle make it convenient to carry and helps kids open the top.
e) Stasher bags
Stasher bags are so popular for a reason! Say goodbye to single use plastic bags and say hello to a reusable food packing essential that comes in lots of fun colors. We particularly love the sandwich and snack sizes and use them daily.
These Zip Top container are as convenient to use as they are cute! We love how they sit flat and are easy to open for small hands. They are perfect for some sliced fruit or any loose snack.
g) Ukonserve Round Nesting Trio Stainless Steel Containers
These snack containers come with see through lids so that kids know what's inside. The are great for snacks, or use all three to pack a bento style lunch. They also nest for easy storage.
Sometimes you need a disposable sandwich or snack bag. No judgement! These If You Care unbleached sandwich bags are made of greaseproof, nonstick paper which is biodegradable, compostable, and microwave safe. Perfect for a cookie, sandwich, or other dry snack.
i) Bee's Wrap Reusable Food Wrap
Replace plastic wrap with this sustainable alternative. Bee's Wrap is made from GOTS Certified organic cotton, sustainably harvested beeswax, organic jojoba oil, and tree resin. We love wrapping up snacks, sandwiches, and cut up fruits and veggies in these.
This organic cotton canvas lunch bag is fully machine washable! The interior is lined with a food safe water resistant lining (free of PFAS, phthalates, and other harmful chemicals) and has a pocket for a ice pack. The bag comes in so many cute prints and has a very durable canvas handle.
k) Fjallraven Kanken Mini Cooler
This well insulated lunch bag is made of durable, waxed fabric that is PFAS free! Bonus that the the fabric is made from recycled plastic. It comes in lots of cute colors and is sure to be a favorite for kids of all ages.
A roomy insulated lunch box that is easy to wipe clean thanks to a biodegradable laminate made from sugar cane. It comes in several cute patterns and comes with a handle or a strap.
m) Ukonserve insulated lunch bag
This lunch bag is made from recycled plastic bottles and is free of PFAS, phthalates, and other toxic chemicals. It holds ups well to daily use and is roomy enough to pack a lunch plus snacks.