9 Non-Toxic Teethers
Your baby will love chewing on these safe materials!
We're all guilty of just letting our teething baby chew anything they can get their hands on. What's the harm as long as it's not a choking hazard? A little dirt is good right? Turns out, there are some common household items that you definitely don't want your kids to chew on because they contain toxic chemicals or substances like lead and flame retardants. Having a safe teether made of silicone or wood is your best bet for your baby's health. Check out our 9 favorite options that will give your little one some relief and will also make for some cute photos!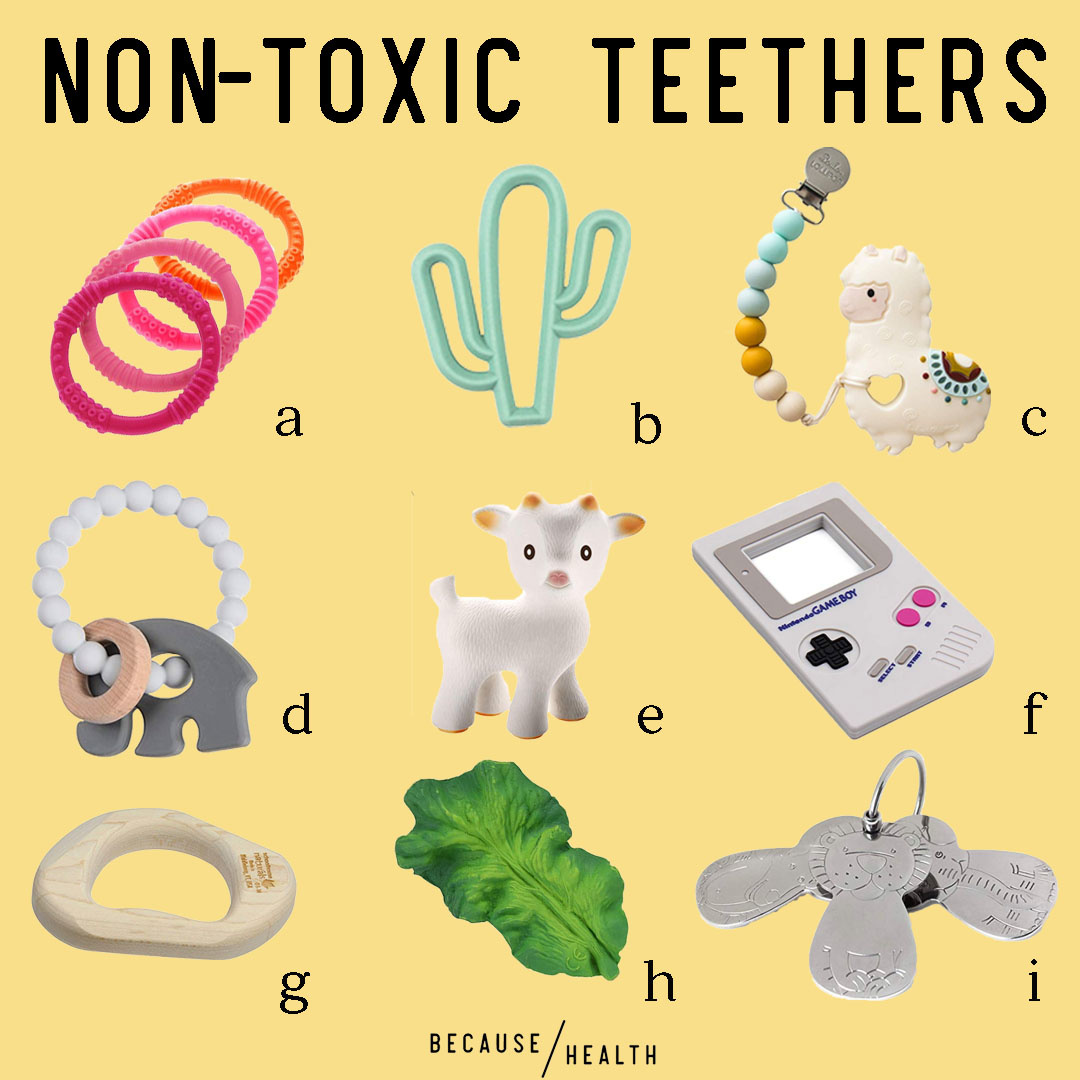 c) Loulou lollipop Llama Teether
g) Maple Landmark Ring Teether
h) Oli and Carol Kendall the Kale
---
---
We recommend always having a safe teether on hand, whether you're at home or on the go. Even though common everyday items may look harmless, there can be unsafe substances that your little one can ingest if they're chewing on them.
Wondering what household items could be harmful to chew on? Here are some common items that you shouldn't let your little one chew on, even though it's so tempting to let them gnaw.
Keys
Keys are always in our purses or pockets and babies are fascinated with them. Sometimes they're the perfect distraction to avoiding a meltdown in the grocery story line. But it's actually not a good idea to let your little ones chew on keys or even play with them. The metals used to make keys vary greatly, but many brass keys can contain up to 2.5% lead (1,2). Even keys that don't look like brass might be plated in another metal, which can wear off over time. Not all keys contain lead, but it's impossible to know for sure which ones do and don't. So pick one of our safe teethers, including these Kleynimal Stainless Steel Keys, and make sure to pack it for your next grocery run.
Remote Controls
Remotes have colorful buttons and fit perfectly in little hands, so it's no wonder you always see babies chewing on the ends. But remotes contain batteries, which are not safe anywhere near your child's mouth. Additionally, household electronics like remotes contain flame retardants, which can come off into mouths and on hands. Try to limit contact with remotes and definitely don't let them become toys! We like to keep them out of reach on a shelf.
Cell Phones
It seems like all babies become obsessed with cell phones… probably because they see us constantly looking at them! But is it safe to let your baby chew or mouth your phone? Definitely not. Cell phones are covered in germs, including some pretty nasty pathogens like E. Coli (3). They also contain a lot of chemicals and substances, like batteries, heavy metals, flame retardants, and plasticizers, which are all toxic. Plus, if your baby is teething or has teeth, they could chip the phone and little pieces could come off that can be a choking hazard. Because of all these hazards, teething babies and cell phones are not a good match. But if your child is old enough to play games on your phone, wash their (and your!) hands after they use it, especially before snacks and meals.
Jewelry
Jewelry is sparkly, shiny, and colorful, which basically just screams "please put me in your mouth!" to babies. Unfortunately, metal jewelry can contain toxic heavy metals like lead and cadmium while plastic jewelry can contain bisphenols or plasticizers. Lead is a dangerous neurotoxin at any dose, and cadmium can cause kidney, bone, and lung damage. Brass is also a common component in jewelry, which can contain up to 3% lead. And just because it's expensive doesn't mean it's safer; jewelry at all sorts of price points have been found to contain these heavy metals. Research has found that the amount of heavy metals that get ingested while chewing or mouthing jewelry can be dangerous (4). Even jewelry that seems completely harmless, like Mardi Gras beads, has been found to contain toxic substances. So let jewelry be just something nice to look at and let kids chew on a set of silicone teething beads instead.
Sunglasses
Sunglasses come in all sorts of sizes and shapes nowadays, but most sunglasses are made of a polycarbonate plastic that contains BPA. While it may not be a big exposure risk for adults who wear them, letting your little one chew on them or suck the ends is not the best idea. BPA is a hormone disruptor and kids are especially vulnerable as they are in a sensitive growth period. Yet another reason to always pack a safe teether in your bag if your little one is an especially mouthy one!
References
Kondrashov, Vladislav, et al. "Assessment of lead exposure risk in locksmiths." International journal of environmental research and public health 2.1 (2005): 164-169.
Pal, Shekhar, et al. "Mobile phones: Reservoirs for the transmission of nosocomial pathogens." Advanced biomedical research 4 (2015).
Weidenhamer, Jeffrey D., et al. "Bioavailability of cadmium in inexpensive jewelry." Environmental health perspectives 119.7 (2011): 1029-1033.
*Because Health is a participant in the Amazon Services LLC Associates Program, an affiliate advertising program so that when you click through our Amazon links, a percentage of the proceeds from your purchases will go to Because Health. We encourage you to shop locally, but if you do buy online buying through our links will help us continue the critical environmental health education work we do. Our participation does not influence our product recommendations. To read more about how we recommend products, go to our methodology page.