Non-Toxic Fabric Softener and Dryer Sheets
Natural dryer sheets and dryer sheet alternatives
Updated for 2019!
You know when you are doing laundry and everything comes out of the dryer all warm and fluffy and smelling amazing and you just fall asleep in a pile of clean clothes on the couch? Nope, just us? Oh well. While that might not be a common practice, throwing in a dryer sheet or adding a splash of fabric softener is pretty common. But, have you ever wondered how one of those rather small dryer sheets works to get rid of the static for a whole load of laundry? Are dryer sheets toxic? Are there alternatives to dryer sheets and fabric softeners?
Well, it turns out that dryer sheets often come with many added chemicals that you might not want all over your clothes. Next time you are doing a load of laundry (with some safe laundry detergent), check out one of these option instead. They will keep your clothes looking good without the potentially dangerous chemicals. All of the ones we recommend are widely available, have positive reviews, and have been checked for safety from a third party. Who wouldn't want a more natural dryer sheet?! We also have a suggestion for our favorite alternative to dryer sheets, wool dryer balls.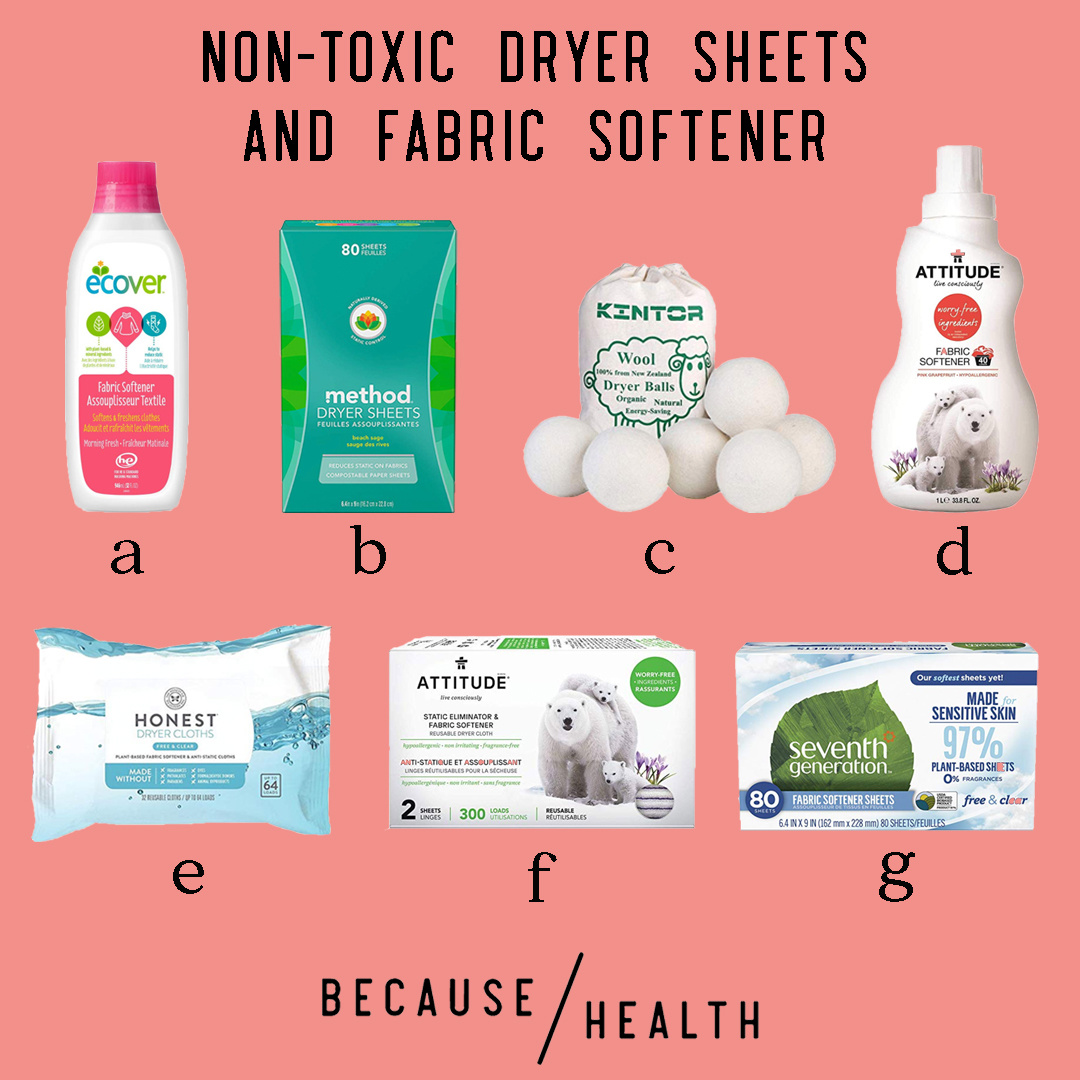 a) Ecover Fabric Softener b) Method Dryer Sheets in Beach Sage c) Kintor Wool Dryer Balls d) Attitude Fabric Softener e) The Honest Company Dryer Cloths f) Attitude Reusable Static Eliminator and Softener g) Seventh Generation Natural Fabric Softener Sheets
We rely on EWG's consumer databases, the Think Dirty App, and GoodGuide in addition to consumer reviews and widespread availability of products to generate these recommendations. Learn more on our methodology page.
*Because Health is a participant in the Amazon Services LLC Associates Program, an affiliate advertising program so that when you click through our Amazon links, a percentage of the proceeds from your purchases will go to Because Health. We encourage you to shop locally, but if you do buy online buying through our links will help us continue the critical environmental health education work we do. Our participation does not influence our product recommendations. To read more about how we recommend products, go to our methodology page.