Non-Toxic Paints for Your Nursery or Kids' Rooms
Baby safe and kid safe paints that are zero VOC and APE free
Painting and decorating a nursery is one of the best parts of waiting for a little one. Or adding a splash of color when making the transition from nursery to little kid room is also super fun. Whether you're painting just one accent wall, the entire room, or an unfinished pieces of furniture in just the perfect shade, it's important to pick a paint that not only looks good, but is baby and kid safe. Paint fumes and chemical additives can linger and baby's systems are especially vulnerable and sensitive. Luckily, there are safer paints on the market so that you can feel good about using them so close to where your little ones will sleep.
Best Practices While Painting
First things first- how to paint. Who paints a room and how the room is painted is super important in protecting your health. If you're currently pregnant, ask your partner or a friend to do the painting for you. You definitely don't need to be exposed to paint fumes while you're still growing a little person. You're doing enough as is! Also make sure there are no toddlers around while painting. Although having a little helper would be really cute, toddlers are in a critical developmental period and are especially susceptible to the negative effects of paint fumes. Plus you probably don't want anything with wet paint on it to become a messy toy!
It's also critical to ventilate as much as you can while painting. Have all windows and doors open and a fan running if possible. Even a box fan in the corner will help! When you're not using the paint (whether it's a small break or overnight), keep the lid sealed securely on the container. This will prevent emissions from escaping while the paint isn't in use.
What to Look for in a Safe Paint
Now that you know how to paint, which paint should you use? There are a ton of paints on the market right now that all boast different features. Who knew there were so many different paint finishes?! But here's what you really need to be on the lookout for:
Zero VOCs (volatile organic compounds). VOCs are toxic gasses that are released from solids or liquids. Basically they are released when paint dries. You know, the weird new paint smell? Well VOCs can irritate your eyes, nose, and throat but repeated and long term exposure can cause cancer and damage to the liver, kidney, and central nervous system (1). Also, the pigments added to paints can have VOCs, particularly darker pigments, so be on the lookout for paint with zero VOC colorants.
Look for APE- free paints. Alkylphenol ethoxylates (APEs) are a group of chemicals that are suspected endocrine disruptors (a.k.a these little guys mess up how hormones should normally work in the body) (2). You don't want those around babies or children or when you're breastfeeding. APE-free paint can be found easily, so just ask or look on the label.
Avoid paints that are advertised as antimicrobial. Many paints contain a preservative to keep the paint fresh during storage, but paints that are advertised as antimicrobial may have other additives that are really just not necessary and there are no standards for efficacy (like does it actually kill harmful germs? And for how long?) It might sound good, but in reality they are also harmful to humans and don't do much (3).
Our Baby Safe and Kid Safe Paint Recommendations

Our recommendations will take the guesswork out of choosing a non-toxic paint brand, although you'll still have to pick the color! These paints are all zero VOCs and are free of APEs. In addition to the standard latex paints, we also included 2 options for milk paint, which are made from milk proteins and pigments. Milk paints are a bit more work to use, but are easy to use once you get the hang of it and you can create antique or smooth finishes. They are also great for painting furniture and decorations. No matter which paint brand you pick, you can feel safe about using them.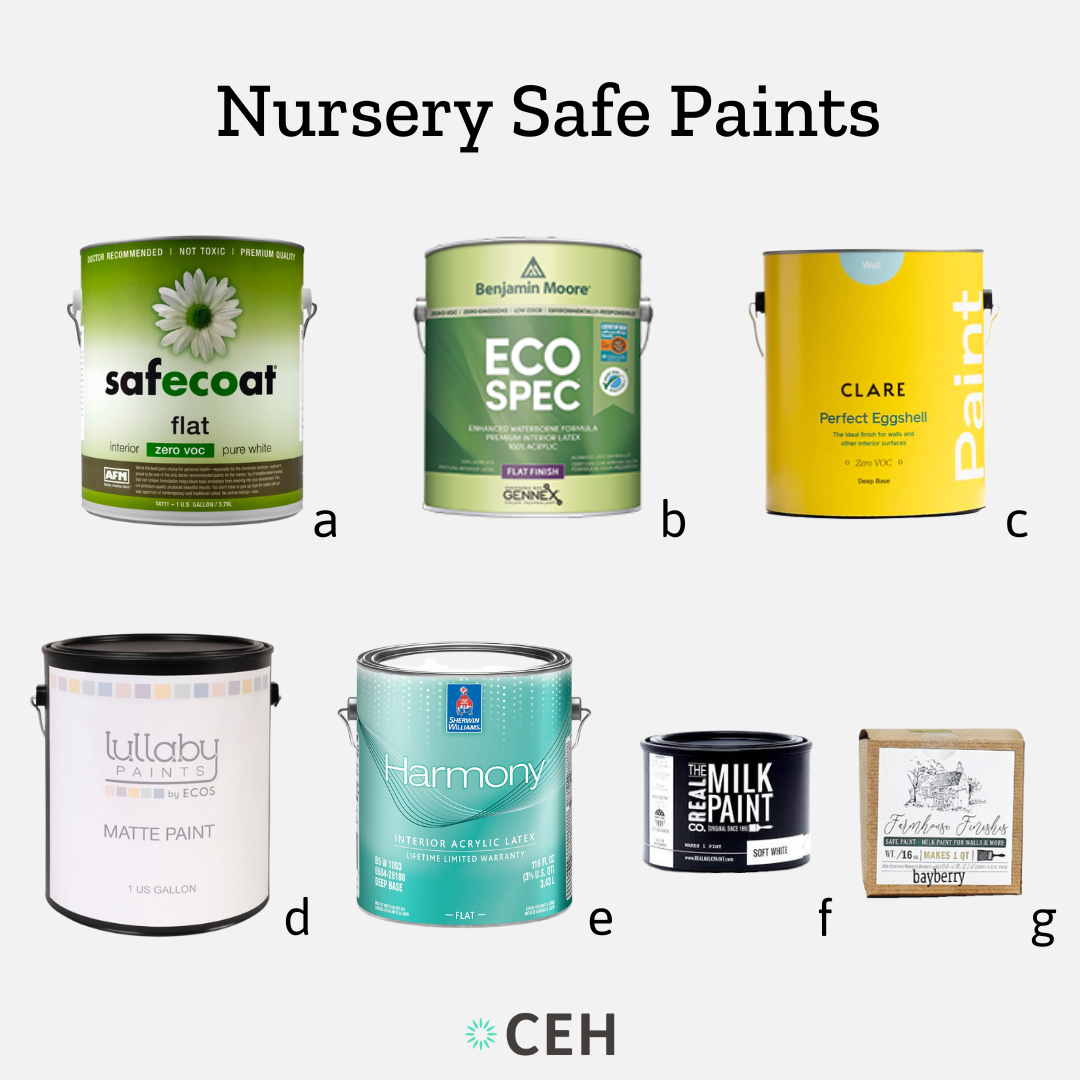 a) AFM Safecoat Zero VOC– This paint was designed specifically for those with allergies, asthma, and chemical sensitive. It comes in flat, pearl, eggshell, and semi-gloss finishes. Zero VOC, zero VOC colorants, APE free, and contains no mildewcides and fungicides. All ingredients are disclosed and the paint is SCS certified for indoor advantage gold.
b) Benjamin Moore Eco Spec– Benjamin Moore recently stopped making their Natura paint, but their Eco Spec paint is very similar and available nationally. Zero VOC, zero VOC colorants, and APE free. It is Green Seal 11 certified. It does contain isothiazolinone compounds to inhibit the growth of mold or mildew on the surface of the paint film.
c) Clare Paint– This paint come in specific designer curated colors, which can really help if you can't pick a color! Zero VOC, zero VOC colorants, and the eggshell and semi-gloss paints are APE free. It is also Greenguard Gold certified. It does contain a mildewcide to inhibit the growth of mildew.
d) Lullaby paints or ECOS paints– ECOS paint, which also makes their Lullaby paint line is a great zero VOC paint, with zero VOC colorants, APE free, and contains no algicides, mildewcides, and rust inhibitors. They have a color catalogue or you they can color match any national brand. They have both a Declare label and a Health Product Declaration in which they disclose all ingredients. Declare labels are issued to products disclosing ingredient inventory, sourcing and end of life options. Health Product Declarations are third party verified and include the health impact of all product ingredients.
e) Sherwin Williams Harmony– A zero VOC paint, zero VOC colorant paint that is available nationally. The primer and flat finishes are APE free. The paints are also Greenguard Gold certified. It does contain anti-microbial agents that inhibit the growth of mold and mildew on the paint surface.
f) Real Milk Paint– A natural paint option where the main ingredient is casein (milk protein). It comes as a powder that you mix it with water. The ingredients are casein (milk protein), calcium lime, natural pigment colors, and an edible plant based filler
g) Old Fashioned Milk Paint Farmhouse Finishes Safe Paint- This line of milk paint is formulated especially for painting walls. It comes as a powder that you mix with water. The ingredients are casein(milk protein), calcium hydroxide, chalk, clay, natural pigments, natural salts, and crystalline silica.