Introducing the Paramount Community and Environment Initiative
Late last year, when I wrote about our community-led air monitoring program in southern California's industrial city of Paramount (click to read our prior blog post), we were beginning to plan for the end of the project as our grant funding was projected to run out in March of 2023. After many months of hard work, I am thrilled to share that our community partners in Paramount, Dr. Jaime Lopez and Moses Huerta, have successfully received funding to build on the air monitoring work through a new initiative. Jaime and Moses along with collaborators at the University of Southern California and Cal State Polytechnic Pomona, secured funding from the California Air Resources Board (CARB) to design and carry out community advocacy and engagement around metals-related pollution in Paramount. Community outreach will consist of organizing movie screenings, informational workshops, focus groups, and surveys of residents in this predominantly Latine community. A final report will also be produced, documenting Paramount residents' concerns around metals-related pollution and opportunities for further outreach.
CEH's participation in advancing environmental justice in Paramount will continue under this new program called the Paramount Community and Environment (PACE) Initiative. As co-collaborators we will participate in organizing community workshops, creating educational materials, and developing surveys for residents. Next Friday, July 14th, PACE will hold its first workshop focused on air quality. CEH's Community Engagement Manager, Karina Gomez, will lead the workshop and share information about common air pollutants and ways to reduce individual exposure. The goal of the PACE Initiative is to increase awareness and advocacy around industrial pollution in Paramount and to target engagement of the majority Latine community through Spanish-language programming and outreach materials. We are beyond excited to continue our support and involvement with Paramount residents through this exciting new Initiative. Please follow the PACE Initiative's IG and Facebook updates for more information.
Click here to view the results from our 10-month long community-led air monitoring program in Paramount, CA.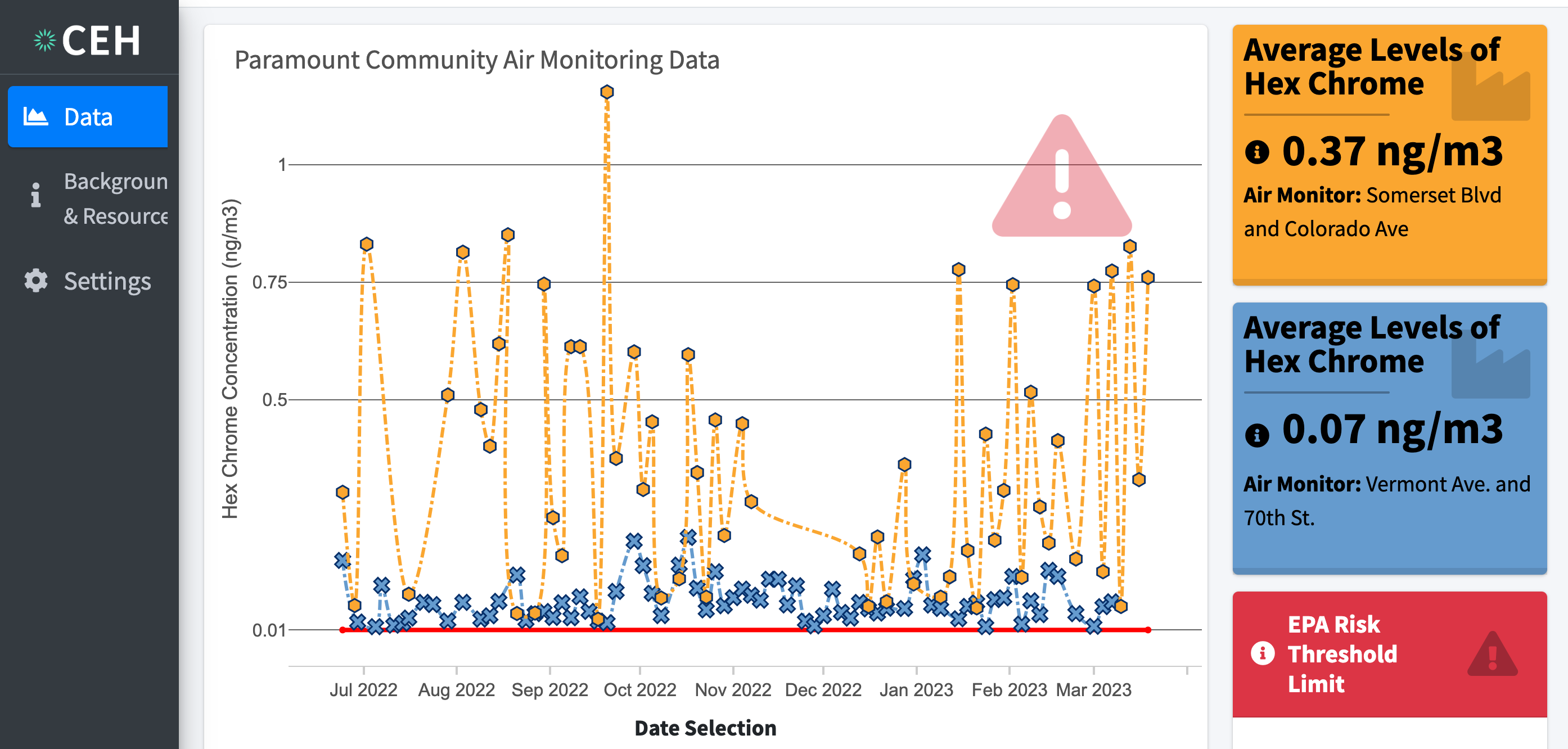 One other piece of news related to Paramount is that we have finally published our results from 10-months of air monitoring in an english and spanish version of an app that was co-designed with residents to make it as user friendly as possible! The app allows users to visualize results collected from our two air monitors and to compare these results to the US EPA's risk threshold for hexavalent chromium exposure in air, 0.1 ng/m3. As you will see in the app, almost all of the samples collected near Carleton Forge (Somerset Blvd and Colorado Ave) – one of the industrial metal platers in Paramount – exceed the risk threshold by as much as 115 times. These results remind us that our work in Paramount is far from over. Hex chrome pollution remains far beyond safe levels and threatens the health of residents. Late last year, the California Air Resources Board announced a new rule that would phase-out the use of hexavalent chromium in decorative and functional metal plating. Unfortunately, the timeline for this phaseout is many years into the future, with a final phase-out date of 2037 for functional chrome platers. Given the lack of regulatory action in Paramount, CEH remains committed to supporting and uplifting the voices of Paramount residents as we work together to ensure their right to clean air.