Groundbreaking Certification Eliminates Waste and Shifts the Food Service Market to Reusables
FOR IMMEDIATE RELEASE
CONTACTS
Emily DiFrisco, emilyd@ceh.org
Kayla Williams, kayla@cleanproduction.org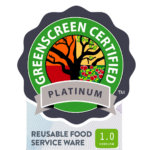 OAKLAND, CA – Today, nonprofit organizations Center for Environmental Health (CEH) and Clean Production Action (CPA) unveiled a new certification program that eliminates toxic chemicals and waste created by single-use foodware materials. The GreenScreen Certified® Standard for Reusable Food Packaging, Food Service Ware, & Cookware fulfills the growing consumer demand for products with preferred chemistry and less waste.
Globally, we are grappling with a plastic pollution crisis with 400 million tons of new plastics created each year and at least 40 percent of plastics created for single-use. Chemicals in these plastics such as vinyl chloride and styrene have a list of known health effects such as impaired concentration, nervous system effects, cancer, and many others. 
Even in materials other than plastic such as paper packaging, large amounts of precious resources including land, water, and energy go into creating a product that is in use for mere minutes. Reusable materials eliminate the need for single-use and alleviate the burden on our landfills and environment.
GreenScreen Certified for Reusables eliminates many of the concerns associated with single-use foodware and cookware such as exposure to toxic chemicals including PFAS or "forever chemicals," bisphenols (like BPA), and phthalates which have been shown to affect fertility and have been linked to cardiovascular problems. The standard also sets clear criteria for reusability and requires strict testing to ensure any recycled materials used in food packaging, service ware, cookware and food containers, contain no known hazardous chemicals.
"From the grocery store to restaurant to-go orders, a large portion of the food we eat comes packaged in materials that are intended to be thrown away immediately after consumption," said Sue Chiang, Director of the Food Program at the Center for Environmental Health. "Reusables are a key component to protecting our health and solving our plastic pollution, climate, and waste crises. This new safety standard is critical for ensuring that consumers as well as restaurants, schools, hospitals, and businesses are empowered to embrace the reusable revolution with products made with preferred chemistry."
"GreenScreen Certified provides in-depth criteria – including restricting toxic substances such as PFAS – for reusable food service ware, food packaging, cookware, and containers and recognizes products made from preferred chemicals," said Shari Franjevic, Senior Program Manager, GreenScreen at Clean Production Action. "Manufacturers now have a clear roadmap to meet purchaser specifications for reusable products that are made with chemicals that are preferred for the health of people and the planet, while cutting consumption and waste generation."   
"I feel honored to be part of the GreenScreen Certified Program for foodware. We must adopt a reuse model nationally to ensure we can minimize our human impact on our planet," said Manasa Mantravadi, Founder & CEO of stainless steel dishware brand Ahimsa. "As a Physician, I am focused on safer products in our food system. From packaging to foodware – we need to be intentional about removing harmful chemicals that affect human health. I applaud The Center for Environmental Health and Clean Production Action for establishing standards that put people and the planet first. This is a monumental step in creating systems that help us build a cleaner, greener future for the generations of children ahead."  
"We are always looking for better and safer ways to feed our hungry students," said Johannes van der Pool, RDN, Director, Child Nutrition Services, Fremont Unified School District. "By switching to Ahimsa's food-grade stainless steel trays, we know our elementary school lunch trays are free of PFAS and other known harmful chemicals."
"We consider Ecolabels when evaluating products to be included on statewide contracts, since they are effective tools to market products to buyers," said Julia Wolfe, Director of Environmental Purchasing for the Commonwealth of Massachusetts Operational Services Division. "GreenScreen's new standard will assist buyers in finding reusable food packaging, food service ware, and cookware without known harmful chemicals." 
CEH and CPA developed the GreenScreen Certified(R) Standard for Food Service Ware in consultation with a diverse group of stakeholders, including manufacturers, purchasers, and external scientific experts from nonprofit and industry groups. 
GreenScreen Certified(R) for Reusables provides a pathway of continuous improvement through Silver, Gold and Platinum levels of certification, with Platinum being the most stringent leadership criteria. Companies applying for certification must disclose their full ingredient information under confidentiality and comply with a comprehensive list of prohibited substances. Products are tested for chemicals of concern and the chemical inventory is assessed with GreenScreen tools. The process ensures value, usability, and relevance for industry professionals wanting to excel in offering products made with safer alternatives. 
Join us for a webinar on November 1 at 10 am PT/1 pm ET. Read the Reusables Values Proposition fact sheet here. 
About Center for Environmental Health 
CEH has conducted extensive testing on single-use food service ware and maintains a publicly available database identifying products with high and low levels of fluorine, indicating likely use of PFAS. The database, alongside educational and training programs, provide guidance for consumers looking for safer alternatives and institutional purchasers at schools, government and corporate offices looking to create healthier environments. 
About Clean Production Action and GreenScreen® for Safer Chemicals
Clean Production Action is a mission driven non-profit organization that designs and delivers strategic solutions for green chemicals, sustainable materials, and environmentally preferable products. Clean Production Action's four programs are BizNGO, GreenScreen for Safer Chemicals, Chemical Footprint Project, and Investor Environmental Health Network.