14 Essentials for Packing a Plastic Free Lunch
our favorite reusable items for packing lunch for the kids (and yourself!)
As many of us are headed back to the office, it's time to get ready to start getting creative when it comes to packing lunches. Getting takeout for lunch every now and then is great, but it's expensive and there's just so much trash generated! Packing lunch is great for your wallet and for the planet, especially if you invest in some plastic free lunch packing essentials. While plastic sandwich bags and plastic containers may be convenient, they aren't the healthiest and are only adding to the plastic problem in our oceans. Instead, stock up on some of these reusable lunchbox essentials made from stainless steel, glass, wax, silicone, and cotton. Whether you're packing leftovers, a simple sandwich, or a salad, we've got you covered. Our plastic free lunch packing essentials are reusable, washable, and healthier than a bag full of plastic containers. We also have a roundup of general food storage containers you might want to check out.
---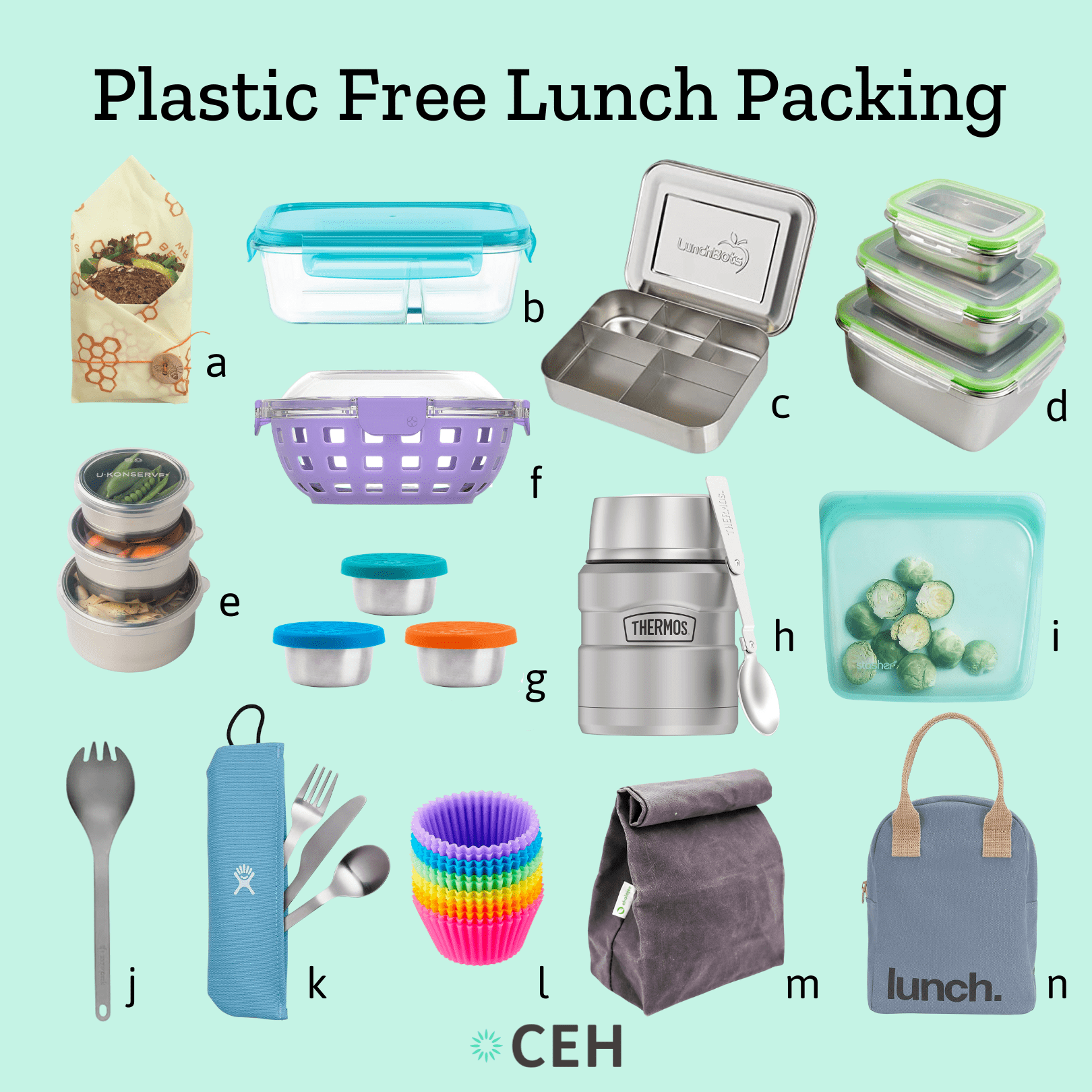 c) Lunchbox's Large Cinco Stainless Steel Lunch Container
d) JaceBox Stainless Steel Lunch Containers
e) U-Konserve Round Nesting Trio Stainless Steel Containers
f) Ello DuraGlass Lunch Bowl Container
g) Stainless Steel Salad Dressing and Condiment Containers
h) Thermos 16oz Stainless Food Jar
i) Stasher Silicone Reusable Storage Bag, Sandwich
k) Hydro Flask Stainless Steel Utensil Set
l) Reusable Silicone Baking Cups
n) Fluf Organic Cotton Lunch Bag
*Because Health is a participant in the Amazon Services LLC Associates Program, an affiliate advertising program so that when you click through our Amazon links, a percentage of the proceeds from your purchases will go to Because Health. We encourage you to shop locally, but if you do buy online buying through our links will help us continue the critical environmental health education work we do. Our participation does not influence our product recommendations. To read more about how we recommend products, go to our methodology page.